Sathayi Amman Temple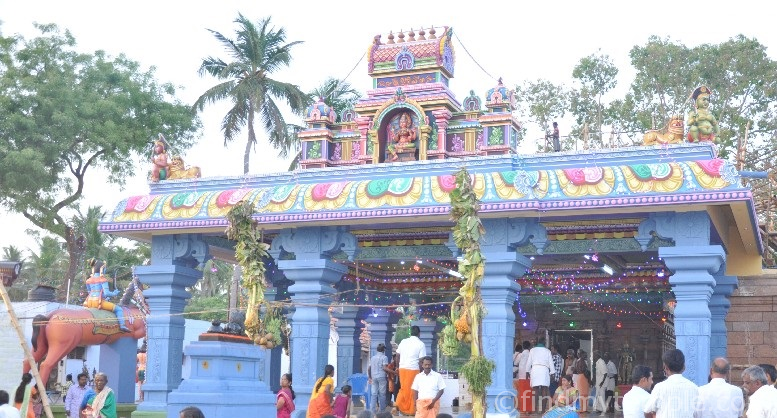 Main Deity : Sri Sathayi Amman.
Other Deities : Sri Brahmi, Sri Maheswari, Sri Gowmari, Sri Vaishnavi, Sri Varahi, Sri Indirani.
Temple Tree : Banyan Tree.
Prominence of the Shrine : Goddess Sathayi Amman's temple is facing the east direction. At the main karpagraha Goddess Sathayi Amman is located surrounded by six other goddesses namely Sri Brahmi, Sri Maheswari, Sri Gowmari, Sri Vaishnavi, Sri Varahi and Sri Indirani, Sathayi Amman is facing the north direction. In the right side of her Sastha Sannidhi and the left side of her Ganesha Sannidhi are there. Amman is looking the devotees with her gracious face and carrying the snake and other war instruments in her four hands. She is wearing a garland which is made up of scorpions. General belief is scorpion doesn't bite anyone at this village and if the villagers sight a scorpion they also don't kill them. By chance if any scorpion bite happens then they apply the Prasad from Sathayi Amman as a medicine and they get cured. There is a dedicated Sannidhi for "Malayala Karuppu Swamy". The old Karuppu swamy statue got damaged so they created a new one and kept in the Sannidhi. The old one is kept in the "Artha Mandapam".
Temple History : This temple is at least 1000 years old and getting renovated in 2015. As this village is on the banks of river Cauvery, the land is very fertile and surrounded by paddy fields. In Tamil Nadu usually you will notice a lot of paddy fields and one small plain surface to dry the paddy once the crop is fully grown. That plain surface is called as "Kalam". Farmers used to carry the paddy bundles to this "Kalam" once they cut it from its plant. Then they make it to small bundles such a way that when they hit the plant in the floor then the paddy grains will come out easily. If there is a huge quantity then they use bullocks and in some cases they used elephants to remove the paddy from its plant.
Then the farmers will separate the paddy grains separately from the grass and pack it in separate bags before they take it to Rice mills to make rice out of paddy. The ladies who were working in the fields used to clean the Kalam after everyone left and carry the balance grains for their personal use. One day an old lady was cleaning the grains and she is about to leave to her house.
There was a small pit in the Kalam and she put her hands inside to remove some of the grains that went inside. She suddenly heard an unmanned voice from the sky and realized it was not from any human being.
The unmanned voice told the old lady that " I am Sathayi Amman. We have been carried from Kerala in the flood and struck here under the banyan tree. Along with me there is another six goddess and Malayala Karuppu Swamy." The old lady got frightened and asked the Amman "What I should do?"
Sathayi Amman told her that, "Ask your village people to construct a temple for us". Let that temple be outside of the village and we will protect your village. The old lady was totally frightened and ran to her village. Next day she got the entire village people and explained what happened on the previous day evening. The villagers carefully removed the sand from the pit and found an idol of Sathayi Amman. They also got the other six goddess and Malaya Karuppu swamy idols. Villagers built a temple for all the gods that they got it.
The old temple is getting renovated now and it is going to be Kumbhabhishekham on May 1st 2015.
Temple Timings : 6:00 AM – 8:00 PM.
Temple Festivals : Fridays of Tamil month Aadi & Thai.

- Chithra Powrnami.

Nearest Town : Trichy ( 20 KM).

Address : Sri Sathayi Amman Temple, Nangavaram, Karur District.
Hotels Near Sathayi Amman Temple, Nangavaram :
1.Mathura Hotel,
No 1, Rockins Road, Tiruchirappalli Townhall, Trichy - 620002,
Opposite Central Bus Stand Contonment
+(91)-431-2414737, +(91)-9894558654
2.Mayavaram Lodge,
No 87, Vanapattarai Street, Tiruchirappalli Townhall,
Trichy - 620002, Teppakulam Pos
+(91)-431-2711400, 2704089
3.Femina Hotel,
109, Williams Road, Tiruchirappalli 620001,
Hotel Area: Trichy Central Bus Stand / Railway Junction Area
Tel : 0431 - 2414501.
4.Hotel Rockfort View,
5, Odathurai Road | Chinthamani, Tiruchirappalli 620 002.
Mobile: +91 740 2713466.
Tel : +91 431-2713466.
5.Grand Gardenia,
22-25 Mannarpuram Junction,
Trichy-620020,Tamilnadu.
Mobile : +91 95856 44000.
Tel : +91 431 4045000.
Restaurants Near Sathayi Amman Temple, Nangavaram :
1.Ragunath Restaurant,
College Road,
Tiruchirappalli, India
2.Parthasarathy vilas,
Vegetarian / Vegan Restaurant
Kondayam Pettai Agraharam,
Thiruvanaikoil, Trichy 620005, Tamilnad
1 1 1 1 1 1 1 1 1 1 Rating 3.36 (233 Votes)
Driving Direction & Temple Location