Karu Mariamman Temple



Thiruverkadu, Thiruvallur District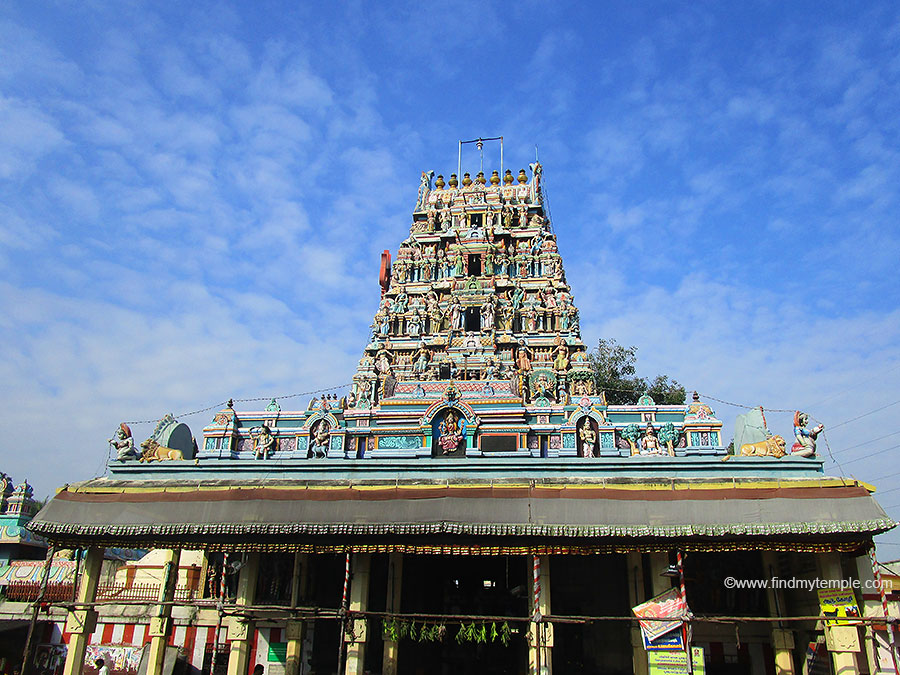 Main Deity : Devi Karu Mariamman

Other Deities : Srinivasa Peruman(Vishnu), Lord Ganesha, Saptha Mathas (Seven divine mothers), Verkanni Amman and Agathiar Sannidhi.

Holy Water : Velayutha Theertham

Temple Tree : Neem tree

Prominence of the Shrine : Sundays are considered as auspicious for Goddess Karu Mariamman. Lot of devotees arrive to this temple every Sunday. There is a huge anthill at the corner of the temple. The belief is if the devotees worship this anthill with milk, they will get relieved from Raghu and Kedhu Dosha. There is another Amman Sannidhi where Amman is made up of wood. Here the currencies are tied as a garland to this goddess. Many deadly diseases and financial problems are resolved for the devotees who worship here.

Temple History : Long ago the area where the temple is located today was surrounded by white Neem (Vela maram). So this place is called as 'Verkaadu' and later turned as Thiruverkadu. Once the entire world got destroyed due to the flood Shiva wanted to construct the world again from the beginning. Once the flood got drained he converted the four Vedas into trees and self-made Linga was there under the tree. Ambal also was created along with the Linga. With the blessings of the Ambal all Devas and living beings had been created. The place where the Ambal and Lingam is there is called as Thiruverkadu.

Who worshiped here : Sage Agathiar

Poets who sang its praise : Arunagiri nathar, Thirugnana Sampanthar

Temple Timings : Morning 5 AM to Evening 9 PM

Pooja Details : Six times a day. Artha Jama Pooja happens on Sundays after 10:30 PM
Temple Festivals : Chithirai – New moon day
Aadi – Aadi festival
Thai – Thai Poosam.
Masi – Masi magma.
Nearest Town : chennai

Address : Sri Devi Karu Mariamman Temple, Thiruverkadu, Thiruvallur District.
1 1 1 1 1 1 1 1 1 1 Rating 3.38 (238 Votes)

Driving Direction & Temple Location