Anjaneyar Temple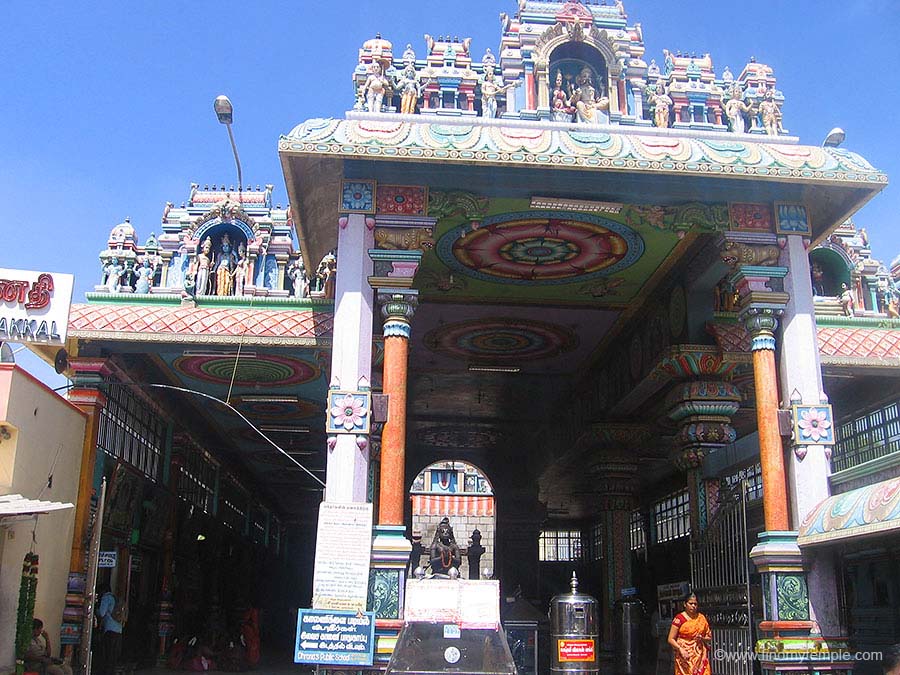 Main Deity : Anjaneyar (Hanuman)
Prominence of the Shrine : In this temple, Sri Hanuman is consecrated in standing position with folded hands. The idol is about 18 feet tall and is in the open. Kollimalai, famous for its affluence of herbs, fruit bearing trees and grains, is about 10 km from here.
Temple history : In Threthayuga Vishnu incarnated as Rama. In His fierce battle with Ravana, all His army and even Lakshmana were beaten by Indrajit. To rejuvenate them, Hanuman brought Sanjeevi herbs from the Himalayas. After use, he replaced them in Himalayas, and while returning carried the Saligramam mountain (one of the mountains in the Himalayas) with him. At the daybreak, Hanuman descended on to the earth to perform his daily rituals at Sri Maha Lakshmi's Tapavanam near the big holy tank, Kamalalayam. He devotionally placed the Saligramam there. Upon returning after his rituals, Hanuman could not lift the Saligramam, despite his best efforts. He worshipped the God. The Saligramam became a huge rock and a divine voice told Hanuman that the Lord prefers to stay here. The voice asked him to return to worship him here after his duty with Sri Rama is fulfilled. It is believed that Hanuman returned here after the Ram avatar is still there worshipping the Lord. The big idol of Hanuman on the western side of the rock facing Sri Narashimha swamy from the open signifies this.

Temple Timings : 6.00am to 1.00pm; 4.30pm to 9.00pm

Temple Festivals : Anjaneya Jayanthi (Birthday of Lord Anjaneya)

Nearest Town : Namakkal

Address : Arulmigu Anjaneyar Thirukovil - Namakkal – 637403, Namakkal District.
Telephone No : 04286 - 233 999
Hotel Near Anjaneyar Temple, Namakkal :
1.SANU International
AATHIRAI Restaurant
280/158, Salem Main Road
Namakkal - 637001
Telephone : +91-4286-276030, 276040
Fax : +91-4286-276030
Ph : +91-9500978831, +91-9500989850
2.Hotel Radha Prasad
Near Anna Statue,
Tiruchengode - 637211.
Phone : 04288 - 255510, 255560
Fax : 04288 - 251255
Mobile : 097155 69000, 097888 34567
3.Hotel Golden Palace
Trichy Main Road, Namakkal 637 001, India
Ph: +(91)-4286-228511, +(91)-9500979572"
4.Hotel Vangili International
Trichy Road, Namakkal
Ph: +(91)-4286-232777, +(91)-7598376424"
1 1 1 1 1 1 1 1 1 1 Rating 3.38 (238 Votes)
Driving Direction & Temple Location