Swaminadha Swamy Temple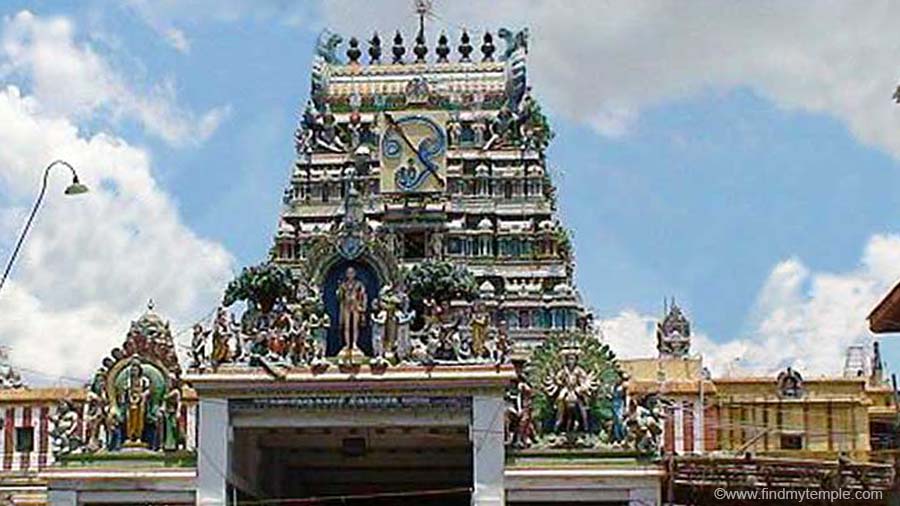 Main Deity : Sri Swaminadha Swamy

Ambal : Valli, Deivanai.

Other Deities : Vinayaga, Tharangaparameswarar, Sundareswarar, Meenakshi, Saraswathi,

Holy Water : Vajra Theertham, Kumaradharai, Saravana

Theertham : Nethra Pushkarani, Brahma Theertham

Temple Tree : Nelli Maram

Prominence of the Shrine : This shrine is the fourth among the Six special shrines (Arupadai Veedu) of Lord Muruga celebrated in "Thirumurugatrupadai". Here Lord Muruga revealed the meaning of "Pranavam" to Lord Siva. Lord Muruga stands with his left hand on the lap and the right holding the 'Dhandham'. The base is that of the Avudayar of Sivalingam. There are 60 steps in this temple which represents the 60 calendar years as per Tamil calendar.
This elephant 'Iravatham' sculptured by Devendiran is standing in front of Lord Swaminadha. This indicates the fact that the temple is very ancient. Every Thursday evening the Lord is adorned with 'Vairavel' (Spear made up of Diamonds) and golden crown. On Tuesday evening the Lord is adorned with 'Swarna Pushpa Sagasranama Malai'.

Who worshipped here : Brahma, Lakshmi, Indiran, Chola king, Varaguna Pandian, Sukarbrahadeeswarar, Saravanan, Sumathi.

Poets who sang its praise : Nakkeerar – Thirumurugatruppadai; Arunagirinadhar – Thirupugazh; Thyagaraja Desigar – Navarathina Malai' Kabisthalavelayar – Thiru eraga Emaga Andhadhi.

Temple Timings : 6.00 am -1.00pm,4pm-9.00pm

Temple Festivals : Tamil months - festival
Chithirai – Brahmotsavam – 10 days – Car Festival.
Vaikasi – Visagam Festival;
Avani – Pavithrorsavam – 10 days;
Purattasi – Navarathri Vizha – 10 days;
Aadi Kiruthigai – Float festival;
Aippasi – Kanda Shashti Peruvizha (Soorasamhara Vizha);
Karthigai – Thirukkarthigai Peruvizha (Deepakatchi);
Margazhi – Thiruvadhirai Thirunal; Dhanurmada Pooja; Thai – Poosa Peruvizha; Panguni –Uthiram, Valli Thirukkalyana Vizha; English New Year – First Day – Padi Vizha.

Nearest Town : Kumbakonam.

Address : Sri Swaminatha Swamy Temple,
Swamimalai (Po.),
Kumbakonam (Tk.),
Thanjavur (Dt). PIN : 612 302
Hotel Near Swaminadha Swamy Temple, Swamy Malai :
1.HOTEL ALAGU,(62m form Temple)
24,Sannathi Street,
Swamimalai.-612 302.
Ph:0435 - 2454031
cell -+91-99449-09579
Fax - 0435 - 2454190
2.INDeco Swamimalai Villa,(69m form Temple)
6/30 B Agraharam,Baburajapuram (post),
Kumbakonam 612302,
3.Hotel Saravana Bhavan,(63m form Temple)
25B & 25C, Jeevarathnam Maligai,
Near Crown Theatre, Near Daily Thanthi,
Arcot Road, Vellore, Tamil Nadu 632004
Ph: 0416 221 7433
4.O V M Resorts,(62m form Temple)
Kumbakonam,
Kumbakonam, Tamil Nadu, India
5.Venkataramana Hotel,(62m form Temple)
Karna Kollai Agraharam,
Valayapettai Agraharam,
Kumbakonam, Tamil Nadu, India
Resturant Near Swaminadha Swamy Temple, Swamy Malai :
1.Sri Adthi Ganesh Bhavan Pure Vegetarian Hotel,
No 32, Sannadhi Street, Swamimalai,
Kumbakonam - 612302, Near Swamimalai Temple
Ph:+(91)-9443161929, 7598578257
1 1 1 1 1 1 1 1 1 1 Rating 3.33 (169 Votes)
Driving Direction & Temple Location