Malaikottai Uchipillaiyar Temple(Rockfort)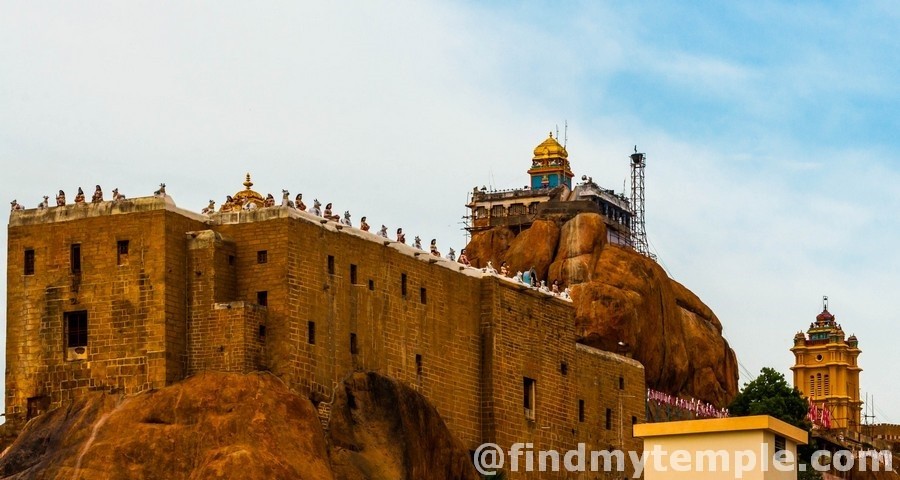 Main Deity : Uchi pillayar
Holy Water : Cauvery.
Prominence of the Shrine:At this temple during Tamil month of Panguni sun rays will directly hit the Linga for 3 days. The Linga here is Suyambu ( self-made) form and it is facing the west direction. This temple is 67th of 274 Shiva temples that are worshipped in the Devaaram. Devaaram is a Tamil spiritual book worshipping Lord Shiva.
At Rockfort, three main temples are there at three different levels. At ground level there is a Ganesha temple named Manikka Vinayagar temple and the middle level there is a Shiva temple named Thayumana Swamy Temple. At the peak of Rock fort there is another Ganesha Temple named Uchi Pillayar Temple. Apart from these three main temples there are few Rock cut temples dating back to Pandiyas period and Pallavas Period. The landscape of Trichy is generally flat and it is natural wonder where Rock fort is standing at 83 meter high. As per archeologists this rock is formed around 3400 million years back hence considered to be one of the oldest rocks in the world.
Temple History:
Uchi Pillayar: As per Ramayana, Sri Lankan King Vibheeshana attended the Pattabhishekam of Sri Ram at Ayodya and returning towards Sri Lanka. Sri Ram has gifted him idol of Lord Vishnu (Renganathar). Though Vibheeshana was a devotee of Rama, by birth he is an Asura so the Deva's don't want him to carry the Lord vishnu's idol. So they went to Ganesha and asked him to help out. Ganesha has promised them he will do something to stop the Vishnu idol. On the way of his returning, Vibheeshana saw a flourished land on the banks of River Cauvery and the beautiful gardens surrounded by it. He decided to take rest as he had already travelled a long distance. He has been told that he should not keep the idol on the ground and if he does it, he won't be able to take it back. So he was wondering whether someone can carry the idol as he wanted to take rest. Lord Ganesha formed himself as a cowherd boy and came to Vibheesana. The King then requested Ganesha to hold the idol until he wakes up and Ganesha agreed. As soon as Vibheeshana slept Ganesha kept the Vishnu's idol on the ground and ran to then nearby Rock and rested on top of it. Later when the King woke up and when he tried taking the idol back he couldn't. The place where the Lord Vishnu got placed by Ganesha, christened as the Srirangam( 1st of 108 Divya Desams) and the Rock where Ganesha took his seat, is the Rockfort Ganesha Temple.

Thayumana Swamy Temple: As per mythological stories, A lady named Rathinavathi lived in this region. During her pregnancy time she had informed her mother to come and help her, who was living in the other side of the Cauvery River. While Rathinavathi was waiting, suddenly there was a flood in the River. Her mother was not able to cross the river and reach her daughter. Rathinavathi got the labor pain and her mother did not reach yet. She didn't know what to do next other than praying to Lord Shiva. Lord Shiva himself came as a nurse and helped Rathinavathi to deliver the baby. When the original mother has reached after several hours, everyone realized that the nurse who came and helped was the God himself. As Lord Shiva has played the role of mother to Rathinavathi he is called as Thayumana Swamy (In tamil Thai means mother).
Special note: As asura called Thirisiran who ruled in this region. Earlier this place was called as thirisiripuram and later it become sirappalli and now it is called as Tiruchirappalli or shortly Trichy.
Temple Timings : 6.00 am to 8.00 pm

Pooja Details : Vinayagar chathurthi, English new year,

Tamil new year, pongal.
Address : Sri Malaikkottai uchi pillayar temple, Trichy– 620002.

Telephone Number : +91-431-270 4621
Hotels Near Malaikottai Uchipillaiyar Temple(Rockfort), Trichy :
1. Mathura Hotel,
No 1, Rockins Road, Tiruchirappalli Townhall,
Trichy - 620002, Opposite Central Bus Stand Contonment
Tel : +(91)-431-2414737, +(91)-9894558654.
2. Mayavaram Lodge,

No 87, Vanapattarai Street, Tiruchirappalli Townhall,
Trichy - 620002, Teppakulam Post,
Tel : +(91)-431-2711400, 2704089
3. Femina Hotel,

109, Williams Road, Tiruchirappalli 620001,
Hotel Area: Trichy Central Bus Stand / Railway Junction Area,
Tel : 0431 - 2414501.
4. Hotel Rockfort View,

05, Odathurai Road | Chinthamani, Tiruchirappalli 620 002.
Mobile: +91 740 2713466.
Tel : +91 431-2713466.
5. Grand Gardenia,

22-25 Mannarpuram Junction,Trichy-620020,
Mobile : +91 95856 44000.
Tel : +91 431 4045000.
Restaurants Near Malaikottai Uchipillaiyar Temple(Rockfort), Trichy :
1. Ragunath Restaurant,

College Road, Tiruchirappalli.
2. Parthasarathy vilas,

Vegetarian / Vegan Restaurant
Kondayam Pettai Agraharam, Thiruvanaikoil, Trichy 620005.
3. Banana Leaf
Madras Trunk rd ,

Tiruchirappalli,

Tel : 0431-2793287
4. Vasanta bhavan

N. S.B. Road, Tiruchirappalli, India

Tel : +(91)-431-2708282, +(91)-8508204247
1 1 1 1 1 1 1 1 1 1 Rating 3.36 (233 Votes)

Driving Direction & Temple Location