Thiru Kutrala Natha Swamy Temple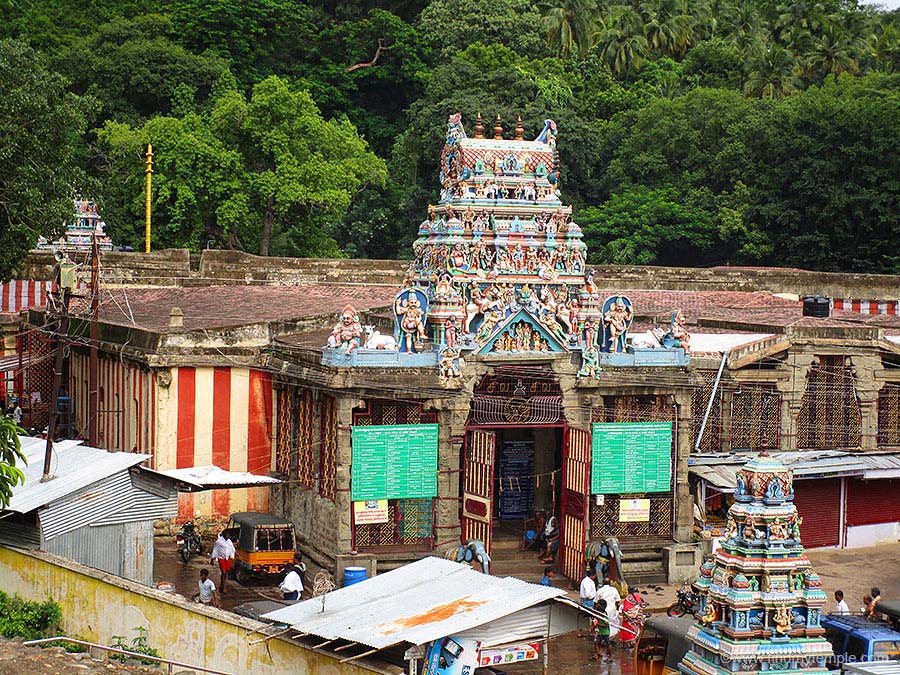 Main Deity : Thiru kutrala Nathar swamy.
Ambal : Kuzhal vai mozhi.
Holy Water : Siva Madhu Gangai Theertham (Peraruvi – The big water falls).
Temple Tree : Kurum Pala Tree ( A type jack fruit tree).
Prominence of the Shrine : There are 89 stone inscriptions in the temple. Out of the 89 stone inscriptions around ten are engraved in the days of Paranthagan I (927-943 A.D) also called parakesarivaraman (a Chola king) are found here. Such stone inscriptions are found in the temple of Kutralam only.

Temple History : Long ago a king called 'Pirudhu' ruled over this region. It was then a person called surusi who was from the bragaspathi pedigree talked ill of Siva around the country. King Pirudhu was sore at this and prayed to lord Siva to establish the devotion towards Lord among the people in the country. Lord Shiva informed him about the visit of the sage Agathiar to south India and that he would instill 'shiva bhakthi'.
As per the orders of the lord, Agathiar reached Kutralam also known as 'Shenbaga vanam'. He made an attempt to enter the Vishnu temple there. Thiru Kutrala nathar swamy temple was originally a Vaishnavite temple. Agathiar persevered in reducing (restricting) the size of the Perumal. As a result the lord contracted constant headache. To relieve the pain everyday an oil made of 64 herbs is anointed upon the lord. At the mid night pooja a juice is made of different herbs and distributed among the devotees as ' prasadam' after it is offered to the lord. This temple is in the shape of 'sangu' (conch) which is auspices to Perumal.
Temple Timings : 6.00 a.m to 12.00 noon and 4.00pm to 7.30 pm.
Temple Festivals : On New moon day of Aadi month, one lakh lamps will be lit here.
During Dussera a ten day festival is held for Amman.
Brahmorthsavam is held in the tamil month of Panguni.
Thepporsavam is held in the tamil month of Maragazhi Panguni – uthiram.
The 'pathra deepa vizha' with loof lights on aadi amavasai is held in a grand manner here.
Nearest Town : Thenkasi.
Location : Courtallam is 5km from tenkasi.
Train / Bus : There are many buses from Madurai and tirunelveli to Tenkasi
Address : Sri kutrala nathar swamy temple Kutralam 627 802, Tirunelveli Dt.
Telephone Number :+91-4633-283, 138, 210.
Hotels Near Thiru Kutrala Natha Swamy Temple, Kutralam :

1.Srishty Garden Resorts,

145, Old Courtallam | Thenkasi,

Courtallam 627 814, India.

2.Courtallam Esakki Resorts,

Five Falls Main Road,

Courtallam 627 802, India.
1 1 1 1 1 1 1 1 1 1 Rating 3.38 (238 Votes)

Driving Direction & Temple Location