Lalithambigai Temple
Thirumeeyachur,
Thiruvarur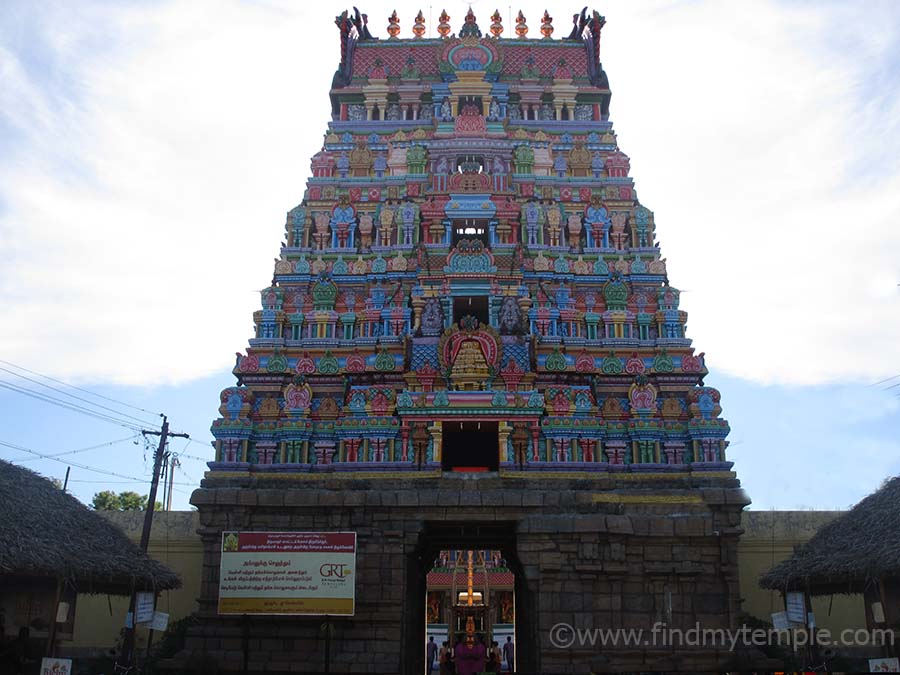 Main Deity : Sakala Bhuvaneshwarar, Megadnadhar.
Ambal : Megalambigai, Sowndarya Nayagi, Lalithambigai.
Holy Water : Sooriya Theertham.
Temple Tree : Vilva tree (Aegle marmelos).
Prominence of the Shrine : Lalitha Sahasranamam was created at this shrine. The grace of Amman overflows here. It is a splendor to look at Amman adorned with Her jewels. The figure of Shiva Sakthi is excellently carved at the corridor. Sandeswarar with four heads is special at this temple. This can be seen in Kachoor also. It is believed that Lord Saneeswaran was born at this location. The curse on sun God (Sooriyan) was absolved here. Hence there is no separate Sannidhi for navagrahas here. On the contrary there are 12 Nagas of the 12 Rasis. Performing pooja to them with lighting lamps, all Doshas (evil spell) including those of Raghu and Kedhu are dispelled. Many boons including the one for marriage are granted for devotees who worship here.
Temple History : The biggest sin is to prevent a person from offering worship to God. To make fun of a person citing is bodily deformity is another big sin. Sooriya Bhagavan (Sun God) was guilty of both. Arunan was the charioteer of Sooriyan. He was handicapped. He had a desire to worship Lord Shiva at Kailayam (Mount Kailash). When he expressed this to sooriyan, the later not only declined to give permission but also made fun of the deformity of the former. Arunan who was immersed in his devotion to Lord Shiva took on the form of beautiful women "Mohini". He set off to Kailayam. Indra who saw Mohini was carried away by her beauty. The result was the creation of "Valli".
Returning from Kailash, Arunan told Sooriyan that he had a dharshan of Lord Shiva at kailayam. When sooriyan heard the form of "Mohini" from Arunan, he asked him to show the form. Arunan turned into Mohini and Sooriyan was lured to her beauty. The result was the creation of "Sugriva". Lord Shiva became angry at Sooriyan making fun of his devotee Arunan. He cursed Sooriyan. Sooriyan became dark. He was ordered to worship Shiva and Parvathi for 7 months placing them on an elephant in the sky. Then only his curse would go null and void. Sooriyan started performing the pooja placing Shiva and Parvathi on elephant. Shortly before the closing of the seventh month, Sooriyan went to Lord Shiva and asked why he was not granted absolution from the curse. Parvathi became furious and asked him "Couldn't you even wait till the end of the period?" She rose to curse him. Lord Shiva became perturbed as the whole world would become dark if another curse was made on sooriyan. He pacified Parvathi and granted Sooriyan absolution at the right time. The face of Sooriyan brightened and the world came out of darkness. Lord Shiva who graced Sooriyan sits on Gajaprushta Vimana at the Sanctum Sanctorum and graces all with the name Sri Meganadhar at this shrine, Thiru Meeyachur.
Who worshiped here : There are many specialties to this shrine. It is the place of incarnation of Sri Saneeswaran, Yama, Arunan, Garudan, Vaali and Sugriva.
Temple Timings : 6am to 12noon, 4.30pm to 8.30pm.
Pooja Details : Here Radha Sapthami is celebrated with splendor. Sooriya Bhagavan worships Lord here from chitirai 21st to 27th by spreading his raise on him.
Nearest Town : Mayiladuthurai.
Address : Sri Megalambigai Samedha Sakala Bhuvaneshwarar Temple (Lalithambigai Temple), Thirumeeyachur- 609405. Thiruvarur Dt.
Telephone Number :9444836526, 9444698841.
Hotels Near Lalithambigai Temple, Thiru Meeyachur :

1.Hotel Selvies (P) LTD,
2, Kattukara Street Santhamangalam,
Madapuram,Thiruvarur-610002,
Tel:04366 222 082.

2.Arun Hotel,
Santhamangalam, KTR Nagar,
Thiruvarur, Tamil Nadu 610001

3.Hotel Kauveri,
Santhamangalam, KTR Nagar,
Thiruvarur, Tamil Nadu 610003

4.Hotel MMA,
3/364A, Hotel MMA,Dr. kalaingar nagar, M
annarkudi Road,T.Nagar,Vilamal,
Thiruvarur-610001,
ph:04366 220 218
1 1 1 1 1 1 1 1 1 1 Rating 3.38 (238 Votes)

Driving Direction & Temple Location