Subrahmanya Swami Temple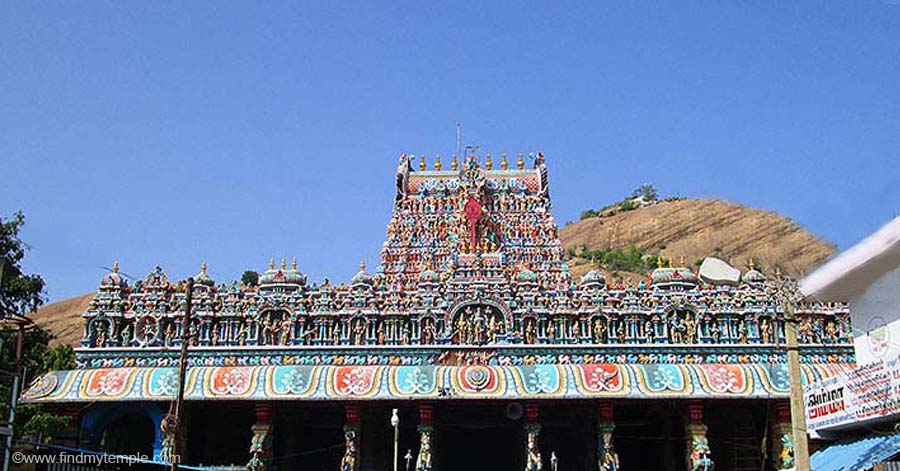 Main Deity : Lord Subrahmanya
Ambal : Deivanai (Devasena)
Holy Water : 11 theerthas, including Sanyasi theertham, Laxmi theertham, Saravan poikaim, and satyakootam
Temple Tree : Kal Athi (Ficus retusa auct; narrow-leaved Fig)
(The juice made of its bark is believed to cure liver disorders, and the decoction of its bark cures ulcers)
Prominence of the Shrine : It is the first of the Arupadai Veedu – the six sacred abodes of Lord Muruga. The deity is in the temple, atop a hillock. The Lord presents Himself in the sitting posture – the only such shrine among the Arupadai Veedu. Another importance is that here the 'Vel' (spear shaped weapon of Muruga) is offered abishekam
Temple History : It is believed that Muruga married Devasena here, after his successful war with the demon Surapadma and his army; for which He incarnated. After annihilating Surapadma, Muruga converted his remains into(a) the sacred Pea-cock, which formed His mount (vehicle), and (b) the chanticleer (rooster), which he kept on His flag. Pleased by this, Indra (the chief of devas) offered his daughter, Devasana, to the Lord in marriage, which is believed to have taken place here.The marriage arrangements were made by Brahma while Sun & Moon hoisted jewel studded lights. The event was witnessed by His parents, Goddess Parvathy- Lord Shiva with pleasure.
Poets who sang its praise : Nakkirar, Arunagirinathar, Sundarar, Manickavachakar
Temple Timings : 5:30 am to 1:00 pm; 4:00 pm to 9:00 pm
Temple Festivals : Vaikashi month – Vishakha day; Aadi month – Krithikai day; Puratashi month- Vel festival; Skanta Shasti, Thrikkarthikai, Thaipoosam, Pankuni Utram.
Nearest Town : Madurai
Address : Sri Subrahmanya Swami Thirukovil, Thiruparankundram, Madurai - 625 005.
Hotels Near Subrahmanya Swami Temple, Thiruparankundram :

1.Fortune Pandiyan Hotel

Race Course, Madurai-625 002,
Tel : 91-452-4356789

Fax : 91-452-2533424

2.THE SPK HOTEL

Luxury Hotel

Address: Lake View Road, Managiri, KK Nagar,
Madurai, Tamil Nadu 625020

Phone:0452 255 5777.

3.Heritage Madurai,

11, Melakkal Main Road,

Kochadai, Madurai 625 016, India.

Tel : + (91) 452 2385455 ,+(91) 452 3244185

Fax : + (91) 452 2383001

4.sangam Hotel, Madurai

Alagarkoil Road, Madurai – 625002

Tel : 91-452-4244555 / 2537531

Fax: 91-452-2537530"

5.Star Residency

No 43 & 44, Collector Office Road,

Near Anna Bus Stand,

Near Aravind Eye Hospital,

Madurai - 625020.
Tel : +91 - 452-4343999,+91 - 452-4343970
Restaurant Near Subrahmanya Swami Temple, Thiruparankundram :
1.Hotel Supreme
No. 110, West Perumal Maistry Street,
Madurai, Tamil Nadu 625001
Ph: 0452 234 3151
2.Surya Roof Top Veg. Restaurant
110, West Perumal Maistry Street
Madurai - 625001
Phone No :- +91 452 2343151 (3 lines), 3012222
Fax No :- +91 452 2342637
3.Adyar Anandha Bhavan
285, Kamarajar Road, Mahal Area,
Madurai Main, Madurai,Tamil Nadu 625009
Ph : 044 2345 3045
4.Sree Mohan Bhojanalay
No 33, Dhanappa Mudali Street, Madurai Ho,
Madurai - 625001, Opposite To Hotel
Ph : + (91)-9943323221, 9442751870
Tel : +(91)-452-2346093
1 1 1 1 1 1 1 1 1 1 Rating 3.37 (235 Votes)
Driving Direction & Temple Location