Kamakshi Amman Temple Details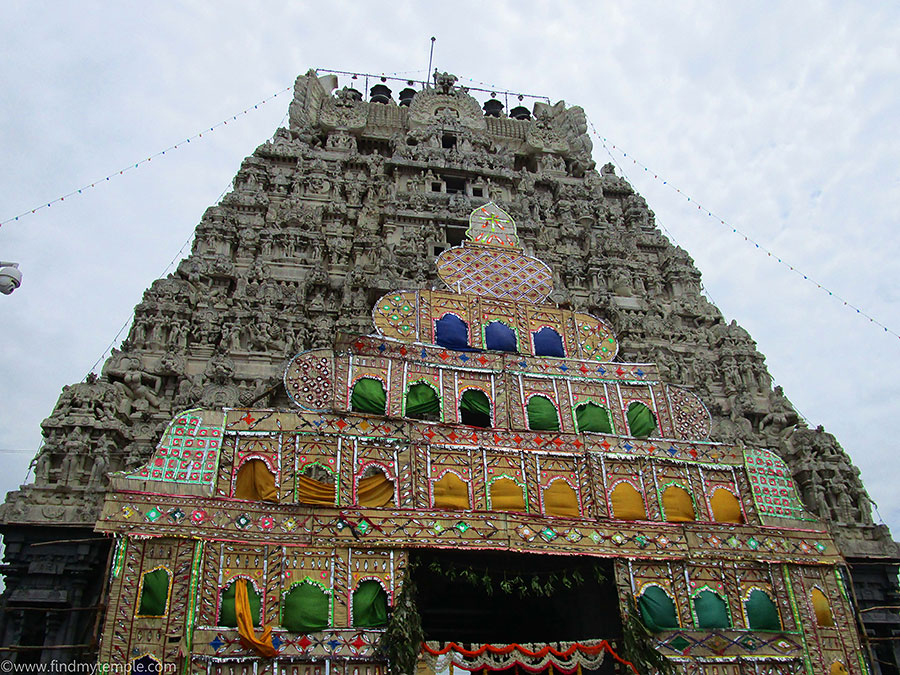 Main Deity : Kamatchi Amman

Holy Water : Pancha Gangai @ Ulagani Theertham

Prominence of the Shrine : After quelling the demon Tharuka, Lord Shiva and Uma Devi were engaged in a blissful conversation at the Mount Kailas in a holy hall called "Mani Mandapam". While it was going on, Devi came behind the Lord and blindfolded him with her hands just for fun. The whole Universe plunged in to darkness. The work of creation stopped, Yagnas were deterred, Penance and Charity were abandoned. Living beings suffered in gloom. Growth of Knowledge was hindered. Books on Vedhas disappeared. The entire world was in a state of stupor on account of darkness. Devas and hermits yelled in fear. Their cry reached the ears of the Goddess Uma Devi. She removed her hands from the eyes of Lord Siva which began to shine in effulgence. The universe restored its lost light and action.

Lord Siva told Uma that the whole world grieved and sin enveloped as a result of she closed his eyes. As it is a sin, Shiva directed Devi to do atonement by either worshipping from a place where Lord Siva was in appearance or from the place where His followers were in their greatness. Uma left for performing the atonement.Taking leave from the Lord, Uma reached Kasi where she worshipped Vishwanadhar with devotion. She then travelled to Kanchipuram which was in "Thondai Naadu". She reached here on Ekadesi Thithi, Poora Star in the tamil month of Aippasi. She worshipped formally at Siva Shrines in Kanchi and came to Ekambaranadhar temple and worshipped there as well. She then performed 32 types of dharmas, observed penance and was absorbed by the Lord according to Puranas.The holy hall where Devi appears is called Gayathri Mandapam. The deity appears in sitting posture facing southeast with "Sugasanayoga form" sporting four arms with weapons.
Kanchi Kamakshi Temple Darshan Timings
5.00 am to 12.00 pm - 4.00 pm to 8.00 pm

Pooja Details : Special poojas will be condected on every fullmoon day.

Temple Festivals : Maasi- pirammorsavam for 10 days, Purattasi- Navarathri, Aippasi- Urchavam and Annual Festivals.

Nearest Town : Kanchipuram

Address : Sri KamatchiAmman Temple, Kanchipuram -631 501,Kanchipuram (Dist).
Telephone No : 044-2722 2609
Hotels Near Kanchi Kamakshi Temple
1. GRT Regency-Kanchipuram
487, Gandhi Road, Kanchipuram 631502, India
Ph: +(91)-44-27225250, +(91)-9940184251
2. MM Hotels,
No. 65 - 66, Nellukara Street, Kanchipuram 631502, India
Ph: +(91)-44-27227250, +(91)-8098827250
3. Hotel Baboo Soorya,
No 85, East Raja Street, Kanchipuram Ho,
Near Kamakshi Amman Temple,
Kanchipuram - 631501, India
Ph: +(91)-44-27222556, +(91)-9597121214
Restaurant Near Kamatchi Amman Temple, Kanchipuram :
1.Saravanaa Bhavan
66, Annai Indhira Gandhi Street,
Kanchipuram 631502,India
Ph: 4427226877
2.Hotel Saravana Bhavan
504, Gandhi Road | Near Indian Overseas Bank
Kanchipuram 523230
Ph: 044 27222505

3.Haritam
NH-45 Thenpakkam Village,
Kanchipuram 603301, India
Ph:44 27522336
1 1 1 1 1 1 1 1 1 1 Rating 3.38 (238 Votes)
Driving Direction & Temple Location