Muthumariamman Temple
Arimalam, Pudukkottai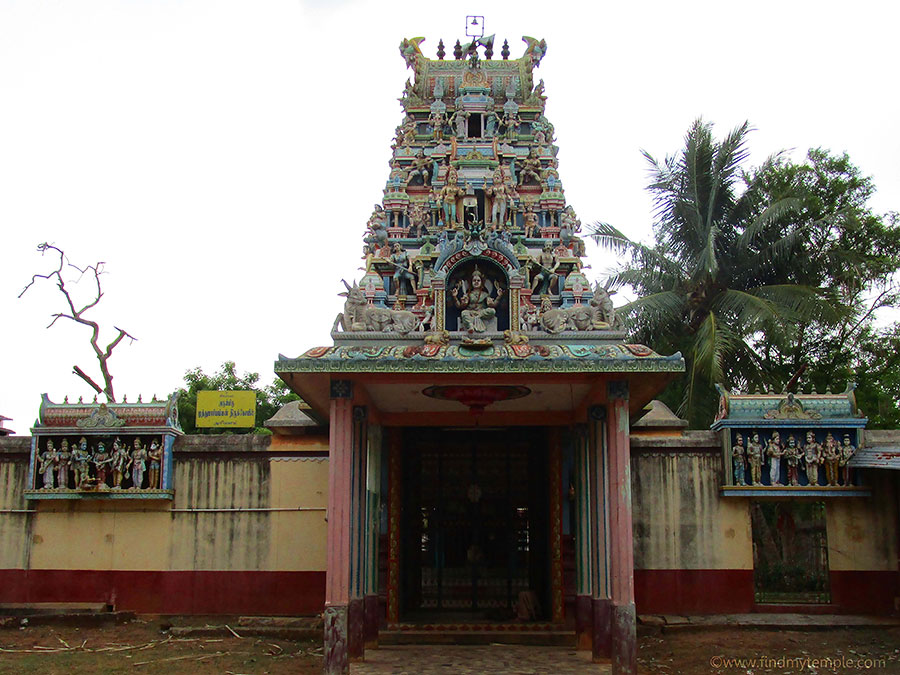 Main Deity : Muthumariamman.
Prominence of the shrine : "Mari" in Tamil means Rain. So she is called as "Mazhaiyai Tharubaval" (Goddess who gives rain). People believe that small pox /chicken pox is spread and cured by Mariamman. During drought season if we worship this Goddess, we will be blessed with rain. It is also believed that offering porridge (kuzh) will bring rain. As the Goddess resides in Neem tree (vepamaram) she is called as "Vepilaikari". Christening pongal, neerkanchi varthal, taking palsombu, taking kanmadal are some of the common systems followed in this temple. Mariamman worship is commonly found in all towns. But worshipping this Goddess cures deadly diseases. Special poojas are done on Fridays in the Tamil months of Aadi (jul 15-aug 15) and Thai (jan 15 –feb 15). As per the saying of our Scholars, when we consider flame of the lamp (Deepa chuddar) as the God who is spread everywhere, all our darkness will be removed and pleasure will be lit in our life. Lighting ghee lamps (nei deepam) will avoid all negative things and give pleasure in your life.
Temple Timings : Morning 06:00 am to 12:00 noon, Evening 04:00 pm to 08:00 pm.
Nearest Town : Pudukottai.
Temple Address : Muthumariamman Temple,
Arimalam, Pudukkottai District.
Hotels Near Muthumariamman Temple, Arimalam :
1. Chidambara Vilas Chettinad,
Ramachandrapuram, Kadiapatti | Off Thirumayam Fort,
Pudukkottai 622505,
ph :095855 56431.
2. Saratha Vilas Heritage Home in Chettinad,
832 main road, Kothamangalam,
Kariakudi taluk, Tamil Nadu 630105.
3. Chettinadu Narayana Vilas,
Near Raja Palace,Raja Front Street,
Kanadukathan, Tamil Nadu 630103,
ph no:04565 283 199.
4. Hotel Sathyam,
1 Sathyamoorthy Road,Pudukkottai,
Pudukkottai 620008
5. Visalam,
7/1 - 143, Local Fund Road,LF Road,
Kanadukathan, Tamil Nadu 630103
Restaurants Near Muthumariamman Temple, Arimalam :
1. Appus Curis Family Restaurant,
No : 5/p, Poonga Nagar, Rajagopalapuram,
Railway Station Road, Near State Bank Poonga Nagar,
Pudukkottai, Tamil Nadu 622003,
ph no:04322 261 541
2. Shri Aiswarya Restaurant,
Marthandapuram,
Pudukkottai, Tamil Nadu 622001.
1 1 1 1 1 1 1 1 1 1 Rating 3.36 (233 Votes)
Driving Direction & Temple Location