Artha Nareeswarar Temple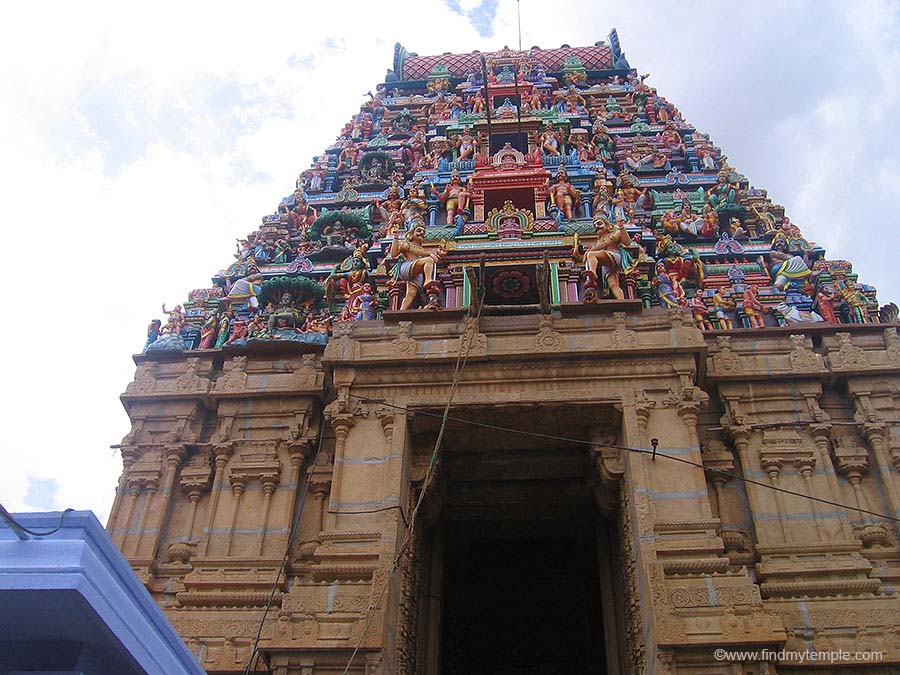 Main Deity : Artha Nareeswarar - God here is half male (Shiva) and half female(Parvathi)
Ambal : Bagam piriyal
Other Deities : Lord Murugan
Holy Water : Sangu Theertham, Deva Theertham
Temple Tree : Iluppai Tree(Madhuca longifolia)
Prominence of the Shrine : The temple is located in a stream mountain with 1200+ steps to reach. Devotees can also reach the temple top through by vehicle. There is a water spring under the Lord here. Though the main deity is Artha Nareeswarar here the temple is very famous for Lord Murugan here.
Temple History : Once Lord Shiva and his consort Parvathi was sitting in mount Kailash. Rishi 'Birungi' arrived there to worship the Lord and he offers the prayers only to Lord Shiva. By looking at the action of the Rishi Goddess Parvathi got angry and cursed him to lose his blood and flush. Rishi lost his original body and his body becomes only bones covered by the skin. Lord Shiva felt pity on him and offered a stick to walk. The Rishi was happy and he performed a dance with the help of the stick and showed his dedication towards Lord Shiva. By seeing this Goddess felt sorry and she wanted to become part of Lord Shiva. She did a penance towards Shiva. Lord Shiva got convinced to offer a boon to Parvathi and he accepted her as his half and become an Artha Nareeswarar at this temple.
Poets who sang its praise : Thirugnana Sampanthar
Temple Timings : Morning 6:00 AM – 2.00 PM; Evening 3.00 PM – 7.00 PM
Temple Festivals : Chithira Pournami, Vaigasi Vishakam, Maasi Magam, Panguni Uthiram.
Nearest Town : Erode
Address : Sri Artha Nareeswarar Temple, Thiruchengodu, Namakkal District -637211.
Telephone No : 04288/255925
Hotel Near Artha Nareeswarar Temple, Thiruchengodu :
1.Hotel Radha Prasad,
Near Anna Statue, Tiruchengode- 637211.
Phone : 04288 - 255510, 255560
Mobile : 097155 69000, 097888 34567
2.Hotel Saravana Bhavan Classic,
southcar st,SH 79,Kollapalayam,Tiruchengode
Tamil Nadu 637211
Restaurant Near Artha Nareeswarar Temple, Thiruchengodu :
1.Lijo Restauran,
Near Anna Statue, Hotel Radha Prasad Ground Floor,
Tiruchengode 637211, India

Ph:97-50-681777

2.Thailnayaki vilas,
East Car Street,Kamalar,
Tiruchengode-637211.
1 1 1 1 1 1 1 1 1 1 Rating 3.36 (233 Votes)
Driving Direction & Temple Location