Neelivaneswarar Temple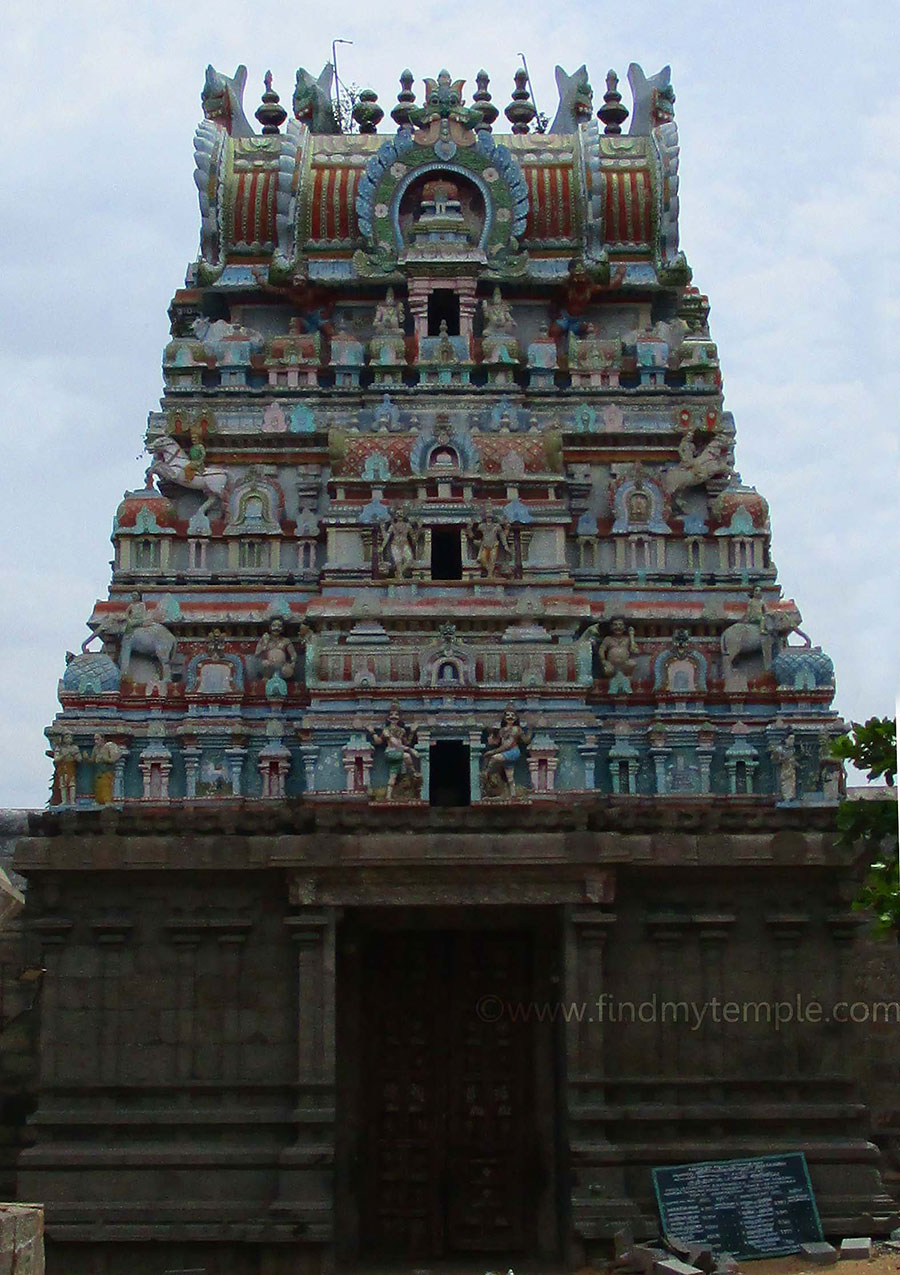 Main Deity : Neelivaneswarar, Neela Kandeswarar, Vazhai Vananathar, Swetha Giri.
Ambal : Visalatichi, Neel Nedunkan Nayagi.
Temple Tree : Kal Vazhai (Type of banana tree).
Prominence of the Shrine : Long ago Aadhiseshan and Vayu Bagawan wanted to find out who is more powerful and valuable in the world. Aadhiseshan rounded the mount Kailash. To release the mount Kailash, Vayu Bagawan created the very intense storm (cyclone) called "Sanda Marutham". Because of the force of the storm, eight peaks of Mount Kailash have thrown apart from it. They were Thirikonamalai, Thirukalathi (Kalahasthi), Thiruchiramalai, Thiruengoimalai, rajithagiri, Neerthagiri, Rathinagiri and Swethagiri. Out of these eight peaks, Swethagiri is today called as Thirupanjali. It is also called as South Kailash.
At this temple the seven angels from heaven Brahmi, mageswari, gowmari, Vaishnavi, Varagi, Indirani and Samundi did a penance towards Parvathi to get married. Parvathi also awarded their wishes and told them they can also worship her in the form of Banana tree. Later Lord Shiva also appeared as self-made form. Every year during the tamil months of Purattasi and Panguni the rays of sun will directly fall on the Suyambu Shiva linga is a uniqueness of this temple.
Temple History : This temple is related to the famous Amirtha kadeswarar Temple of Thirukadaiyur. Lord Shiva kicked the Yema (As per Hinduism Yema is the god responsible for someone's death) and killed him to save Markandeyan at Thirukadaiyur. Shiva allowed Yema to born again as a child at Thirupanjali.

There is a dedicated Sannidhi for Yema at this temple which in a cave carved style. As Yema is at this temple, there is Navagraha's are present here. To overcome the fear of death Devotees should worship the Yema at this temple.

"Ayush Homa" at this temple is very popular and if the devotees perform this Yaga along with worshipping Yema will help them to overcome the fear of death. Devotees who are seeing obstacles in marriages should visit this temple and offer Bananas will help them resolve their problems. The grand Kumbhabhishekham for this temple happened on 06.02.03.
As per another mythological story the famous tamil Sage Appar was searched this temple but he couldn't find. Then Lord Shiva came in the form of Brahmin and he provided food for tired Appar. He also showed the correct way to reach the Thirupanjali temple.
"Jili" (Kal vazhai) is a type of banana plant which can't be eaten by human beings. As Jili is the temple tree for this temple, this place was called as Forest of Kal vazhai and also the village become Thirupanjali.
Poets who sang its praise : Sampanthar, Sundarar, Appar.
Temple Timings : Morning 6:00 A.M. – 12:00 Noon. Evening 4:00 P.M. to 8:30 P.M.
Temple Festivals : Chithirai, Purattasi, Ippasi, Aani are the months were special poojas are conducted at this temple
Nearest Town : This temple is located 7 km from Mannacha Nallur.
Address : Sri Neelivaneswarar Temple,
Thirupanjali, Mannacha Nallur, Trichy Dt.
Hotels Near Neelivaneswarar Temple, Thirupanjali :
1. Mathura Hotel,
No 1, Rockins Road, Tiruchirappalli Townhall, Trichy - 620 002,
Opposite Central Bus Stand Contonment
+(91)-431-2414737, +(91)-9894558654
2. Mayavaram Lodge,
No 87, Vanapattarai Street, Tiruchirappalli Townhall,
Trichy - 620002, Teppakulam Pos
+(91)-431-2711400, 2704089
3. Femina Hotel,
109, Williams Road, Tiruchirappalli - 620 001,
Hotel Area: Trichy Central Bus Stand / Railway Junction Area
Tel : 0431 - 2414501.
4. Hotel Rockfort View,
5, Odathurai Road | Chinthamani, Tiruchirappalli - 620 002.
Mobile: +91 740 2713466.
Tel : +91 431-2713466.
5. Grand Gardenia,
22-25 Mannarpuram Junction,
Trichy - 620 020, Tamilnadu.
Mobile : +91 95856 44000.
Tel : +91 431 4045000.
Restaurants Near Neelivaneswarar Temple, Thirupanjali :
1. Ragunath Restaurant,
College Road,
Tiruchirappalli, India.
2. Parthasarathy vilas,
Vegetarian / Vegan Restaurant
Kondayam Pettai Agraharam,
Thiruvanaikoil, Trichy - 620 005, Tamilnadu.
1 1 1 1 1 1 1 1 1 1 Rating 3.37 (235 Votes)
Driving Direction & Temple Location