Amravaneswarar Temple
Mandurai, Trichy District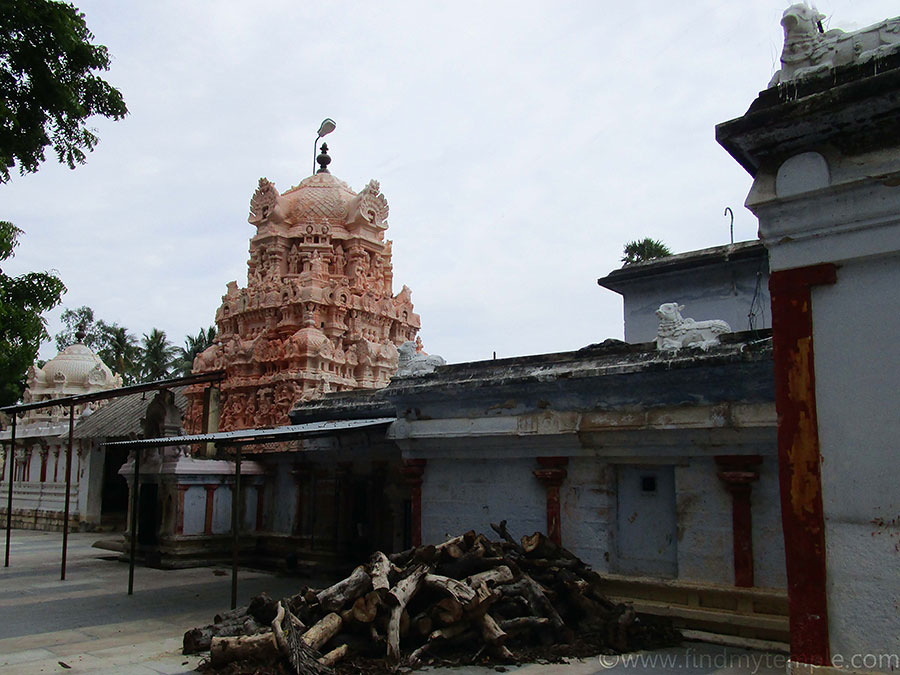 Main Deity : Sri Amravaneswarar.
Ambal : Sri Balambigai.
Holy Water : Cauvery Theertham.
Temple Tree : Mango tree (Maa maram).
Prominence of the Shrine: This shrine absolved Brahma of the curse resulted from his perjury that he had found the feet of Lord Shiva at Thiruvannamalai. In this place sage Mirugandu was blessed with on ideal son Markandeyan after his arduous penance for years. Lord shiva has asked the sage to choose between either a gifted son, but with a short life on earth or a child of low intelligence but with a long life. Sage Mirugandu chose a gifted son with short life. Also here the sage performed penance to obtain protection from the fear of death of Markandeya when he attained the age of Sixteen. This shrine is preferable to those belonging to the 'Moolam' star. Devotees of Moolam star will be freed from all types of doshas and receive better prospects of marriage is they offer prayer here. Lord Shiva here graces everyone in his self formed swaroopam. It is a speciality that the Sun spreads its light on the Swamy here and performs pooja for three days in the Tamil month of Panguni. The shrine teems with mango trees and it also graced a deer and hence the name .Maanthurai'.
Temple History : Once this place was a dense forest of mango trees. A sage who was performing penance here became guilty of sacrilege to Lord Shiva. He was cursed to be born as a deer and he was born as a deer to the deer which were actually a demon couple cursed in the previous birth. One day the father deer and the mother deer left this young deer and went out in search of prey. Lord Shiva and Goddess Parvathy qulled them with an arrow and granted them salvation. As the two did not return even late in the night, the young deer began to shed tears and at one stage it began to cry loudly. Lord Shiva and Parvathy appeared there as the father and mother deer and Parvathy fed the young deer with milk while Lord Shiva appeared as 'suyambu' (self-formed) and Parvathy also stayed here.
Temple Timings : 6.00 am to 1.00 am - 4.30 pm to 7.30 pm

Festivals : Aippasi – Annabishegam;
Thirukkarthigai Deepam;
Vaikasi – Adhi Shankara Jayanthi.
Nearest Town : Trichy.
Address : Sri Amravaneswari Temple,
Manthurai (Po.), Lalgudi (Tk),
Trichy (Dt). PIN – 621 703.
Hotels Near Amravaneswarar Temple, Mandurai :
1. Mathura Hotel, (14 km from Temple)
No 1, Rockins Road, Tiruchirappalli Townhall,
Trichy - 620002, Opposite Central Bus Stand Contonment
Tel : +(91)-431-2414737, +(91)-9894558654.
2. Mayavaram Lodge, (17 km from Temple)
No 87, Vanapattarai Street, Tiruchirappalli Townhall,
Trichy - 620002, Teppakulam Post,
Tel : +(91)-431-2711400, 2704089
3. Femina Hotel, (23 km from Temple)
109, Williams Road, Tiruchirappalli 620001,
Hotel Area: Trichy Central Bus Stand / Railway Junction Area,
Tel : 0431 - 2414501.
4. Hotel Rockfort View, (13.5 km from Temple)
05, Odathurai Road | Chinthamani, Tiruchirappalli 620 002.
Mobile: +91 740 2713466.
Tel : +91 431-2713466.
5. Grand Gardenia, (21 km from Temple)
22-25 Mannarpuram Junction,Trichy-620020,
Mobile : +91 95856 44000.
Tel : +91 431 4045000.
Restaurants Near Amravaneswarar Temple, Mandurai :
1. Ragunath Restaurant, (17 km from Temple)
College Road, Tiruchirappalli.
2. Parthasarathy vilas, (12 km from Temple)
Vegetarian / Vegan Restaurant
Kondayam Pettai Agraharam, Thiruvanaikoil, Trichy 620005.
1 1 1 1 1 1 1 1 1 1 Rating 3.36 (233 Votes)
Driving Direction & Temple Location