Agneeswaraswamy(Shukra) Temple
Kanjanur, Tanjore District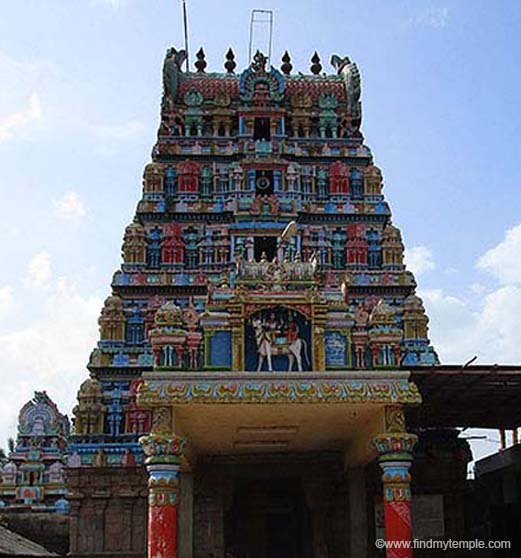 Main Deity: Sri Agneeswarar.

Ambal : Sri Karpagambal.
Other Deities: Agneeswarar.

Holy Water : Agni Theertham, Parasara Theertham.

Temple Tree : Palaasam.

Prominence of the shrine: Among the Navagraha kshetras, this shrine is celebrated for 'Sukkiran'. As per mythology here 'Nandhi' (bull) made of stone ate grass. The Lord himself tasted the cooked salad of bottle gourd (Suraikai) to satisfy the beloved Suraikai Bhakthar. In this shrine, the insanity of Parasarar, the anaemia of Agni, the disease od Kamsan and the curse on Chandran were nullified. Brahma withessed the celestial wedding here. To get relief from the dosha of Sukkiran, devotees throng this shrine.

Temple History : Once upon a time a Vaishnavite called Vasudevar was living in Kanjanur. He had his son named Sudarshan. Though Sudarshan was born in a Vaishnavite family he was a great devotee of Lord Shiva. Everyday morning he will start from Kanjanur to visit nearby Shiva temples. He will Worship Lord Shiva in Thirumandurai, Thirumangalakudi, Thirukurangadurai(Aduthurai), Thiruvavadurai, Thiruvalangadu &Thirukodika and he will return back to Kanjanur for Artha Jama Pooja (Night pooja). For years this was his routine. The people of Kanjanur didn't like this as he was born in Vaishnavite family and spending his all day in visiting Shiva temples.
Who worshiped here : Parasarar, Brahman, Chandran, Kamsan, Arathathar, Suraikkai Bhakthar, Manakknjarar, Kaligamar.

Poets who sang its praise : Thirunavukkarasar.

Temple Timings : 6.00 am to 12.00 noon ---- 4.00 pm to 9.00 pm

Details of Poojas : Six times a day.

Temple Festivals : Vinayaka Chathurthi, Vijayadasami, Navarathri, Sivarathri, Aadipooram, Masi Magam.

Nearest Town : Aaduthurai.

Address : Sri Agneeswaraswamy Temple,
Kanjanur (Po), Thiruvidaimarudhur (Tk),
Tanjore (Dt). Pin : 609 804.
Hotel Near Agneeswaraswamy(Shukra) Temple, Kanjanur :
1.Mantra Veppathur,
536/537 A, 1, Bagavathapuram Main Road,
Sri Sailapathipuram,Kadayanikadu,
Kumbakonam-612105.
2.Hotel Raya's,
No. 18, Head Post Office Road,
Near Mahamaham Tank West Bank,Gandhi Adigal Salai,
Valayapettai Agraharam,Kumbakonam-612001,
Ph: 0435 242 3170
3.Hotel Riverside Resort & Spa,
No.32 & 33, College Road,KondangudiIllam,
Kumbakonam-612002,
Ph: 0435 244 3666.
4.Hotel Vinayaga,
132, Kamaraja Road, John Selvaraj Nagar,
Opposite Railway Station,
Kumbakonam-612001,ph:096298 66611
Resturant Near Agneeswaraswamy(Shukra) Temple, Kanjanur :
1.Anaz Restaurant,
Srinagar Colony,
Kumbakonam-612001.
2.Hotel Shanmuga,
SH 64 Anna Nagar,
Kumbakonam, Tamil Nadu 612001,
Ph: 0435 242 5350
3.Sri Ganesh Bhavan,
Moopanar Nagar, Chettimandapam Ullur,
Tamil Nadu 612001,ph:0435 200 1333
1 1 1 1 1 1 1 1 1 1 Rating 3.36 (176 Votes)
Driving Direction & Temple Location