Maya koothar Temple(Sani)
Perungulam, Thoothukudi District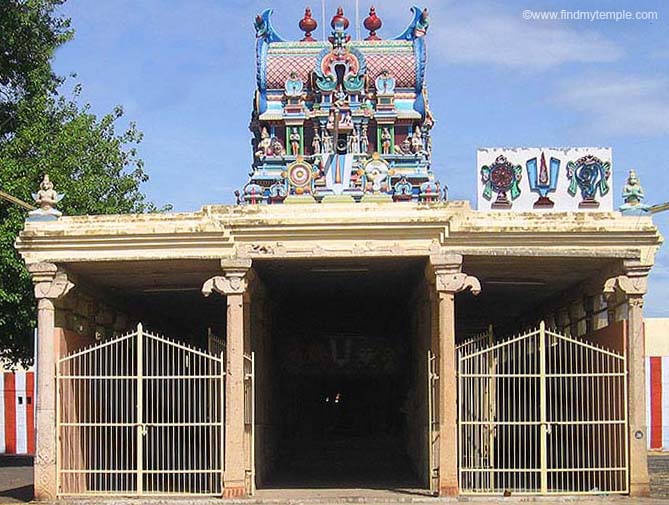 Main Deity : Venkadavanan (Mayakoothar)

Ambal : Alamelu mangai, kuzhandai valli.

Holy Water : Perungulam.
Prominence of the Shrine : This temple is the 7th Thiruppathi out of Nava Thiruppathi temples. This temple is dedicated for Sani Bagawan (Planet Saturn). A Asura called Achmasaran fought with the God Vishnu here and Vishnu demolished the asura after dancing on him. As per the Deva's wish, the god here is called as Maya Koothan. At this temple Garuda (vehicle of Vishnu) is co-located along with Lord Vishnu.
Temple History : Once upon a time, A couple lived in this region named Vedasaran- Kumudavalli. Their only daughter 'Kamalavathi' decided not to marry any Human. She would marry only Lord Vishnu and observed rigorous penance. Vishnu appeared before her and accepted her on His bosom as per her wish. Even today we can see Kamalavathi on His bosom. Vedasaran Who felt blessed at this performed pooja every day to Vishnu here. Once his wife Kumudavalli went to the river for bathing, a demon called Asamasaran abducted her and held her a captive at the Himalayas. Vedasaran prayed to the Lord who retrieved Kumudavalli from the Himalayas and brought her in his vehicle Garuda. Asamasaran came here to fight and the Lord quelled him. Hence the Lord was called Sora(demon) Nattiyan. In Tamil he is called Maya koothan. Vishnu sits with Garudan on the same base there by honoring Garuda Who assisted him in the fight with the demon.

Temple Timings : 7.30 -12.00A.M, 5.00 -7.30 P.M
Nearest Town : Tirunelveli.

Address : Sri Maiyakoothar Temple, Perungulam, Thoothukudi District.
Hotel Near Maya koothar Temple(Sani), Perungulam :
1.Sakunthala International, (38.4km from Temple)
Trivandrum Road | Vannarpettai,
Tirunelveli 627003, India
2.Hotel Aryaas Ressidence(38.8km from Temple)
Bypass Junction | Vannarapetai,
Tirunelveli 627001, India
3.Hotel Aryaas (39.9km from Temple)
67, Madurai Road | Tirunelveli Junction,
Tirunelveli 627001, India
4.Sri Bharani Hotel (39.6km from Temple)
29-A, Madurai Road, Tirunelveli Junction |
Tamilnadu, Tirunelveli 627001, India
5.Sri Janakiram Hotels (40.2km from Temple)
30,Madurai Road,
Tirunelveli 627001, India
1 1 1 1 1 1 1 1 1 1 Rating 3.37 (235 Votes)
Driving Direction & Temple Location