Navanideswarar Temple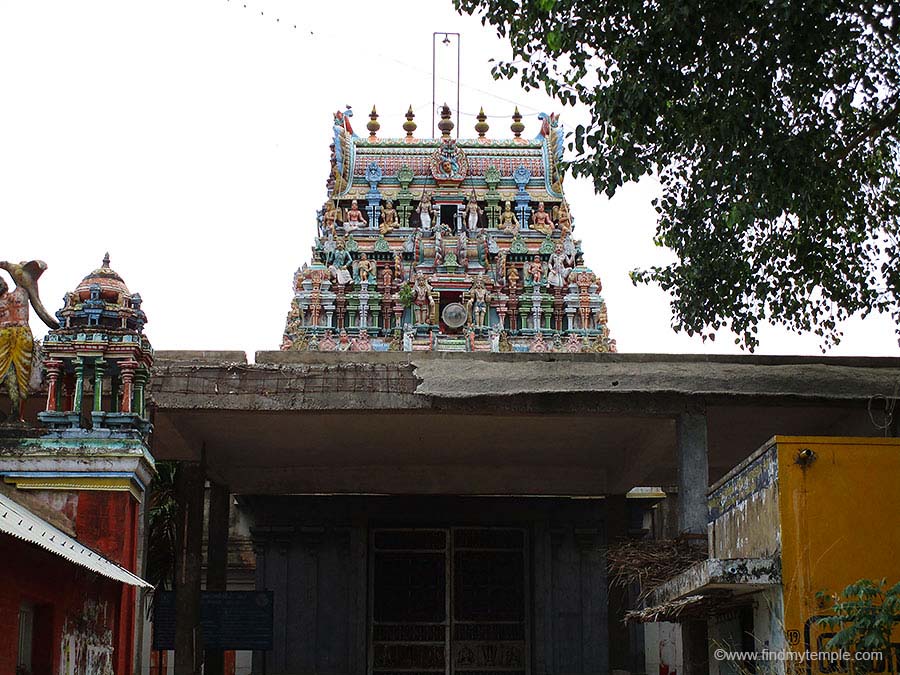 Main Deity : Sri Navanideswarar (Singaravelar).
Other Deities : Sakthiyayadatchi(Vel nedunkanni).
Holy Water : Ksheera Pushkarani Parkulam.
Temple Tree: Jasmine.
Prominence of the Shrine : The swamy here unravels the problems of the devotees and hence the place is called Sikkal (Sikkal means problem in Tamil). The day before the 'Soora samharam', Singaravelar(Lord Murugan) would get the "Vel" (a weapon) from Ambal and the following day he would quell soora. Prior to this Singaravelar would appear indignant and he couldn't manage the power of Vel and He started sweating. Even today, a day beore Soora Samharam he will sweat and when they try to wipe the sweat using silk cloth it won't stop. This is a wonder here and it is called "Sweating wonder". The Sannidhi of Shiva and Vishnu are located in the same corridor.
Temple History : This temple is older than 1000 years. As per Thala purana this place is where sage Vashistar had his ashram. He worshiped the Lord Shiva daily. At that time Kamadenu ( a holy cow) have come down to earth due to some curse. Kamadenu took bath in one of the tanks here and it allowed its milk to get mixed with water. Hence the water tank becomes full of milk. Sage Vashistar made a Linga made up of butter using that milk and worshipped. After completing his prayer he tried to take the Linga out of his hand and he couldn't. So the place is called as Sikkal as per another mythological story. Here the Lord Shiva is called 'Thiru Vennai Nathar' (vennai means butter) as he was made up of butter.
Temple Timings : 5.30 am to 1pm, 4pm to 9pm.
Pooja Details : Six times a day.
Temple Festivals : Kanda Shasti – Special.
Chithirai- Brahmotsavam
Location : 6km from Nagai.
Address : Sri Navanideswarar Temple, Sikkal P.O- 611108, Nagai Dt.
Telephone Number : 04365-245350.
Hotels Near Navanideswarar Temple, Sikkal :
1.GS Resorts,
ECR Main Road | Vailankanni,
Nagapattinam 611111

2.Hotel Chilambu,
31G Town Extension,
Nagapattinam 609 001.

3.Hotek Sadhabishegam,
Vaitheeswarankovil,
Tamil Nadu 609117.
ph:04364 279 270

4.Hotel Sri Akshardham,
SH 64,Vaitheeswarankovil,
Tamil Nadu 609117,
ph:04364 279 014

5.Mangala Heritage Home,
Meda Mada Villagam Street | Thirupugalur Village,
Nagapattinam.

Restaurants Near Navanideswarar Temple, Sikkal :

1.Chettinadu Hotel,
Opposite Railway Station,
Netaji Road,Melakottaivasal,
Nagapattinam, Tamil Nadu 611001,
ph:04365 220 543.

2.Uma Restaurant,
Public Office Road,Elancheran Nagar,
Nagapattinam, Tamil Nadu 611001

3.ANSS PARK RESTAURANT,
537, Public Office Road,Kadambadi,
Nagapattinam, Tamil Nadu-611001,
ph:096886 88877.
1 1 1 1 1 1 1 1 1 1 Rating 3.36 (233 Votes)

Driving Direction & Temple Location