Subramaniya Swamy Temple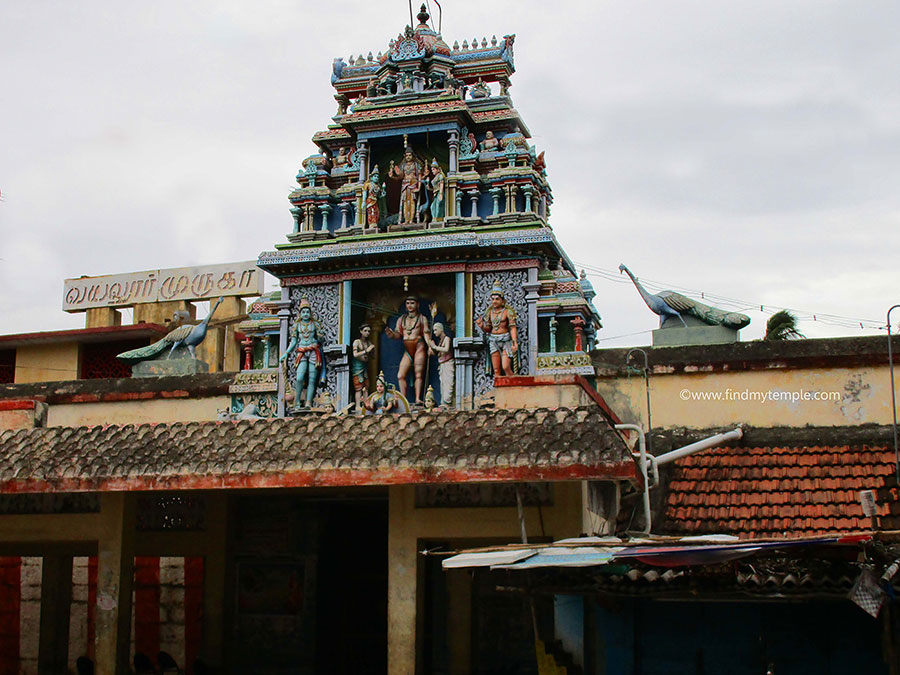 Swamy : Subramaniya Swamy

Ambal : Valli, Deivanai.

Theertham : Sakthi Theertham

Temple Tree : Vanni Maram

Special Feature : In this shrine, Lord Murugan appeared to Arunagirinadhar, wrote 'OM' on his tongue and offered His grace to enable Arunagirinadhar to write 'Thirupugazh'. Thrupugazh is a 15th-century anthology of Tamil religious songs dedicated to Murugan, This shrine is celebrated by Arunagirinadhar and Thirumuruga Krupananda Variyar. As Lord Muruga graces along with Valli and Deivanai, it is auspicious to celebrate marriages here. This shrine also dispels the doshas of children. The fact that the temple is ancient, is evident from the inscriptions of the chola period.
Temple History : This temple has been constructed by Chola kings who ruled from Woraiyur during 9th century. In the last century this temple got lot of visibility by a famous spiritual guru 'Kirubanandha variyaar'.
Chola kings used to visit this place for hunting. One day when they were hunting, the Chola king felt thirsty and try to break the sugar cane grown in the forest. Instead of sugar water, he saw blood coming out of that sugar cane. He ordered to clean that place and he figured out there was a Shiva linga under the sugar cane. The king ordered to build a temple for the linga and he started worshiping the lord.
At Aadhi Nathar Sannidhi of this temple there is 20 stone scripts are carved. Siddhars used to visit this temple and attain the liberation (freedom from birth and death) at this temple.
At this temple the stone pillars and the stone walls have been wonderfully carved /constructed by chola kings. There is a small chariot for this temple. Every year on Swathi star day of tamil month Vaigasi, chariot festival is celebrated. There are five halls like 'Vasantha Mandapam', 'Dyana Manadapam',' front mandapam' and two marriage halls are available within the temple.
Temple Timings : 6.00 am to 1.00 pm - 3.30 pm to 9.00 pm.
Festivals : Vaikasi Visaga Peruvizha,
Kanda Shashti Peruvizha,

Thai poosam,
Panguni Uthiram.

Nearest Town : Trichy.

Address : Sri Subramaniya Swamy Temple,

Kumaravalar (Po.), Srirangam (Tk),

Trichy (Dt).

Hotels Near Subramaniya Swamy Temple, Vayalur :
1. Sangam Hotel, (9.3 km from Temple)
Collector Office Road,Raja Colony,
Tiruchirappalli-620001.
2. Mayas Hotel, (12.1 km from Temple)
Chathram Bus stand, Trichy.
Phone: 2705717
3. Femina Hotel, (10.1 km from Temple)
109, Williams Road, Tiruchirappalli 620001,
Hotel Area: Trichy Central Bus Stand / Railway Junction Area
Tel : 0431 - 2414501.
4. SRM Hotel, (13.2 km from Temple)
Race Course Road, Khajamalai,
Trichy.
5. GRAND GARDENIA, (12.4 km from Temple)
22-25, Mannarpuram Junction, Sangillyandapuram

Mannarpuram, Sangillyandapuram,
Tiruchirappalli.
Restaurants Near Subramaniya Swamy Temple, Vayalur :
1. Shri Sangeetas, (10 km from Temple)
No. 2, V.O.C Road Near Central Bus Stand,
Tiruchirappalli-620001.
2. Ezham Suvai, (9.6 km from Temple)
Collector Office Road,Cantonment,
Tiruchirappalli-620001.
3. Vijay Food Court, (8.9 km from Temple)
9 , Reynolds road, Above reliance mart,
Cantonment,Tiruchirappalli- 620001.
4. DiMoRa, (10.8 km from Temple)
No B 29 & 30, 4th Floor, Ambigai City Center,
Shastri Road,Thennur,
Tiruchirappalli- 620018.
1 1 1 1 1 1 1 1 1 1 Rating 3.36 (233 Votes)
Driving Direction & Temple Location