Nadanapureeswarar Temple
Thandonthottam, Kumbakonam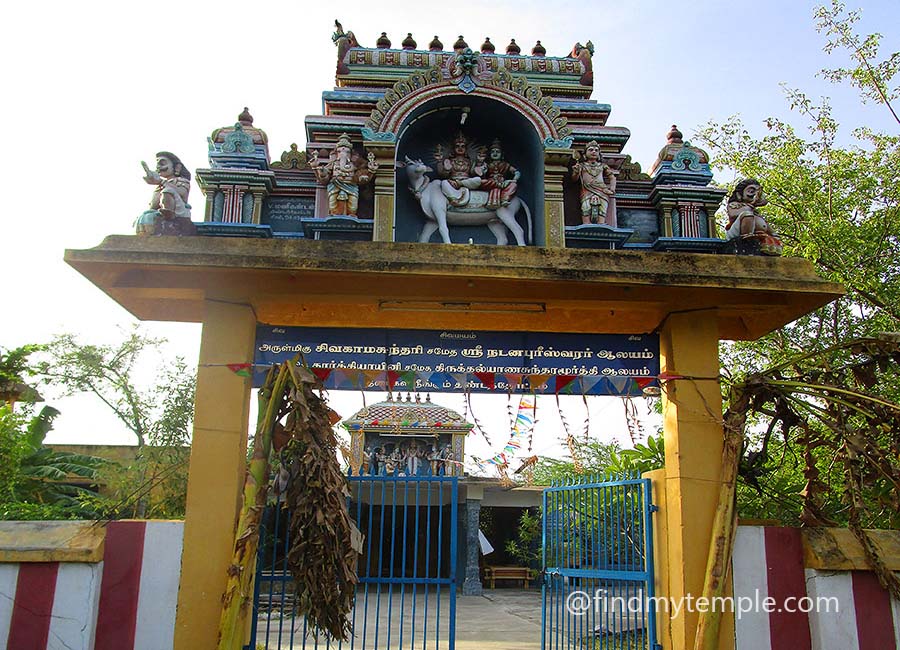 Main Deity : Nadanapureeswarar.
Ambal : Sivagama Sundari Amman.
Other Deities : Dakshinamoorthy, Vinayagar, Valli Deivanai Sametha Shanmugar [Shanmugar along with Deivanai and Valli], Durga.
Holy Water : Agasthiya Theertham, Sooriya Theertham.
Temple Tree : Vanni.
Prominence of the Shrine : Nadanapureeswarar Temple is located with the entrance facing towardsthe South. If we enter through it, there is a mandapam right in front. Here the Ambal Sannidhi [Garbagraha/shrine of Ambal] is facing the South Direction and The Lord Shiva's shrine [sannidhi] is situated to the left of the Ambal sannidhi and this is situated facing towards the East direction. Here the Lord Shiva blesses the devotees in the form of a "linga''. While coming around the Prakarams, one can see and pray to the Dakshinamoorthy who is sitting on a Peedam, above the 12 Rasi [Star / zodiac] Mandalams. The Dakshinamoorthy in this Sthalam [Holy place ] is also known as "Rasi Mandala Guru''. A common belief is that if a person offers Manjal Vastra [Yellow coloured clothing] and Konda kadalai malai [Chick pea Garland] to Him and pray, the Dhoshams [sins] of people all the 12 Rasis will be relieved and God will bless him abundantly. In the West Prakaram there are separate shrines for Lord Vinayaka, Goddess Durga and Lord Muruga along with Valli and Deivanai.
The "Seppedugal" (Brass parchments of the ancient times) belonging to the Pallava Era have been found in Thandanthottam. These Seppedugal clearly explain that this town had immense glory during the Pallava and Chola eras. They also tell about Nandivarman II, the Pallava king who ruled Kanchipuram in the 8th century. It is also known through these Seppedugal, that the Sri Vaikunda Perumal temple was constructed by Nandivarman II.
Temple History : The Nadanapureeshvarar Temple is a famous temple in the Chola country. The deity in this temple was praised and sung by Sundaramoorthy Swamigal. When the sacred marriage of Lord Shiva and Parvathi took place in Mount Kailash, all the Devas and Saints came to see it. So, the balance of weight in the Earth was disrupted and thus the Northern hemisphere arose and the Southern hemisphere began to plunge below. Lord Shiva sent Agasthiya to the South to balance The Bhoomi Devi's burden. [goddess earth] Agasthiya was disappointed that he could not see the Divine marriage, hence Lord Shiva promised Agasthiya to give Darshan in marriage form wherever he wished. In this temple which is located on temple the northern banks of Arasal river Lord Shiva who was pleased with Agastiya's worship gave him darshan as Kathyayini sametha Kalyanasundarar. The Lord also blessed him with two boons. Accordingly, the obstacles in the marriage of whoever worships the Lord Nadanapureeshvarar here will vanish and all the obstacles in their life will be eliminated, they will get the good consequences that they will receive if they visit Mount Kailash.
People who worshipped here : Agasthiya.
Poets who sang its praise : Sundarar.
Temple Timings : Morning 09:00 A.M. to 10:30 Noon, Evening 05:00 P.M. to 07:00 P.M.
Address : Sri Nadanapureeswarar Temple,
Thandanthottam, Kumbakonam, Thanjavur District – 612202.
Hotel Near Nadanapureeswarar Temple, Kumbakonam :
1. Sivamurugan Hotels
60 Feet Main Road, | Near New Bus Stand,
Kumbakonam - 612 001, India
Ph: 096000 00384
2. Sara Regency
45/1 Chennai Road, Kumbakonam - 612 002, India
Ph:082200 05555
3. Quality Inn VIHA
New Railway Road, Kumbakonam,
Tanjore, Tamil Nadu - 612 001,
Trichy Road, Namakkal
Ph:0435 255 5555
4. Hotel Green Park
No. 10, Lakshmi Vilas Street,
Kumbakonam, South India - 612 001,
Ph :(0435) - 2402853 / 2403914.
5. Hotel Vinayaga - Kumbakonam
132C, Kamaraj Road,
Kumbakonam- 612 001,
Tamilnadu, India.
Tele : +91 435 240 03 56
Telefax : +91 435 240 03 57
Mobile: +91 822 001 9 122
Reservation No: +91 4296 272 110
Restaurant Near Nadanapureeswarar Temple, Kumbakonam :
1. Venkatramanaa Hotel
No 40, TSR Big Street, Kumbakonam HO,
Kumbakonam - 612 001, Near Gandhi Park
Ph : +(91)-9442130736
2. Sri Balaji Bhavan
1, Sasthra College Road,
Kumbakonam HO, KUMBAKONAM - 612 001,
Ph : +(91)-435-2424578
3. Hotel Shanmuga Bhavan
16, Kumbeswarar South Street,
Kumbakonam HO, KUMBAKONAM - 612 001,
Ph:+(91)-435-2433962
4. Gowri Shankar Hotel
No 47, John Selvaraj Nagar,
Kumbakonam HO, Kumbakonam - 612 001,
Ph : +(91)-9443131276 ,+(91)-435-2431177
tel : (91)-435-2430736.
5. Rayas Garden Restaurant
No 18 Rayas Hotel, Head Post Office Road,
Kumbakonam HO, Kumbakonam - 612 001,
Ph :+(91)-435-2423170, 2423171, 2423172, 2423173.
1 1 1 1 1 1 1 1 1 1 Rating 3.37 (235 Votes)
Driving Direction & Temple Location