Masani Amman Temple
Aanai Malai, Coimbatore District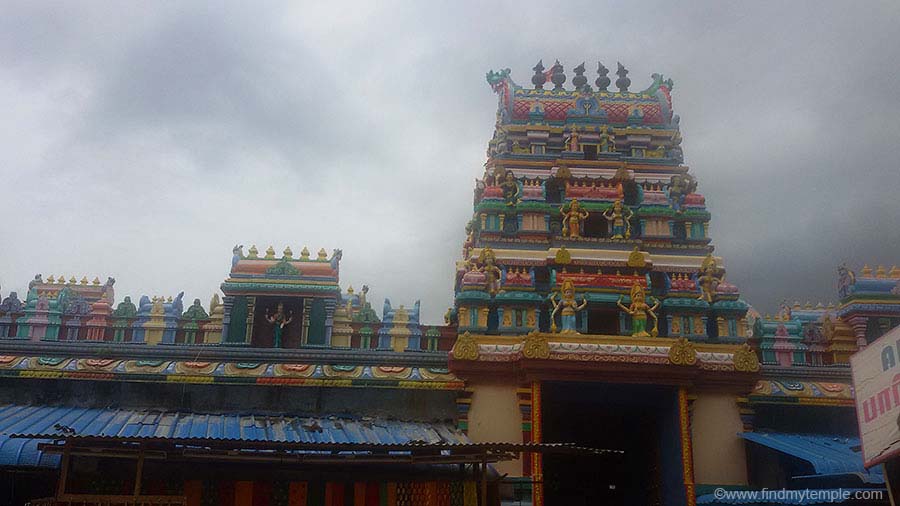 Main Deity : Masani Amman
Holy Water : Well water Theertham.
Prominence of the Shrine : At the Northen bank of river "Upparu", Masani Amman graces everyone in her 17 feet lying poster facing the south, holding skull, serpent, thirisuolam and Udukkai. It is said that Rama on his journey to rescue Seetha worshipped here and got the blessing.
Temple History : Thousands of years ago a king called Nannan ruled over this region. He was growing a mango tree on the bank of river "Azhiyar". He ordered that none should pluck the fruit of the mango tree. One day the woman while bathing in the river ate the fruit of the mango tree which come floating. The king came to know this and awarded her a death sentence. The people of the village objected this order. However the king executed the sentence .The aggravated people entombed the body of the girl and erected a statue in lying posture on the tomb. As years rolled by she became the guarding deity of the village and people built a temple for her and continued with their worship.
Temple Timings : 6.00 am to 8.00 pm
Temple Festivals : An 18 days festival is held in the tamil month of "Thai". On Tuesdays, Fridays and new moon days, special poojas are performed at this temple.
Nearest Town : Pollachi
Address : Sri Masani Amman temple, Anaimalai, Pollachi-642 104, Coimbatore Dt.
Telephone Number : +91-4253 282 337, 283 173.
Hotel Near Masani Amman Temple, Aanai Malai :
1.Coco Lagoon by Great Mount Resort,
Vazhaikombu nagoor
Meenkarai Road, Pollachi 642103,
Ph : +91-4259-297058, 8344200200, 8344300300
2.Sakthi River Resorts India Pvt Ltd
Subbe Gounden Pudur Pirivu
Pollachi To Trichur Highway, Pollachi
3.Tiger Hills Resort,
No 1 Top Slip Main Road
Sethumadai, Pollachi, India
4.Cotsvilla Topslip,Minor padi,
Near forest checkpost
Sethumadai (TOPSLIP ), Pollachi 642133,
5.Western Ghats Villas,
30, Top Slip Road,
Sethumadi, Pollachi 6
Resturant Near Masani Amman Temple, Aanai Malai :
1.The Slaves Resturants,
12, Artin Enclave, Kamaraj Road, Mahalingapuram,
near Mahalingapuram Arch, Pollachi, Tamil Nadu 642002
Ph: 094882 54204
2.Sakthi Hotel,
144, Coimbatore Main Road,
Pollachi 642 002, India
3.Muthuram Cafe And Hotel,
Angalakuruchi | pollachi to Aliyar/valparai NH,
Pollachi 642007, India
1 1 1 1 1 1 1 1 1 1 Rating 3.37 (235 Votes)
Driving Direction & Temple Location