Mayuranatharswami Temple
Mayiladuthurai, Nagapattinam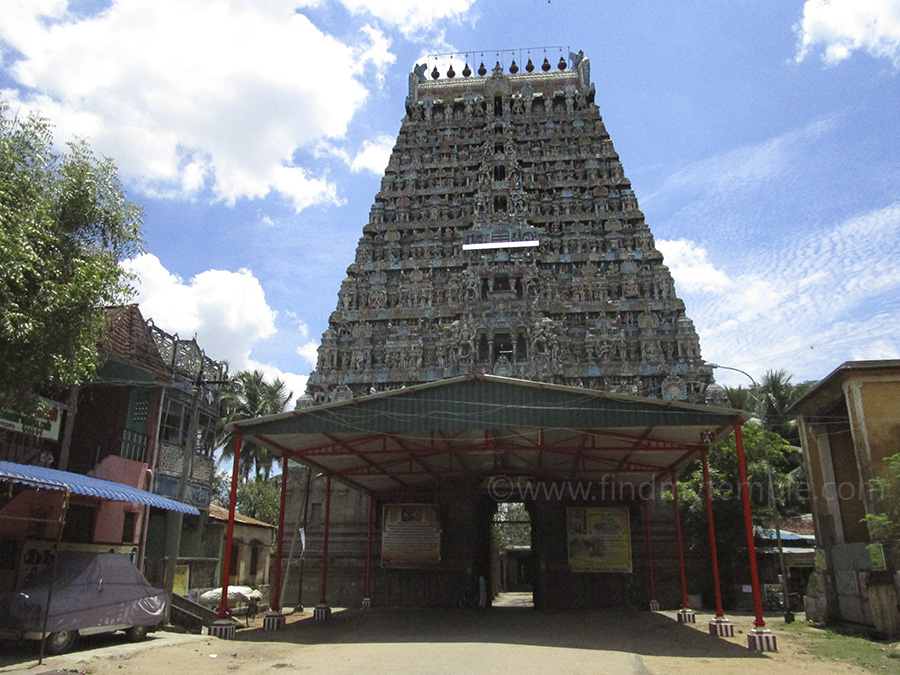 Main Deity : Mayuranatharswami, Vallalar, Gowri Mayuranathar, Gowri Thandavaresar.
Ambal : Abayambigai ,Anjal Nayaki.
Other Deities : Vinayagar, Subramaniar,Mayilammai, Sabdha Mathakkal, Natarajar, Arunasaleswarar, Suradevar, Brahma, Dakshanamurthy,Alingana Chandrasekarar, Pichadanar, Ganga Visarsanar,Navagraga,63 people, Lingas worshipped by 8 direction Gods.
Theertham : Idabam, Brahmma and Agasthya.
Temple tree : Mango Tree.
Prominence of the shrine : The six Shiva temples in the bed of Cauvery are considered to be equal to Kasi. They are Thirumayiladuthurai, Thiruvaiyaru, Thiruvengadu, Thiruvidaimarudur, Thiruvangiyam and Thirusaikkadu. This place Mayiladuthurai also called as Mayavaram, Mayuram is very archaic. This temple has walls in all four sides, and main tower is located in the east direction. The main tower has 9 stages and the inner tower has 3 stages. If we enter through the main tower, on the left side is the pond and on the right side is the temple's management office.
Juradeva is by the side of the feet of Lord Nataraja. Mother Durga graces with demon Mahisha at her feet and also with two demons on both sides. This is also said to be a rare form of Durga. Chandikeswara and Tejas Chandikeswara are in the same shrine. Lord Mahavishnu worshipping Lord Shiva is in a separate shrine. Mothers Ashta Lakshmis and Sattainahar are in the prakara. Maha Vishnu who worships Shiva Linga is also present here.
Nadha Sharma and his wife Anavidyambikai were beatified by the Lord, so they have a separate shrine in the south of Ambal shrine. The Lord merged the couple in the Linga and gave a boon that, "People who worship all the Gods should also worship them to attain the full benefit of worshipping him". This Linga is dressed with Red Sari only. It also indicates the oneness of male and female. In the north east corner of this temple, Arunachaleswarar is present. In the inner courtyard, Indra Lingam, Agni Lingam, Vayu Lingam, Yama Lingam, Varuna Lingam, Sagasara Lingam, Brahma Lingam, Agasalingam and the Lingas which were worshipped by Moon, Indra, Sun, Vishnu and Nadhsarma, Shri Anavidhyambigai surround Shri Mayuranathar. Ambal has separate shrine.
During the Skanda Sashti festival in Shiva temples, Lord Muruga would receive His Vel weapon from Mother Ambica. Here, He receives it from Lord Shiva. The Gouri Thandavam dance performance of Lord is celebrated as Mayura Thandavam – Mayura-peacock. Lord Nataraja graces from a separate shrine. The first puja in the evening is dedicated to Lord Nataraja. Mayilamman shrine is opposite to Nataraja shrine where both Lord and Mother grace in the form of a peacock.
Kudhambai Siddhar Tomb is present in the south of Mayuranathar shrine. Sandalwood Ganesha is present in small temple on the Tomb. 156 feet height and 9 stage Main tower in the east side looks very majestic. Adhigara Nandhi with his wife in wedding attire is present in the inner side of the Tower. People take their holy bath in the river during the Aipasi month (October-November) called as Thula Snanam and the first day of following Karthikai month called as Mudavan Muzhukku. A bath in Cauvery on these days cleanses the devotee of all his/her past sins. Every year for Lord Nataraja, dance festival called as Mayura Natyanjali will be conducted. On full moon day if we take walk around this temple for 16 times, it is equal to the Girivalam of Thiruvanamalai.
Temple History : Mayuranathar Swamy temple is the biggest temple in Mayiladuthurai. The inscriptions in the wall of this temple have information about Kulothunga Cholan. This temple is a testament to the architecture of the Cholas. Daksha, father of Mother Parvathi conducted a yagna but intentionally failed to invite Lord Shiva to humiliate Him. Lord Shiva did not want Parvathi too to attend the yagna. Yet, with a view to correct Her father, Parvathi attended the function but was humiliated by Daksha. Lord Shiva took the Veerabadra form and destroyed the yagna.
A peacock used for the rituals sought asylum at the feet of Mother Parvathi. As She ignored Lord's advice, She was cursed to become a peacock. She came to this place as a peacock and performed severe penance to get back Her Lord. Pleased with Her penance, Lord Shiva appeared before her as a Peacock Himself and danced as a peacock – Mayura Thandavam. Parvati was restored to Her original form. As Lord came here as a peacock-Mayura, He is praised as Mayuranathar. And also as the goddess Parvathi in the form of peacock worshipped the Lord, this place is called as Mayiladuthurai.
The Lord punished all devas who participated in the yagna of Daksha. They all came to Mayiladuthurai and worshipped Mayuranathar to get redressed from their sins. The holy rivers like Ganga and Yamuna were burdened by people who take dip in them to get redressed from their sins. So they prayed Lord Shiva to canonize. Lord Shiva told them that, "every day each river in the month of October should come and take holy dip in the Cauvery which flows in Mayuram to get redressed from their sins". Including river Ganges and other rivers came and took dip in Cauvery to purify themselves. Gods, sages, Saraswati, Lakshmi and Gauri come to Cauvery and take holy dip. So taking dip in the month of October is considered to be the special feature of Cauvery in Mayiladuthurai.
Taking holy dip on the first day of Libra (October) month, on new moon day new moon bath and dip on the last day of the month is considered to be very special. This is called as "Thula Snanam". On all 30 days of this month, the God will give his appearance in the Cauvery river. On hearing about Thula Snanam, a lame man came to Cauvery to get redressed from his sins. As he was lame he reached late, so the month of October (Aipasi in Tamil) got over and November (Karthigai in Tamil) started. The lame man appealed to God that he could not come on the next year, so God extended one day for him. Then the lame man took holy dip in the Cauvery. Hence this is called as "Mudavan Muzhukku".
People who repent and apologize for their sin can take bath in Cauvery and worship this Lord. Around 17 inscriptions about the ancient rulers have been found by Archaeological Survey of India in AD 1907, 1911. Parandhaga Chola (10th century), The second Rajadhi Rajan(AD 1711), third Kulothunagan(AD 1201), Rajaraja Devan(AD 1228), Third Raja Rajan(AD 1245), Jadavarman Sudarapandian and rulers of Vijayanagara renovated this temple.
People who worshipped here : Ambal, Thirumal, Thirumagal, Brahma, Indran, Kalaimagal, Sabdhamadhargal, Ganga, Yamuna.
Poets who sang its praise : Sundarar,Thirugnana Samandar, Thirunavukarasar, Manikkavasagar, Arunagirinadhar.
Temple Timings : Morning 06:00 am to 12:30 pm, Evening 04:00 pm to 09:00 pm.
Pooja Details : 6 term pooja.
Temple Festivals : Kandhar Shasti, Vaikasi Vasantha Urchavam, Aipasi festival where Shiva gave appearance to Ambal in the dance form.
Nearest Town : Mayiladuthurai.
Address : Mayuranatharswami Temple,
Mayiladuthurai(po)-609001, Nagapattinam District.
Hotel Near Mayuranatharswami Temple, Mayiladuthurai :
1.Chola Inn,(13.3km form Temple)
105, Pidari South Street,
Thenpathi,Sirkazhi,
Tamil Nadu 609111,
Ph: 094444 93388
2.Ayarpadi Hotel,(13.9km form Temple)
Old NH,Thenpathi,Sirkazhi,
Tamil Nadu 609110
3.Hotel Aryabhavan,(12.9km form Temple)
Old NH,Thiruvalluvar Nagar,
Thenpathi,Sirkazhi,
Tamil Nadu 609111
4.Mangala Vilas Hotel,(13km form Temple)
Thenpathi,Sirkazhi,
Tamil Nadu
5.Ganesan Hotel,(14.2km form Temple)
Sirkazhi, Tamil Nadu
Resturant Near Mayuranatharswami Temple, Mayiladuthurai :
1.Samboorna Restaurtant,
Old NH,Thenpathi,Sirkazhi,
Tamil Nadu 609110
2.Garden Restaurant,
Thenpathi,Sirkazhi,
Tamil Nadu 609110
1 1 1 1 1 1 1 1 1 1 Rating 3.36 (233 Votes)
Driving Direction & Temple Location