Bhoothalingaswamy Temple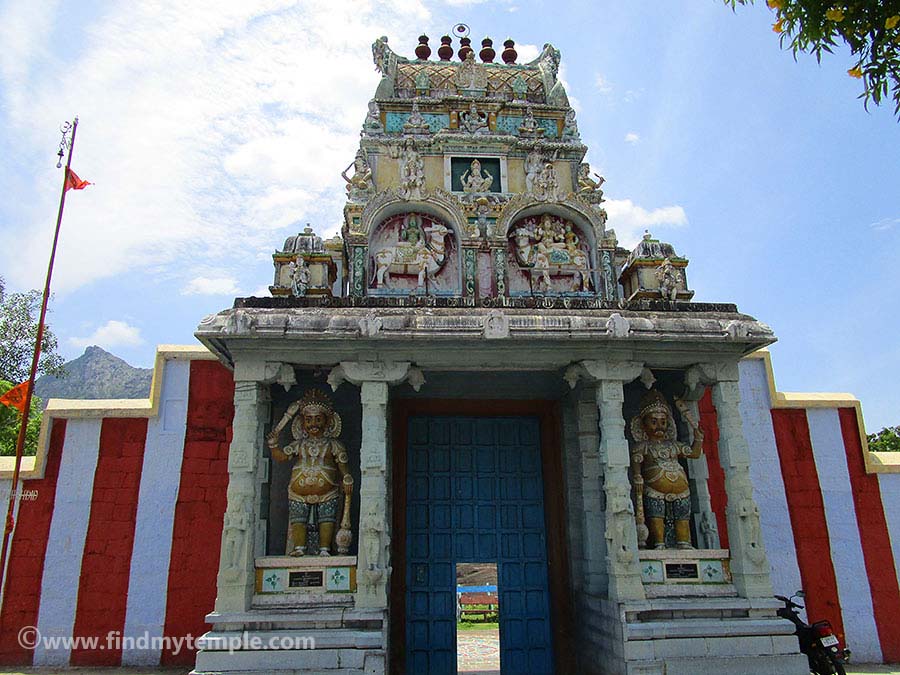 Main Deity : Bhootha Linga Swamy.
Ambal : Sivagami Ambal.
Other Deities : Subramanya Swamy, Maghizhamudaya Sastha, Sandeekeswarar, Dakshinamoorthy, Kanni Vinayagar, Ninathathai Mudikkum Vinayagar,
Temple Tree : Vilva Tree (Aegle Marmeolus).
Prominence of the Shrine : At this temple Lord Shiva is in Self-made (Swayambu) form. If you wish something and pray to the Lord Ganesha here that will happen. There is a dedicated Sannidhi for Ganesha, Subrahmanya Swamy an Sastha. This temple is constructed inside the cave. There is huge chain made up of single stone. Flag hoist at this temple is very tall and the Temple car here is very old and high weight. There is a dedicated temple for Tamil Poet Avvaiyar located at 5 KMs from Bhootha linga Swamy temple.
Temple History : This temple was constructed by Pandya kings. Long ago a man was taking care of lot of cows. He noticed only one cow doesn't give him enough milk compared to other cows. He wanted to find out Is someone steeling his milk from the cow and he followed it. The cow went straight to a small cave surrounded by bushes and sprayed the milk there. He initially feared that there is some devil(Devil is Bootham in tamil) there and that was sucking the milk from the cow. So no one wanted to go near to that cow. Later the news reached the Pandya king and he sent his army to find out the truth. When they reached the spot where the cow was spraying the milk they thought some mystery is there at that place. They cleaned the bushes surrounded in that area and they saw Suyambu formed Linga. They returned back to Pandya king and informed him that there is a linga under the bushes. King ordered a built a huge temple for the god and the Linga also got the name of Bhoothalinga Swamy. This temple was constructed around 500-600 years back. As per mythological stories the temple is located at the spot where Rama quelled Thadagai.
Temple Timings : Morning 4:00 A.M. – 11:00 A.M. Evening 4:00 P.M. to 7:30 P.M.
Pooja Details : Pradosham, Special poojas on New moon No moon days.
Temple Festivals : Big festivals on Thai Tamil month and Chithirai Tamil month.
Nearest Town : Nagercoil.
Address : Bhoothalingaswamy Temple,
Bhoothappandi, Nagercoil, Kanyakumari Dt.
Hotels Near Bhoothalingaswamy Temple, Bhoothappandi :
1. The Gopinivas Grand,
Near Seashore, Kanyakumari,
Tamilnadu, India. Pincode : 629702
Voice : +91(0) 4652 24 61 61 / 24 62 62
2. Hotel Maadhini,
East Car Street,
Kanyakumari 629702,India
3. Hotel Singaar International,
5/22 Main Road,
Kanyakumari 629702, India
4. Tri Sea Hotel
(P) Ltd Near Seashore, Kovalam Road |
Tamilnadu, Kanyakumari 629702, India
Restaurants Near Bhoothalingaswamy Temple, Bhoothappandi :
1. The Ocean Restaurant ,
The Seashore Hotel
East Car Street, Kanyakumari, India
PH:9994121088
2. Auroma Restaurant,
6/112 B, Beach Road, Near Sunset point |
Sparsa Resort, Kanyakumari,India
PH:+91 04652 - 247041 / 42 / 44
1 1 1 1 1 1 1 1 1 1 Rating 3.36 (233 Votes)
Driving Direction & Temple Location