Karkadeswarar Temple
Thirundhuthevankudi, Thiruvidaimarudhur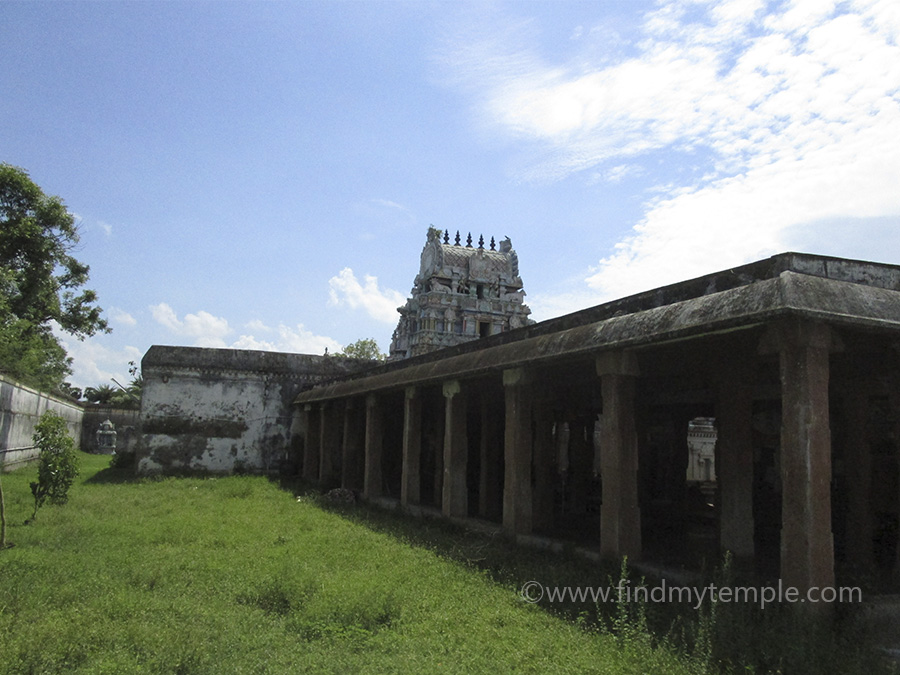 Main Deity : Karkadeswarar.
Ambal : Apoorvanayaki, Arumarundhu Nayaki.
Other Deities : Ganapathy, Dhakshanamurthy, Durga, Murugan, Moon, Dhanvanthari and Agasthiyar.
Theertham : Navapashana Theertham.
Temple Tree : Panchathala Vilvam(Bael Tree).
Prominence of the shrine : The temple is praised in the Thevaram hymns of Saivite Saint Tirugnanasambandar. This is the 42nd shrine on the northern bank of Cauvery mentioned in Thevaram hymns. Lord Shiva in the temple is a Swayambumurthy (formed by its own). There are two Goddesses in the temple against one normally seen in Shiva temples. They are in separate shrines. As you enter the temple, Ganesha, Altar and Nandhi are present. In the west of Sanctum, there are shrines of Ganapathi, Murugan and Gajalaxmi. Dhakshanamurthy is located in the south and Durga in the north. Dhanvanthari and Agasthiyar are also present on the outer courtyard. There is no shrine for Navagraha. Planet Moon is in a shrine at the entrance of the temple in meditating form as Yoga Chandra. Those undergoing Moon main period in their life are advised to offer white vastras (clothes) to Chandra if they have adverse aspects.
Aslesha-Ayila star under Karkadaga-Cancer Rasi has naturally medicinal powers. They also have the confidence that they achieve through divine backing. They have a firm mind. They should pray to Lord of this temple on their star days, new moon days, Tuesdays, Saturdays and on Ashtami days in the new moon fortnight. People of other stars too may depend on Lord Karkadeswara and Arumarundu Nayaki for cure from prolonged diseases like cancer. Ayilam starrers worship in this temple for relief from adverse planetary effects, performing abishek to Lord Karkadeswarar with gingely oil. It is believed that consuming this abishek oil heals illnesses. There is a hole on the body of Shivalinga made by a Karkadam -Cancer (Nandu in Tamil) a sea creature and an injury scar caused by Indira. The name Tirunthudevankudi relates to the story of Indira worshipping in the temple and correcting his mistake. Devan is Indira. Tirunthu means correcting oneself. Local people do not know this name. They know the temple only as Nandukoil. There is a sculpture of Crab worshipping the Lord in this temple.
Temple History : Sage Durvasa was mocked at by a Gandharva (a community known for their skill in music) that he was walking like a cancer-nandu. The sage was just completing his Shiva Puja. So the sage got annoyed and cursed him to become like a crab. Gandharvan pleaded to get redressed from the curse. So the Maharishi asked him to worship the Lord Karkadeswara. Gandharvan did the same and redressed from the curse. It is said in Thalapuranam that the Goddess Parvathi once worshipped this Lord in the form of crab with the lotus flower in the moat surrounding the temple. Devendran too was worshipping the Lord with 1008 lotus flowers planted by him in the moat. He got annoyed by seeoing the crab plucking the flowers. Once when crab was climbing the Linga to present the flower, Devendran through his sword on the crab. So Lord Shiva made a hole on his head and pulled in the crab. Then Devendran realized his fault and corrected his mistake. Indira the king of Devas, following the advice of his Guru Prahaspati worshipped the Lord here with 1008 flowers daily after a dip in Pushkarini and corrected himself for the wrongs he committed.
Chola king who was attacked with paralysis. No treatment yielded results. He was praying to Lord Shiva for remedy. An aged couple practicing medicine came to his court and offered him the sacred ash with water. Surprisingly, the king was cured instantly and stood up majestically. He begged the old couple to stay with him as doctors of the royal family in the palace but they refused. He offered them gold and other gifts which too they declined to accept. The king promised them that he would give them anything they wished. They brought the king to this spot and asked them to build a temple for Lord Shiva. They merged in the Shivalinga there. Realizing that the couples were none other than Lord Shiva and Mother Parvathi, the king built the temple at the place. Worshipping Shiva here ensures all cures from any illness. Saivite saint Tirugnanasambandar had mentioned the Lord as Healer in his hymns. There are two Ambicas in the temple. When the king built the temple, he could not get the original Ambica idol. He made a new one and installed it as Arumarundhu Nayaki – Goddess of rare medicine. Within a few days, the original idol also appeared. Installing that too, he named her Apoorva Nayaki who is the principal Goddess of the temple.
People who worshipped here : Crab, Ambica, Indran, Chola King.
Poets who sang its praise : Tirugnanasambandar.
Temple Timings : Morning 09:00 am to 02:00 pm, Evening 04:00 pm to 06:00 pm.
Pooja Details : One term pooja.
Nearest Town : Kumbakonam.
Temple Address : Karkadeswarar Temple,
Thirundhuthevankudi - 612 105, Veppathur post, Thiruvidaimarudhur Taluk,Thanjavur District.
Telephone Number : 99650-77862.
Hotel Near Karkadeswarar Temple, Thirundhuthevankudi :
1. Sivamurugan Hotels(4.7km from Temple),
60 Feet Main Road, | Near New Bus Stand,
Kumbakonam 612 001, India,
Ph: 096000 00384.
2. Sara Regency (6.2km from Temple),
45/1 Chennai Road, Kumbakonam 612002, India,
Ph:082200 05555.
3.Quality Inn VIHA (4.6km from Temple)
New Railway Road, Kumbakonam,
Tanjore, Tamil Nadu 612001,
Ph:0435 255 5555
4.Hotel Green Park (7.7km from Temple)
No. 10, Lakshmi Vilas Street,
Kumbakonam, South India - 612001.
Ph :(0435) - 2402853 / 2403914
5.Hotel Vinayaga - Kumbakonam(5.6km from Temple)
132C, Kamaraj Road,
Kumbakonam- 612 001
Tamilnadu, India
Tele : +91 435 240 03 56
Telefax : +91 435 240 03 57
Mobile: +91 822 001 9 122
Reservation No: +91 4296 272 110
Restaurant Near Karkadeswarar Temple, Thirundhuthevankudi :
1.Venkatramanaa Hotel
No 40, TSR Big Street, Kumbakonam HO,
Kumbakonam - 612001, Near Gandhi Park
Ph : +(91)-9442130736
2.Sri Balaji Bhavan
1, Sasthra College Road,
Kumbakonam HO, KUMBAKONAM - 612001
Ph : +(91)-435-2424578
3.Hotel Shanmuga Bhavan
16, Kumbeswarar South Street,
Kumbakonam HO, KUMBAKONAM - 612001
Ph:+(91)-435-2433962
4.Gowri Shankar Hotel
No 47, John Selvaraj Nagar,
Kumbakonam HO, Kumbakonam - 612001
Ph : +(91)-9443131276 ,+(91)-435-2431177
tel : (91)-435-2430736
5.Rayas Garden Restaurant
No 18 Rayas Hotel, Head Post Office Road,
Kumbakonam HO, Kumbakonam - 612001
Ph :+(91)-435-2423170, 2423171, 2423172, 2423173"
1 1 1 1 1 1 1 1 1 1 Rating 3.36 (233 Votes)
Driving Direction & Temple Location