Panchavarneswarar Temple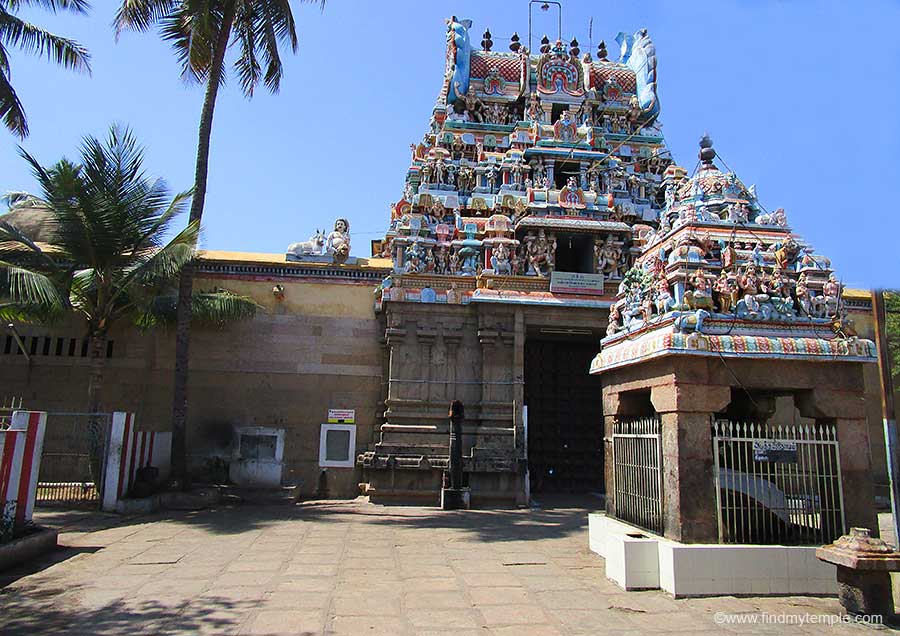 Main Deity : Panchavarneshwarar, Sri Mukkisurathadigal.

Consort : Gandhimathi Annai.
Holy Water : Siva Theertha, Naga Theertha.
Temple Tree : Viva.
Songs in Praise of the Lord Rymns : Thirugnanasambandar and Appar.
Prominence of the Shrine :God manifested the five colours to the creator Brahma. To the hermit, God revealed himself in five different colours namely Emerald. Crystal, Gold, Diamond and Portrait. Based on these, the Lord here is called Panchavarneshwar. In Tamil he is known as the five colour Lord or Lord of five shades.

Temple History: Among the Triumvarate of Chera, Chola and Pandiya, the Cholas ruled with Woraiyur (Trichy) as the capital. As a Chola king was going around the city on an elephant. The elephant went uncontrollable all of a sudden. The mahout was in a shock. Just then a cock squeaked and flew over to the head of the elephant and jabbed with its beak. The elephant was restored to order. The cock burrowed with its claws of a leg at a place and a Shivalinga was found there. The Chola king built a temple for the Linga. The temple came to be known as Woraiyur Panchavarneswarar Koil. The temple is called 'Mukkichuram'.
Address : Sri Panchavarneshwar Temple,
Woraiyur – 620 003, Trichy District.

Telephone Number : 0431 – 2768546, 9791806457.

Temple Timings : 6.00 am to 12.00 pm-- 4.00 pm to 9.00 pm.

District : Trichy.
City : Trichy, woraiyur.

Special Poojas : Four Times a day.

Festivals :
Chithirai - Pournami
Vaikasi - Brahmotsavam 10 days
Aani - Thirumanjanam
Aadi - Aadi Monday – On the day of Pournami Panchapragara Festival
is held to mark the revelation of five colours to Udhanga Munivar.
Aadi Amavasai.
Aavani - Moolathiruvizha.
Purattasi - Navarthri Festival.
Aipasi - Annabishegam on Pournami Day.
Karthigai - Deepam festival for Karthigai.
Margazhi - Thiruppalliezhuchi so days.
Koothaperum Vizha on Thiruvathirai.
Thai - Thaipoosam.
Maasi - Maja Sivarathri.
Panguni - Uthira Thiruvizha.
Architectural Features :
The temple was built by the Chola Kings. Here the Lord faces south and the consort Ambal faces south gracing the people with their bounties. Here God appeared to Udhanga Munivar in five colours. The sculptures of the temple speak a lot. There are separate shrines in the temple for Vinayaka, Muruga, Nataraja (Sabha), Dakshinamoorthy, Lingorbavar, Thrumal, Brahma, Durga, Bitchadanar.
Hotels Near Panchavarneswarar Temple, Woraiyur :
1. Mathura Hotel,
No 1, Rockins Road, Tiruchirappalli Townhall,
Trichy - 620002, Opposite Central Bus Stand Contonment
Tel : +(91)-431-2414737, +(91)-9894558654.
2. Mayavaram Lodge,

No 87, Vanapattarai Street, Tiruchirappalli Townhall,
Trichy - 620002, Teppakulam Post,
Tel : +(91)-431-2711400, 2704089
3. Femina Hotel,

109, Williams Road, Tiruchirappalli 620001,
Hotel Area: Trichy Central Bus Stand / Railway Junction Area,
Tel : 0431 - 2414501.
4. Hotel Rockfort View,

05, Odathurai Road | Chinthamani, Tiruchirappalli 620 002.
Mobile: +91 740 2713466.
Tel : +91 431-2713466.
5. Grand Gardenia,

22-25 Mannarpuram Junction,Trichy-620020,
Mobile : +91 95856 44000.
Tel : +91 431 4045000.
Restaurants Near Panchavarneswarar Temple, Woraiyur :
1. Ragunath Restaurant,

College Road, Tiruchirappalli.
2. Parthasarathy vilas,

Vegetarian / Vegan Restaurant
Kondayam Pettai Agraharam, Thiruvanaikoil, Trichy 620005.
3. Banana Leaf
Madras Trunk rd ,

Tiruchirappalli,

Tel : 0431-2793287
4. Vasanta bhavan

N. S.B. Road, Tiruchirappalli, India

Tel : +(91)-431-2708282, +(91)-8508204247
1 1 1 1 1 1 1 1 1 1 Rating 3.38 (238 Votes)
Driving Direction & Temple Location