Swedaranyeswarar(Budha) Temple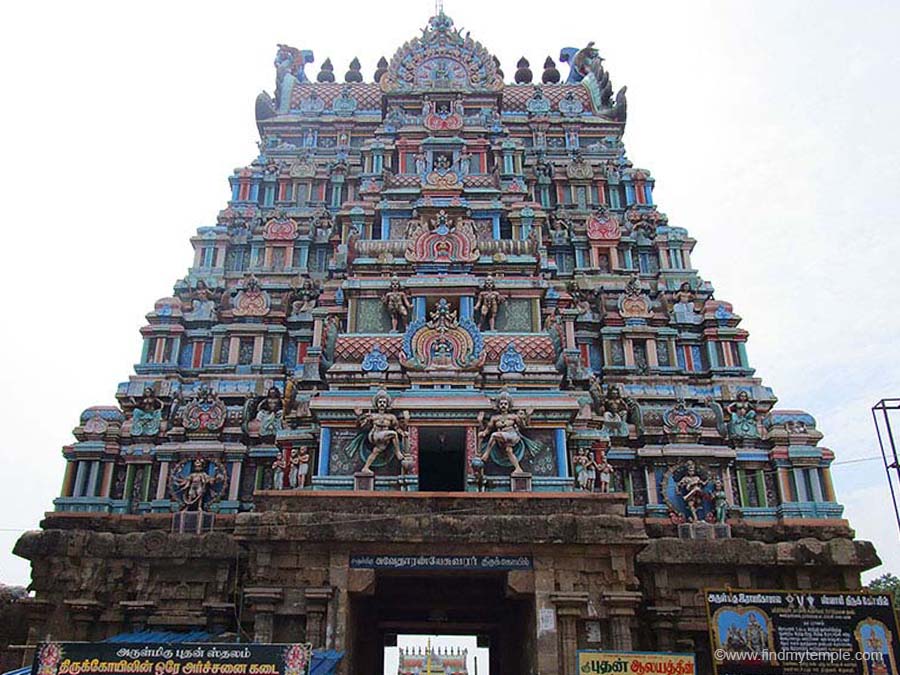 Main Deity : Sri Swedaranyeswarar(Form of Shiva)

Ambal : Sri Brahma Vidyambigai

Other Deities : Swedaranyeswarar, Nataraja, Agoramoorthy, Murugan, Kali, Durgai, Bhudhan, Arupathu Moovar (63 sages who sung about Lord Shiva)

Holy Water : Soorya Theertham, Chandra Theertham, Agni Theertham.
Temple Tree : Banyan, Vilvam, Golden Shower Tree.

Prominence of the Shrine : An ancient shrine mentioned in the 'Ramayana' (Indian epic). This shrine is one among the six shrines considered equal to Kaasi. Moorthy, Theertham and Temple trees are three fold in this shrine. This shrine is one among the 51 'Sakthi Peedams'. Lord Shiva appeared here as Agora Moorthy (frightful appearance). Special prayers are offered on the Sunday of tamil month 'Karthigai'. Here Lord Shiva exposed his nine fold dance in the form of 'Omen' or 'presage'. This shrine is the birth place of 'Pattinathadigal' also known as Thiruvenkadar. He obtained the 'Holy Order' (Siva Theetchai) here only. Meikandar who composed 'Sivagnanapodan' was born here. Siruthondar spent his early days in this shrine which also saw the birth of Thiruvenkadu Nangai. This shrine is celebrated for Budhan among the Navagrahas. Mythological belief is Budhan is responsible for the educational prospects. So worshipping here for good education is a practice. In the Karpagraha Lord Shiva (Swedaranyeswarar) and his consort (Vidyambigai) is appearing to devotees.

Temple History : Long ago, there was a man in this area called 'Salantharan' and one of his sons was a maruthuvan(doctor). The maruthuvan did penance and got a divine spear. But he didn't use the weapon for a good purpose and he started using against devas. Due to his act Lord Shiva got angry and sends Nandi to fight with him. Maruthuvan attacked nandi and nandi got nine holes in his body. Then Lord Shiva himself appeared in a frightful form (Agora Moorthy) and quelled the maruthuvan.

who worshipped here : Indra, Iravadham (Indra's vehicle -white elephant), Sivapriyar, Vedarasi, Swedakedu, Swedan, Vishnu, Sun god, Moon god, Agni, Budhan.

Poets who sang its praise : Thirugnanasambandar, Appar, Sundarar, Manikkavasagar, Pattinathar, Saiva Ellappa Navalar.

Temple Timings : 6.30 am to 12.30 noon - 4.30 pm to 8.30 pm

Pooja Details : Six times a day.

Temple Festivals : Purattasi (tamil month) Navarathri, Special Prayers to Agora Moorthy on the Sundays of Karthigai(tamil month), 10 day Indira Festival in Maasi (tamil month).

Nearest Towns : Sirkazhi, Mayiladuthurai

Address : Sri Swedaranyeswarar Swamy Temple,
Thiruvenkadu (Po.), Sirkazhi (Tk.),
Nagapattinam (Dt). PIN – 609 114.
Telephone No : 04364-256424
Hotel Near Swedaranyeswarar(Budha) Temple, Thiruvenkadu :
1.Chola Inn,(13.3km form Temple)
105, Pidari South Street,
Thenpathi,Sirkazhi,
Tamil Nadu 609111,
Ph: 094444 93388
2.Ayarpadi Hotel,(13.9km form Temple)
Old NH,Thenpathi,Sirkazhi,
Tamil Nadu 609110
3.Hotel Aryabhavan,(12.9km form Temple)
Old NH,Thiruvalluvar Nagar,
Thenpathi,Sirkazhi,
Tamil Nadu 609111
4.Mangala Vilas Hotel,(13km form Temple)
Thenpathi,Sirkazhi,
Tamil Nadu
5.Ganesan Hotel,(14.2km form Temple)
Sirkazhi, Tamil Nadu
Resturant Near Swedaranyeswarar(Budha) Temple, Thiruvenkadu :
1.Samboorna Restaurtant,
Old NH,Thenpathi,Sirkazhi,
Tamil Nadu 609110
2.Garden Restaurant,
Thenpathi,Sirkazhi,
Tamil Nadu 609110
1 1 1 1 1 1 1 1 1 1 Rating 3.38 (238 Votes)
Driving Direction & Temple Location