Seenivasa Perumal Temple
Nachiyar Kovil, Kumbakonam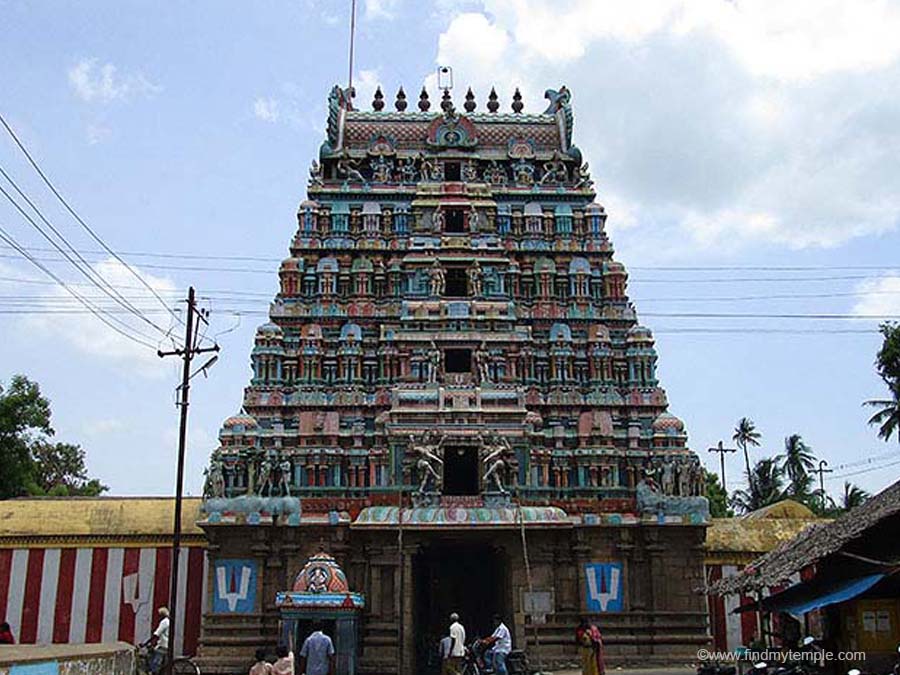 Main Deity : Sri Seenivasa Perumal

Ambal : Sri Vanjeelavalli

Other Deities : Thirunaraiyoor Nambi, Vasudevan, Nachiar

Holy Water : Manimuktha Pushkarani, Shankarshna Theertham, Prithyumana Theertham, Anirudha Theertham, Samba Theertham

Temple Tree : Vilva Tree, Vagula Tree

Prominence of the Shrine : This is the fourteenth of among the 108 Dhivya Desams. Offering worship to the 'Kalgarudan' (Garuda made of stone) on Thursdays dispels all types of doshas. Perumal's Garudaseva is popular in this temple. Kal Garudar is the most prominent feature of the temple. As per local legend, the sculptor who created the idol of Garuda got frustrated as the bird flew away each time a new image was prepared. In frustration, he threw a stone at Garuda, who got injured and decided to stay in the temple as "Kal Garuda". The image of Kal Garuda is made of saligrama and is housed in the shrine outside the main sanctum. During festive procession, during the Tamil months of Margazhi (December–January) and Panguni (April - May), the festive images are carried out in procession in Kal Garuda. While only four people are needed to carry the idol of Garuda out of the shrine, it multiples to 8, 16, 32, and 64 people when the image is taken outside the temple. The image is believed to get heavier as it moves away from the temple. On the way back only 4 people are required to carry back. A hermit called Medhavi observed rigorous penance on the banks of the Manimuthu River to have Goddess Lakshmi as his daughter-in-law. In appreciation of his penance Lakshmi came out of 'Parkadal' (Sea of Milk) on a Friday of Panguni Month (Tamil calendar), also an auspicious day of Uthiram Star, under the Vanjula Tree on the bank of the river. She was called Vanjulavalli. She married the Lord Srinivasa Perumal. The place is called Krishnaranyam. The speciality is that only in this shrine Kalgaruda Seva is being held.

Who worshipped here : Medha Munivar, Indiran, Vayu,Thirumangai Azhwar

Poets who sang : its praise Thirumangai Azhwar

Temple Timings : 6.00 am to 12.30 noon - 4.00 pm to 9.00 pm

Pooja Details : Six times a day

Temple Festivals : Vaikasi – Vasantha Uthsavam – 5 days,
Aadi – Pavithra Uthsavam,
Aavani – Thirukkalyana Uthsavam,
Purattasi – Navarathri Vizha – 9 days,
Thai – Ra Pathu, Pagal Pathu.

Nearest Town : Kumbakonam
Address : Sri Srinivasa Perumal Temple,
Nachiar Koil (Po.), Kumbakonam (Tk),
Thanjavur (Dt)
Hotel Near Seenivasa Perumal Temple, Nachiyar Kovil :
1.Sivamurugan Hotels(9.7km from Temple)
60 Feet Main Road, | Near New Bus Stand,
Kumbakonam 612 001, India
Ph: 096000 00384
2.Sara Regency (11.8km from Temple)
45/1 Chennai Road, Kumbakonam 612002, India
Ph:082200 05555
3.Quality Inn VIHA (8.6km from Temple)
New Railway Road, Kumbakonam,
Tanjore, Tamil Nadu 612001
Trichy Road, Namakkal
Ph:0435 255 5555
4.Hotel Green Park (10.3km from Temple)
No. 10, Lakshmi Vilas Street,
Kumbakonam, South India - 612001.
Ph :(0435) - 2402853 / 2403914
5.Hotel Vinayaga - Kumbakonam(8.8km from Temple)
132C, Kamaraj Road,
Kumbakonam- 612 001
Tamilnadu, India
Tele : +91 435 240 03 56
Telefax : +91 435 240 03 57
Mobile: +91 822 001 9 122
Reservation No: +91 4296 272 110
Restaurant Near Seenivasa Perumal Temple, Nachiyar Kovil :
1.Venkatramanaa Hotel
No 40, TSR Big Street, Kumbakonam HO,
Kumbakonam - 612001, Near Gandhi Park
Ph : +(91)-9442130736
2.Sri Balaji Bhavan
1, Sasthra College Road,
Kumbakonam HO, KUMBAKONAM - 612001
Ph : +(91)-435-2424578
3.Hotel Shanmuga Bhavan
16, Kumbeswarar South Street,
Kumbakonam HO, KUMBAKONAM - 612001
Ph:+(91)-435-2433962
4.Gowri Shankar Hotel
No 47, John Selvaraj Nagar,
Kumbakonam HO, Kumbakonam - 612001
Ph : +(91)-9443131276 ,+(91)-435-2431177
tel : (91)-435-2430736
5.Rayas Garden Restaurant
No 18 Rayas Hotel, Head Post Office Road,
Kumbakonam HO, Kumbakonam - 612001
Ph :+(91)-435-2423170, 2423171, 2423172, 2423173"
1 1 1 1 1 1 1 1 1 1 Rating 3.38 (238 Votes)
Driving Direction & Temple Location