Pavalavalli Thayar Sametha Pavala Vannar Temple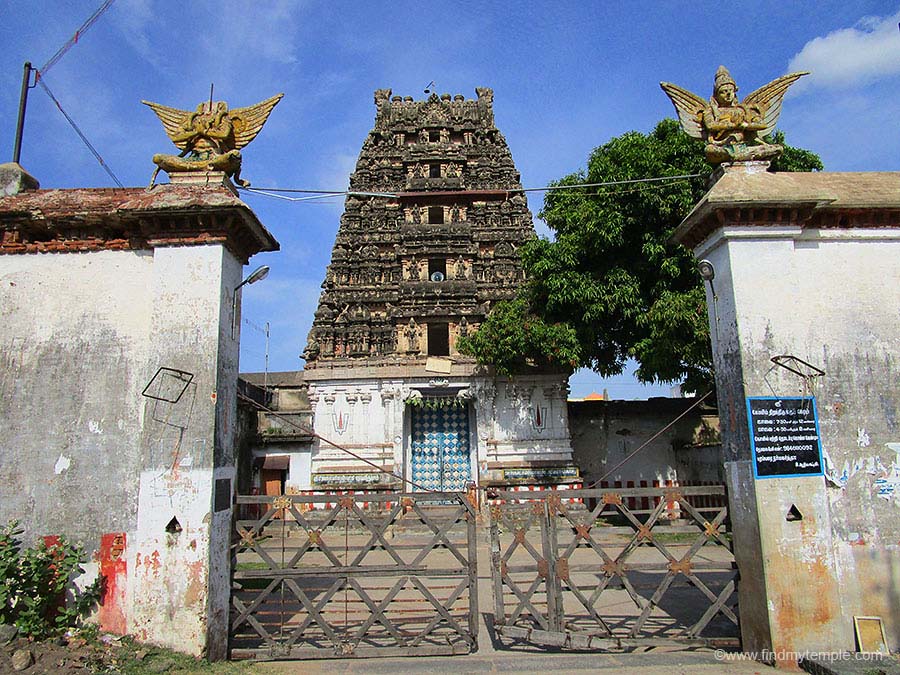 Main Deity : Sri Pavalavannar.
Ambal : Sri Pavalavalli Thayar

Holy Water : Chakra Theertham

Prominence of the Shrine : In this temple the Vimanam is in the form of "Pravala Vimanam"

Puranic Feature : During a chat between Lord Vishnu ((Thirumal) and His consort Thirumagal (Laksmi) in Vaikundam, She requested to the Lord that He might turn his dark complexion (karvarnam) to golden by getting the grace of Lord Siva who was executing the threefold job of creation, preservation and Destruction. The Lord agreed and left to the Kanchi shrine and created holy water in front of Veerattakasam using his chakra weapon. He took bath in Chakra Theertham every day and worshipped Veerattakasar with 14,000 lotus flowers.Lord Shiva, who was delighted, appeared with Uma Devi and granted His wish to change his complexion from dark color to golden color. Hence in this temple Lord Vishnu appears in golden color.
Poets who sang its praise : Thirumangai Azhwar

Temple Timings : 8.00 am to 10.00am - 5.00 pm to 7.30 pm
Nearest Town : Kanchipuram

Address : Pavalavalli Thayar Sametha Pavala Vannar Temple, Kanchipuram, Kanchipuram(Dt).
Hotel Near Pavalavalli Thayar Sametha Pavala Vannar Temple, Kanchipuram :
1. GRT Regency-Kanchipuram,
487, Gandhi Road, Kanchipuram 631502, India
Ph: +(91)-44-27225250, +(91)-9940184251
2. MM Hotels,
No. 65 - 66, Nellukara Street, Kanchipuram 631502, India
Ph: +(91)-44-27227250, +(91)-8098827250
3. Hotel Baboo Soorya,
No 85, East Raja Street, Kanchipuram Ho,
Near Kamakshi Amman Temple,
Kanchipuram - 631501, India
Ph: +(91)-44-27222556, +(91)-9597121214
Restaurant Near Pavalavalli Thayar Sametha Pavala Vannar Temple, Kanchipuram :
1.Saravanaa Bhavan,
66, Annai Indhira Gandhi Street,
Kanchipuram 631502,India
Ph: 4427226877
2.Hotel Saravana Bhavan,
504, Gandhi Road | Near Indian Overseas Bank
Kanchipuram 523230
Ph: 044 27222505
3.Haritam,
NH-45 Thenpakkam Village,
Kanchipuram 603301, India
Ph:44 27522336
1 1 1 1 1 1 1 1 1 1 Rating 3.37 (235 Votes)
Driving Direction & Temple Location