Punnainallur Mariamman Temple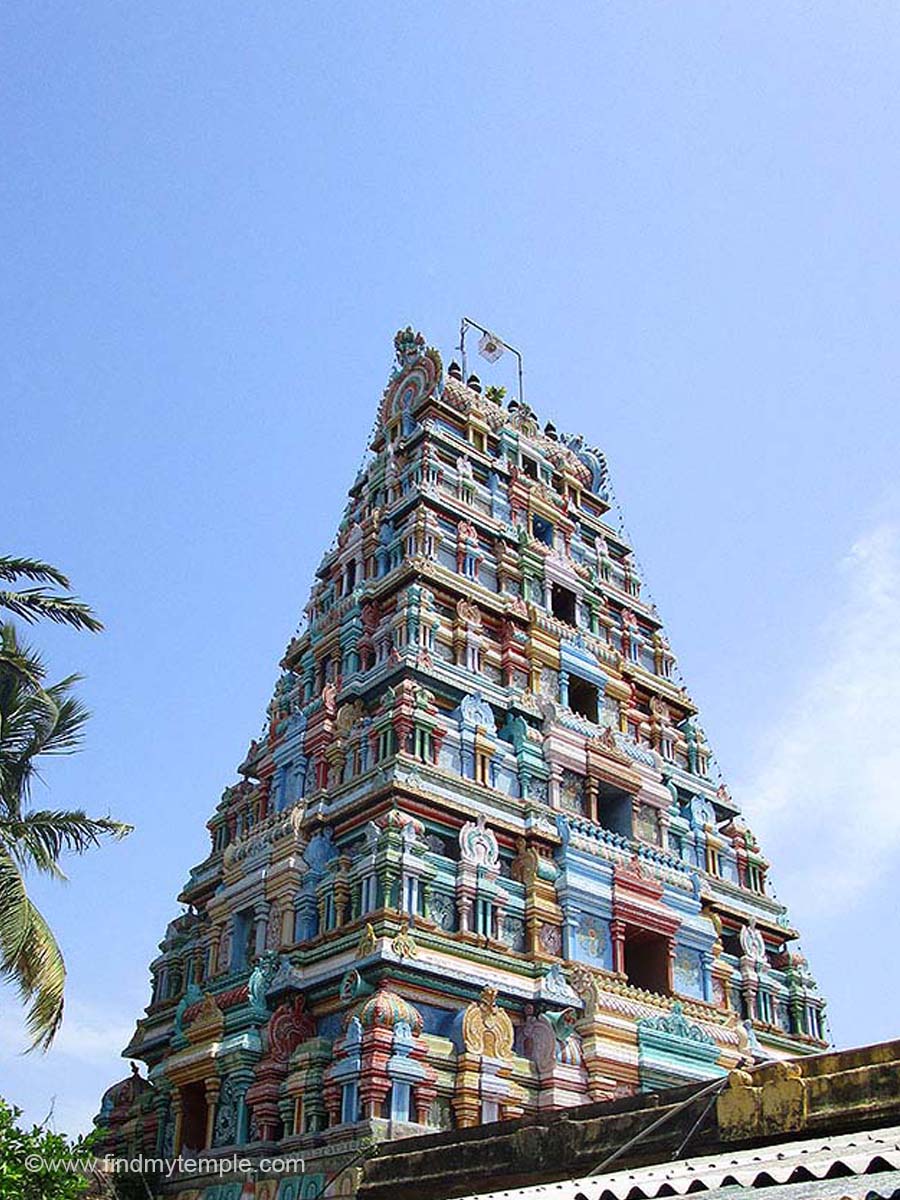 Main Deity : Durga, Mariamman (Muthu Mari)

Holy Water : Vella Kulam

Temple Tree : Neem tree (In Tamil vembu).

Prominence of the Shrine : Ambal spreads her grace as self formed anthill. On Sundays of Tamil month Aavani, the shrine is kept open from 03 am to 11.00 pm. As the idol is formed of sand, ablution (abhishekam) is not performed, but offered coat of oil. Once in five years, Ambal is offered ablution in oil for one 'mandalam' (48 days)
Temple History : The Chola Kings who ruled over Tanjore established shrines on all eight directions as protecting deities. Punnai Nallur is one such shrine on the east of Tanjore, according to "Chola sambu" a book. Venkoji Maharaja who ruled over Tanjore , during his pilgrimage stayed at Samayapuram also known as Kannapuram and offered worship. During that night, Ambal appeared in his dream and told him to go to 'Punnaikkadu' which was 5 km east of Tanjore and worship. The King woke up, came to Tanjore, made way for Punnaikkadu, found Goddess there. Later he erected a shelter for her named the place 'Punnai Nallur' and donated the village to the shrine. There are also other historical stories about the temple. Once daughter of Maratiya king Thulagendirarajan got infected by the chicken pox disease and she lost her vision. The king then worshipped on this temple and her daughter got cured from the disease. She also recovered her sight. Based on the historical evidences the temple has been constructed as a big one during Marata kings. Punnainallur Mariamman is considered to be elder sister of Samyapuram Mariamman.

Temple Timings : Every day 5.30 am to 9.00pm
On Sundays of Tamil month Avani it is opened from 3:00 AM to 11:00 PM

Nearest Town : Tanjore

Address : Sri Mariamman Temple,
Punnai Nallur(Po.),
Tanjavur(Dt), PIN – 613 501.

Telephone No : 04362- 267740
Hotels Near Punnainallur Mariamman Temple, Tanjavur :
1.Sangam Hotel, Thanjavur
Trichy Road, Thanjavur – 613007

Tel : 91-4362-239451

Fax: 91-4362-236695

2.Hotel Parisutham

55 G.A. Canal Road, Thanjavur 613 001, India

Tel : 04362 231 801

3.Hotel Gnanam

Anna Salai ( Market Road)

Thanjavur 613 0001
Phone : 04362- 278501-507
Fax : 04362 235536

4.Hotel Balaji Inn
Baskara puram,

New Bus Stand,

Thanjavur-613005

Phone Number : 04362-226949/227949
5.Star Residency

Hotel Temple Tower) 20/1 A S.M Road,

Next to Ramanathan hospital Bus Stop,

Tanjore - 613 007.

Tel : +91 - 4362- 276333 / 34 / 37

Fax: +91 - 4362-276336
Restaurant Near Punnainallur Mariamman Temple, Tanjavur :
1.Hotel Ramnath,
No 1335, Thanjavur Ho, Thanjavur -
613001, South Rampart Old Bus Stand
Ph: +(91)-4362-272567, +(91)-9362610901
2.Sri Lakshmi Narayana Bhavan,
No 133, Big Street, Thanjavur HO,
Thanjavur - 613001, Pattukottai
Ph : +(91)-4362-252358
3.Karthik Restaurant
No 1334, Thanjavur HO, Thanjavur - 613001, South Rampart Inside Karthick Hotel
Ph:+(91)-4362-278662, 278663, 278322

4.Hotel Coffee Palace AC
No 1465, Tanjore, Thanjavur - 613001, South Rampart
Ph: +(91)-4362-231358
1 1 1 1 1 1 1 1 1 1 Rating 3.37 (235 Votes)
Driving Direction & Temple Location