Airavatheeswarar Temple
Darasuram, Kumbakonam (Tk)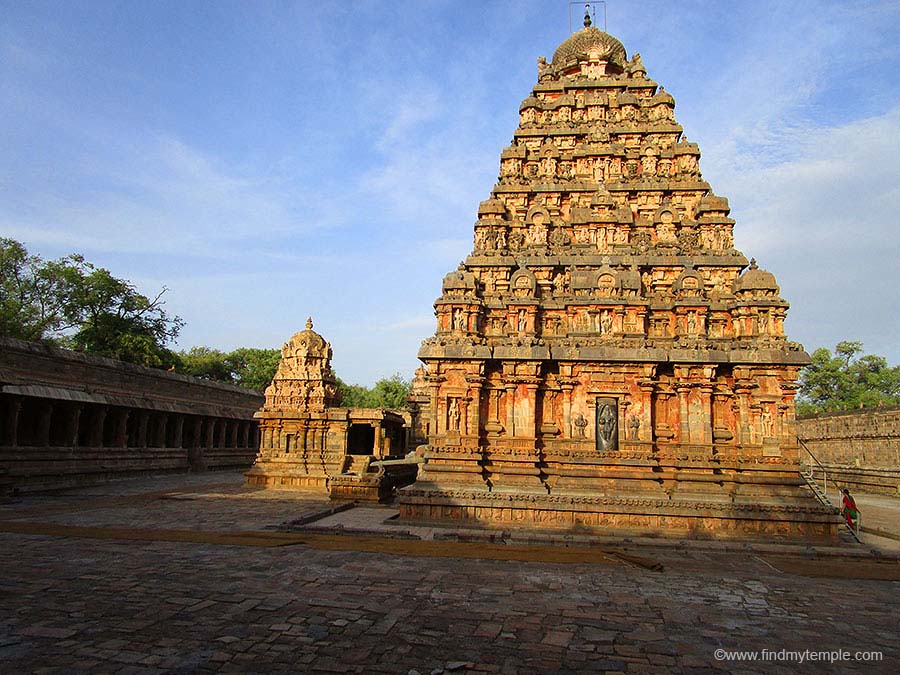 Main Deity : Airavatheeswara (Airavatham is the holy white elephant, the mount of Indra – the Deva chief)
Ambal : Daivanayaki
Holy Water : Yamatheertham
Temple Tree : Vilvam
Prominence of the Shrine : The temple was constructed by Rajaraja Chola II (1146-63), is a superb example of Chola architecture with a 85' high vimana. The sanctum is in the form of a chariot, while the front mandapam lf is in the form of a chariot drawn by horses. The remarkable structures depict stories from epics and Hindu mythology. It is a classic example of Chola art and architecture. This temple has been taken over by the Archeological Survey of India (ASI) in 2004 and is a recognised UNESCO World Heritage monument.
A small mandapa(hall) is located in front of the temple, which can be reached by three stone steps. These steps give different musical sounds when tapped at different points. The mandapa is similar to Konark temple architecture. The mandapa is constructed like it was pulled by horses and elephants which is a beautiful architecture. There are few female idols which displays the different poses of 'bharatha natiyam' (a south indian dance art) and few more carvings represents the music troop. 'Puranas' (mythological stories) are carved here in very few centimeters it speaks of its architecture.
Temple History : The Prominence of the Shrine is that Airavata worshipped Lord Siva in this temple; so did also the God of Death, Yama. The presiding deity Airavateswarar cured Yama of his suffering under the curse of a Rishi, when he took a bath in the sacred tank Yamateertham. As originally Airavata worshipped the Lingam (Shiva), the Lingam is named after him as Airavateswara. The Goddess in this temple is known as Deva Nayaki and her temple adjoins that of the main Deity.
Temple Timings : 7:00 am to 12:00 noon
Nearest Town : Kumbakonan
Address : Airavatheeswarar Kovil, Gurunathan Pillai Colony, Darasuram, 612702, Kumbakonam(Tk), Tanjore District.
Hotel Near Airavatheeswarar Temple, Darasuram :
1.Sivamurugan Hotels(4.3km from Temple)
60 Feet Main Road, | Near New Bus Stand,
Kumbakonam 612 001, India
Ph: 096000 00384
2.Sara Regency (8.9km from Temple)
45/1 Chennai Road, Kumbakonam 612002, India
Ph:082200 05555
3.Quality Inn VIHA (5km from Temple)
New Railway Road, Kumbakonam,
Tanjore, Tamil Nadu 612001
Trichy Road, Namakkal
Ph:0435 255 5555
4.Hotel Green Park (4.2km from Temple)
No. 10, Lakshmi Vilas Street,
Kumbakonam, South India - 612001.
Ph :(0435) - 2402853 / 2403914
5.Hotel Vinayaga - Kumbakonam(5.1km from Temple)
132C, Kamaraj Road,
Kumbakonam- 612 001
Tamilnadu, India
Tele : +91 435 240 03 56
Telefax : +91 435 240 03 57
Mobile: +91 822 001 9 122
Reservation No: +91 4296 272 110
Restaurant Near Airavatheeswarar Temple, Darasuram :
1.Venkatramanaa Hotel
No 40, TSR Big Street, Kumbakonam HO,
Kumbakonam - 612001, Near Gandhi Park
Ph : +(91)-9442130736
2.Sri Balaji Bhavan
1, Sasthra College Road,
Kumbakonam HO, KUMBAKONAM - 612001
Ph : +(91)-435-2424578
3.Hotel Shanmuga Bhavan
16, Kumbeswarar South Street,
Kumbakonam HO, KUMBAKONAM - 612001
Ph:+(91)-435-2433962
4.Gowri Shankar Hotel
No 47, John Selvaraj Nagar,
Kumbakonam HO, Kumbakonam - 612001
Ph : +(91)-9443131276 ,+(91)-435-2431177
tel : (91)-435-2430736
5.Rayas Garden Restaurant
No 18 Rayas Hotel, Head Post Office Road,
Kumbakonam HO, Kumbakonam - 612001
Ph :+(91)-435-2423170, 2423171, 2423172, 2423173
1 1 1 1 1 1 1 1 1 1 Rating 3.37 (235 Votes)
Driving Direction & Temple Location