Alanduraiyar Temple
Keezhapalur, Ariyalur District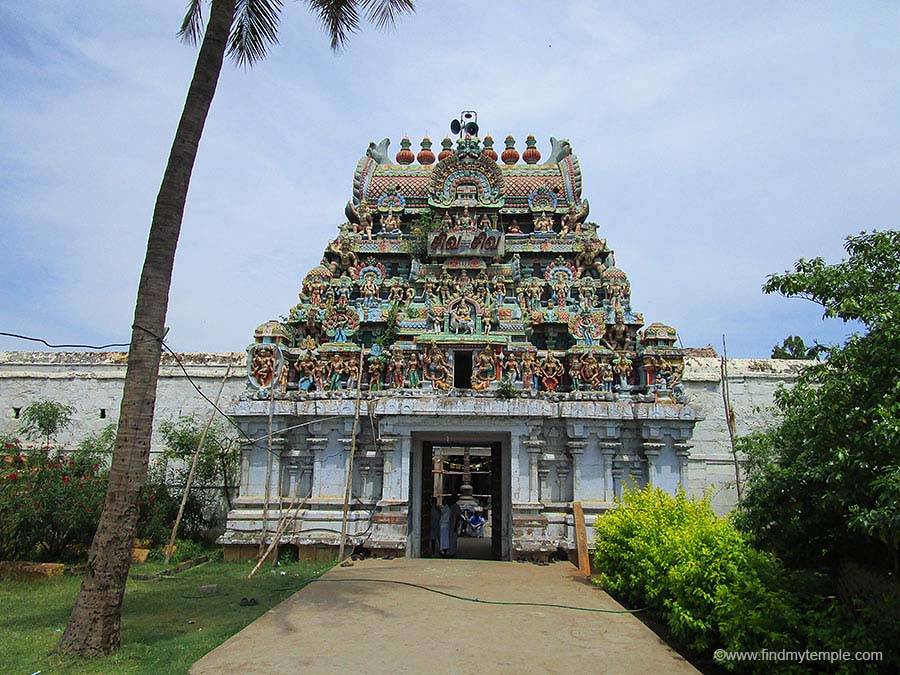 Main Deity : Sri Alanduraiyar,( Vadamoolanadhar, Yogavaneswarar)

Ambal : Arundhavanayagi, Yogathapaswini, Mahathapaswini

Holy Water : Brahma Theertham, Parasurama Theertham

Temple Tree : Pazhu Aal

Prominence of the Shrine : The Lord is believed to be self-formed (Suyambu lingam). Annai Umayaval (Devi) performs penance standing on one leg for the welfare of the living beings on earth. As the Lord is formed of the sand of anthill, the shrine expounds the philosophy of earth among the 'Panchaboothams' (the five entities by which the living beings are believed to be created according to the Hindu methology – Earth, Water, Air, Fire and Sky) . The rare Panchaloga (alloy of Gold(Au), Silver (Ag), Copper (Cu), Iron(Fe) and (Lead(Pb)/ Tin (Sn) /Zinc (Zn), extensively used for making temple idols) form of Chandeeswarar performing Pooja to Lord Siva is here. It is believed that in this shrine Lord Parasurama (the Saint incarnation of Lord Vishnu) attained absolution for the sin of killing his mother at the orders of his father, and also received the blessings of the Lord. At the entrance to the sanctum – sanctorum, a little above is the lying posture of Parasuarama. On the 18th day of Tamil month Panguni, the Sun worships the Lord here by showering his rays on Him.
Poets who sang its praise : Thirugnanasambandhar, Arunagirinadhar, Ramalinga Vallalar.
Temple Timings : 6.00 am to 12.00 noon - 4.00 pm to 8.30 pm
Nearest Town : Ariyalur.

Address : Alanduraiyar Temple,
Keelapazhuvur (Po.),
Ariyalur (Dt). PIN – 621 707.
Hotels Near Alanduraiyar Temple, Keezhapalur :
1.Rolex Lodge,
Ariyalur, Tamil Nadu 621704

2.AS residancy,
Ariyalur.

Restaurants Near Alanduraiyar Temple, Keezhapalur :

1.Banana Leaf A/C Restaurant,
Near Collector Office, Min Nagar, Ariyalur
2.Ravi Restaurant A/c,
Sendurai Road, Ariyalur
3.Maruthi Hotel,
Trichy Road, Ariyalur.
Tel : 04329-222622

4.Sri Muniyandi Vilas,
Market Street, Ariyalur,
ph: 04329-221458

5.Sri Ariyabhavan,
Matket Street, Ariyalur,
ph: 04329-221450.
1 1 1 1 1 1 1 1 1 1 Rating 3.36 (233 Votes)
Driving Direction & Temple Location