Apathsahayar Temple,
Thirupazhanam, Thiruvaiyaru, Tanjore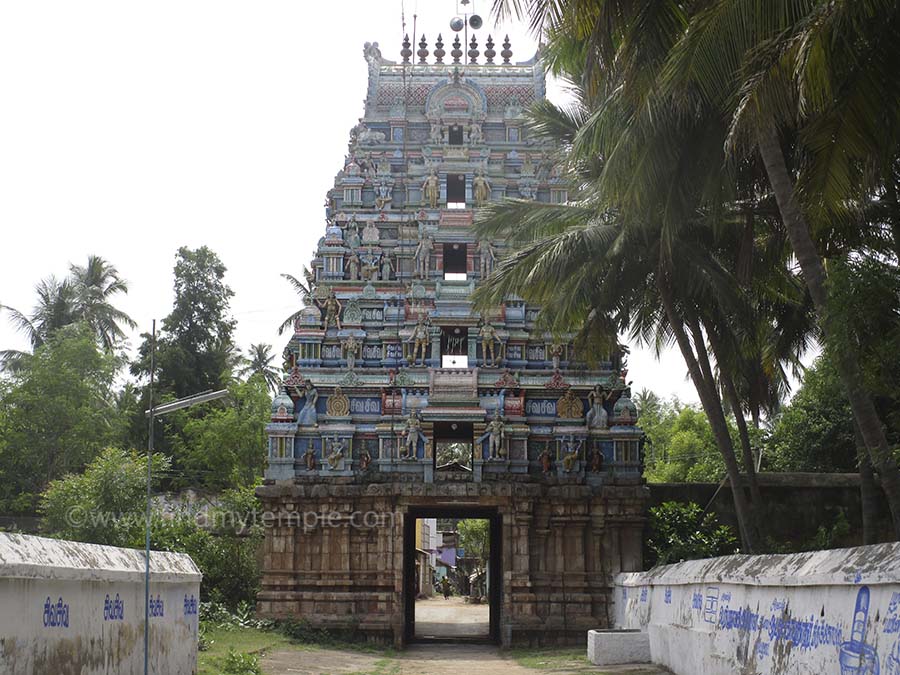 Main Deity : Apathsahayar, (Pazhanapiran) (Parameshwaran) (Amudhalingeswarar).
Ambal : Periya nayagi, Shiva Sundara Kalyani Ammai.
Other Deities : Lord Ganesha, Venugopalar, Bairavar, Dakshinamoorthy, Annamalaiyar, Brahma, "Saptha Kannigal" and Navagrahas.
Theertham : Mangala Theertham, Cauvery Theertham, Amudha theertham, Munikuppam Theertham, Deva Theertham.
Temple tree : Vilva Tree, Banana Tree.
Prominence of the shrine : Apathsahayar Temple located at Thirupazhanam is the 50 the temple mentioned in "Devaram" (Devaram is a Tamil Saiva devotional poetry). This temple was constructed by Adita Cholan a(1st) and Paranthaga Cholan (1st). The main temple tower is very old and it has been formed with three levels. There is no Temple hoist here. There are dedicated sannidhis for Lord Ganesha and Murugan in the outer praghara.
As like any other shiva temples Nandhi is located in front of Lord Shiva. Right side of the temple has been used for God's vehicle (Vaganam). Ganesha Sannidhi is located first while we are entering the temple. Once we worship Lord Ganesha and enter we will get to worship "Saptha Kannigal", Venugopalar, Nataraja Saba, Bairavar and Navagrahas.
At the first level of the Gopuram, on the east side Shiva Parvathi , south side Dakshinamoorthy, west side Annamalaiyar and North side Bramma was located. At the Artha Mandapa Nandhi was facing the south direction and worshipping the Lord Shiva. Venupalan appears with his flute at this temple. Lord Shiva at this temple is called as Apathsahayar (or Apathsahayeswarar) appearing in a "Suyambu" (self-made) form. Goddess Ambal at this temple is called as Sundara Nayagi is located in a dedicated sannidhi in the prahara.
During the full moon days of Panguni & Purattasi months the moon light will appear directly on the God. It also appears on two days before and after of those full moon days. Kubera, Vishnu, Saraswathi are the other gods who worshipped Apathsahayeswarar at this temple.
Once Lord Shiva wanted Nandhi to get married. Nandhi is a son of Sage Siladha. Nandhi is also kind of son of Shiva he wanted to conduct nandhi's marriage in a grand way. The marriage procession started at Thiruvaiyaru and crossed Thirupazhanam, Thiruchotruthurai, Thiruvedhi kudi, kandiyur, thirupoonthuruthi, thillasthanam villages and finished at Thiruvaiyaru back.
On the day of Nandhi's marriage Lord Shiva will appar in a glass palanquin. Nandhi and his wife will come along with Shiva through all the above mentioned 7 places. "Sapthasthana Festival" happens grantly during the full moon day of Tamil month Chithirai. Out of 7 Shiva temples (Saptha sthana Sthalams) in and around Thiruvaiyaru, Apathsahayeswarar temple is considered to be second one. This temples was also worshipped by Moon god. This place is also called as Thirupazhanam, kathalivanam, Koushikashramam, Pirayanapuri and Palanipathi.
Temple History : Once upon a time there was a bramin kid named Susarithan lost his parents and in the search of peach he started a pilgrimage tour. That kid stayed one night at thirupazhanam village. At that night, Yama Raja appeared in his dreams and told him that he will die 5th day from today. The kid got up and scared of this message from Yama. He surrendered himself to the Lord Shiva and he rescued from the death. Hence the Lord is called as Apathsahayar. In Thala puranam this place is referred as Pirayanapuri as Goddess laxmi worshipped here and travelled from here.
In another mythological story this place is referred as "Sage Koushik's ashram". Sage Koushik has kept his share of nectar at this place as a safest location from Asuras. However Asuras figured out this and they came to steal the nectar. Lord shiva has created God Aiiyanar and Goddess Kali to kill them to save the nectar. Hence Sage Koushik made Shiva linga out of nectar and worshipped him at this location.
People who worshipped here : Kubera, Vishnu and Sarawathi, Moon.
Poets who sang its praise : Thiru Ghana Sampanthar, Thirunavukarasar.
Temple Timings : Morning 6:00 – 11:00, Evening 4:30 to 8:00.
Pooja Details : Two times a day.
Special Feature : Sapthasthana Festival, Thiruvathirai during the tamil month of Margazhi, Annaabhishegham during tamil month of Ippasi.
Nearest Town : Kumbakonam.
Address : Apathsahayar Temple,
Thirupazhanam (Post), Thiruvaiyaru – 613 204, Tanjore District.

Hotels Near Apathsahayar Temple, Thirupazhanam :
1. Sangam Hotel, Thanjavur
Trichy Road, Thanjavur – 613007

Tel : 91-4362-239451

Fax: 91-4362-236695
2. Hotel Parisutham
55 G.A. Canal Road, Thanjavur 613 001, India
Tel : 04362 231 801.
3. Hotel Gnanam
Anna Salai ( Market Road)
Thanjavur 613 001.
Phone : 04362- 278501-507.
Fax : 04362 235536.
4. Hotel Balaji Inn
Baskara puram,

New Bus Stand,

Thanjavur-613 005.

Phone Number : 04362-226949/227949.
5. Star Residency
Hotel Temple Tower) 20/1 A S.M Road,
Next to Ramanathan hospital Bus Stop,

Tanjore - 613 007.

Tel : +91 - 4362- 276333 / 34 / 37.

Fax: +91 - 4362-276336.
Restaurant Near Apathsahayar Temple, Thirupazhanam :
1. Hotel Ramnath,
No 1335, Thanjavur Ho, Thanjavur -
613 001, South Rampart Old Bus Stand
Ph: +(91)-4362-272567, +(91)-9362610901.
2. Sri Lakshmi Narayana Bhavan,
No 133, Big Street, Thanjavur HO,
Thanjavur - 613 001, Pattukottai
Ph : +(91)-4362-252358.
3. Karthik Restaurant
No 1334, Thanjavur HO, Thanjavur - 613 001, South Rampart Inside Karthick Hotel
Ph:+(91)-4362-278662, 278663, 278322.
4. Hotel Coffee Palace AC
No 1465, Tanjore, Thanjavur - 613 001,
South Rampart,
Ph: +(91)-4362-231358.
1 1 1 1 1 1 1 1 1 1 Rating 3.34 (174 Votes)

Driving Direction & Temple Location