Yadokthakari Perumal Temple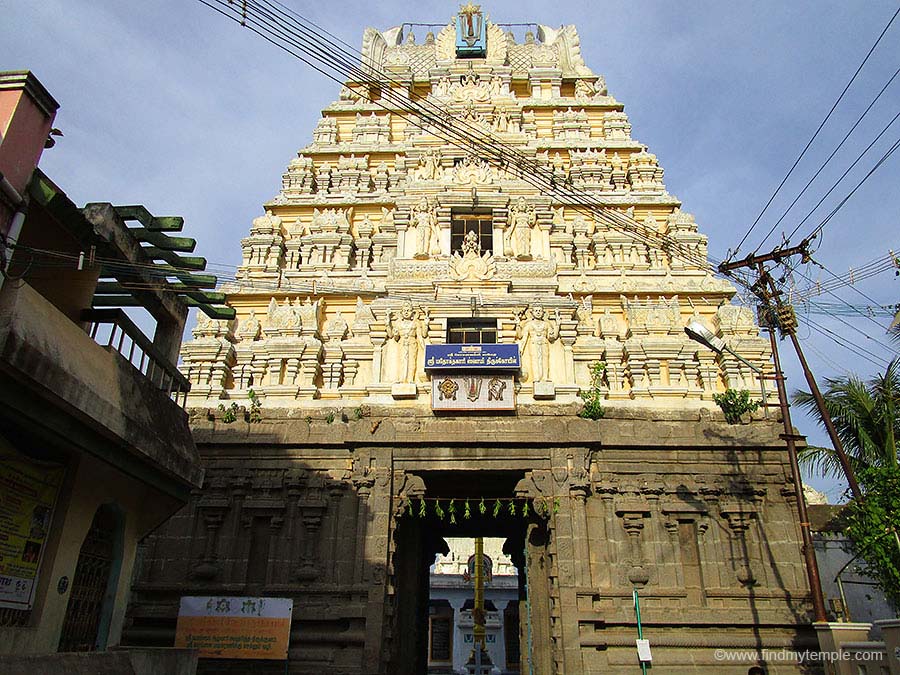 Main Deity: Sonna Vannam seida Perumal, Yadokthakari Perumal,
Ambal : Sri Komalavalli Thayar.
Holy Water : Poigai Pushkarani Theertham
Vimanam : Sri Vedasar Vimanam.

Mangalasasanam :

1. Poigai Azhwar, 2. Peyazhwar, 3. Thirumazhisai Azhwar,
4. Thirumangai Azhwar, 5. Nammazhwar.
Construction : This temple's Rajagopuram and Sonna Vannam Seida Perumal face west. This is the birth place of Poigai Azhwar. Komalavalli Thayar graces from a separate shrine on Her own. Andal Nachiar, one among the Azhwars, has a separate sannidhi here. (The idol is in its splendor with the Nachiar in Her standing posture at 6 feet – it is something to be seen for the brilliant sculpture). Generally the reclining Perumal lies in the left to right position. Here He lies in the right to left position which is something unique.
Puranic Feature : Once Lord Brahma observed penance to have a darshan of Maha Vishnu. A voice from heaven told him to go to Sathya Virada Kshetra in Thondai Naadu and perform an "Aswameda Yaga" thereby attaining the benefits of one thousand such Yagas and have a darshan of Thirumal.

Brahma reached Kanchi and was about to perform the Yaga. Guru informed him that without his consort Saraswathi Devi, the yaga would not go, Brahma called Vashishtar to bring Saraswathi.
Saraswathi Devi was in separation on account of some dispute with Brahma and she was living with river Saraswathi which was another facet of hers. When Vashishta approached Her, Saraswathi declined the invitation saying that if the Yaga was performed in her own place she would accept it. As the efforts of Vashishta were in vain Brahma started the yaga with Sadhaya Maharishis and the consorts including Savithri. As the Asuras were not accorded their due respect, at the behest of Virosanan, they went to Saraswathi and requested her to stop the yaga under the pretext that Her Husband was performing the Yaga neglecting her on the evil incitement of the rishis. Saraswathi turned into a river called Vegavathi, flew down the Sahya mountain and flooding in a rage, reached Sathya Vrada Kshetra. Terrified at the flow of the river, those in the Yagasala surrendered to Brahma.

Brahma understood by virtue of his mind's eye that it was nothing but the evil design of the asuras. He meditated upon Narayana. Narayana appeared instantly and comforted Brahma. He then entered the river and formed a dam of himself in His reclining posture. Saraswathi blushed at this and turned her course of flow and mixed with Sea. The Lord (Vishnu) forming a dam was called 'Yadokthakari'. The Rishis approached Saraswathi and offering their respects, requested her to join Brahma and complete the yaga. Kalaimagal Saraswathi also realized her mistake and rushed to join the yaga. The Perumal who reclined with His hand touching the land is called Bhujanga Sayanan – Thiruvanaipallikonda Perumal. Sri Vedantha Desigar's 'Vegasedha Sthothram' is also a composition in glory of this Perumal.
Temple Timings : 7.30 am to 9.30 am - 5.00 pm to 7.00 pm.
Nearest Town : Kanchipuram.
Address : Yadokthakari Perumal Temple, Kanchipuram, Kanchipuram District.
Hotel Near Yadokthakari Perumal Temple, Kancheepuram :
1. GRT Regency-Kanchipuram,
487, Gandhi Road, Kanchipuram 631502, India
Ph: +(91)-44-27225250, +(91)-9940184251
2. MM Hotels,
No. 65 - 66, Nellukara Street, Kanchipuram 631502, India
Ph: +(91)-44-27227250, +(91)-8098827250
3. Hotel Baboo Soorya,
No 85, East Raja Street, Kanchipuram Ho,
Near Kamakshi Amman Temple,
Kanchipuram - 631501, India
Ph: +(91)-44-27222556, +(91)-9597121214
Restaurant Near Yadokthakari Perumal Temple, Kancheepuram :
1.Saravanaa Bhavan,
66, Annai Indhira Gandhi Street,
Kanchipuram 631502,India
Ph: 4427226877
2.Hotel Saravana Bhavan,
504, Gandhi Road | Near Indian Overseas Bank
Kanchipuram 523230
Ph: 044 27222505
3.Haritam,
NH-45 Thenpakkam Village,
Kanchipuram 603301, India
Ph:44 27522336
1 1 1 1 1 1 1 1 1 1 Rating 3.36 (233 Votes)
Driving Direction & Temple Location