Vaideeswaran Temple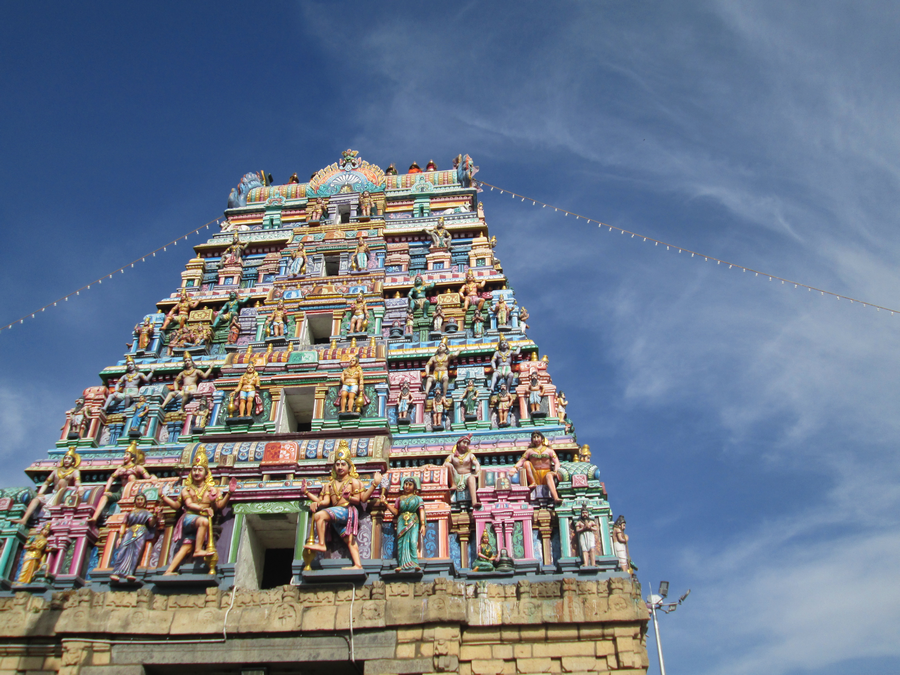 Main Deity : Sri Vaideeswaran.
Ambal : Sri Asanambigai.
Temple Tree : Vilvam tree.
Prominence of the Shrine : As the lord here relives one of all diseases he is called Vaidhyanadhar. Goddess is Asanambigai. This place was once teeming with 'vengai' trees and hence it was called 'vengai vanam'. Vengai is auspicious for victory. Hence the goddess here was called once 'Vengaivana Nayagi'. The kings who knew about these built a temple here and continued with the charities. Those suffering from incurable diseases and those wo yearn for atonement for their sins will have their troubles cured and sins worded off by offering worship at this shrine. A renowned sage Vashistar stayed here and observed penance. The place was called Thiru vashittapuri. It became Vashistakudi and later corrupted and became Thittakudi according to the temple history.
Temple History Indra once made visit to the ashram of sage Gauthama. There he saw agaligai the consort of gauthama and was attracted towards her. The thought of attaining the consort of the guru brought upon him great misery. One day early in the morning the sage went to near by rive to perform the morning rituals. Indra went to the ashram in the appearance off Gauthama. Gauthama who understood this thanks to his extra sensory perception. When he reached his ashram, Indra who was in the appearance of Gauthama turned into cat and hid himself, Gauthama became furious and told him that a person as he who desired to possess the wife of another person should be exposed to the world. So saying he cursed that he (Indra) have eyes throughout his body. As a result thousands of eyes appeared all over the body of Indra. The deva Chieftain Indra shuddered at the curse. He cried to the guru calling for salvation from the curse. Tears gushed from all the eyes in his body. Gauthama told him that only lord Shiva who sees the world with his eyes on the forehead (netrikkan) could give him salvation. Gauthama also cursed Agaligai to become a stone. Indra cursed himself as a sinner and visited all the Shiva temples on the earth for salvation. At last the reached the shrine where Vashistar had observed penance. He begged the lord there most humbly with his heart and soul for salvation. Lord shiva appeared after a long penance of Indra. He nullified the curse and also granted Indra boon. Indra begged lord siva to cure everyone who would go there and pray for warding off diseases, curses and ills. Lord Shiva granted his request. Even today lord Shiva cures the diseases and nullifies the curses and water off the sins of all who resort to him for his mercy.
Who worshipped here : Indra, Sage Vashistar.
Temple Timings : 5.00am to 9.00 am and4.00pm to 7.00 pm.
Temple Festivals : Pradosham; Shiva rathri.
Address : Sri Vaideeswaran temple,
Thittakkudi-606 106.
Cuddalore Dt.
Hotels Near Vaideeswaran Temple, Tittakudi :
1.Arupadai veedu Hotel,
main road,tittagudi(po),
cuddalore-606106.
Restaurants Near Vaideeswaran Temple, Tittakudi :
1.Anbu hotel,
main road ,tiittagudi(po)
cuddalore-606106.
Tel : 9943441189
2.chithra hotel,
bus stand opp
main road tittagudi
cuddalore-606106.
3.saravana bhavan,
bus stand, tittagudi.

cuddalore-606106.
1 1 1 1 1 1 1 1 1 1 Rating 3.37 (235 Votes)
Driving Direction & Temple Location