Pandava Thoothar Perumal Temple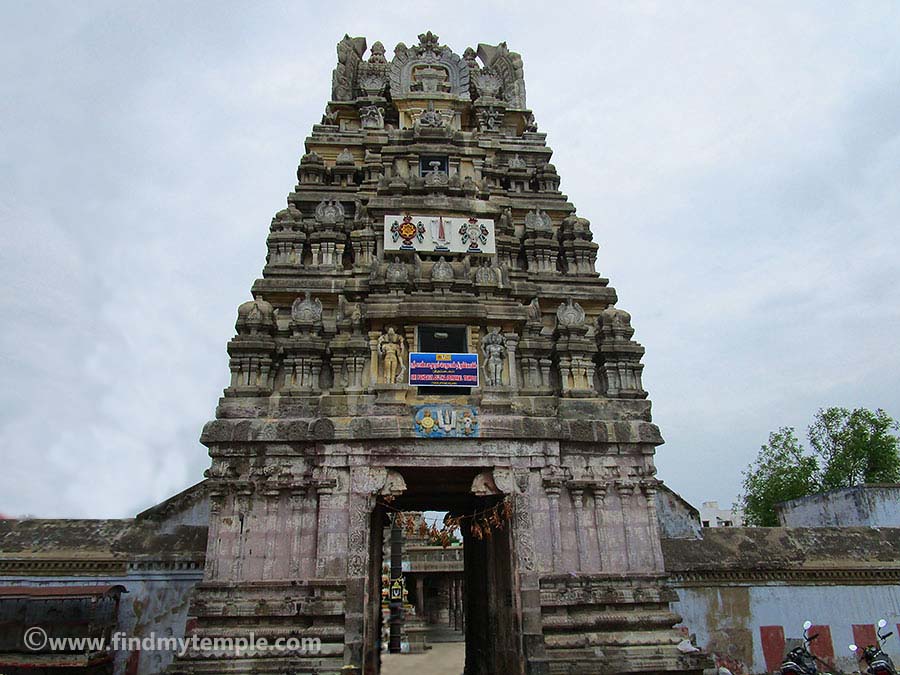 Main Deity : Pandava Thoothar (Sri Krishna).
Ambal : Rukmani, Satya Bama.
Holy Water : Matsya Theertham.
Prominence of the Shrine : This temple is approximately 2000 years old. This place was called as Thirupadagam earlier. Lord Sri Krishna is in the sitting pose at the height of 25 feet and looks gracious. In Mahabharata Sri Krishna went as negotiator for Pandavas so he is called as Pandava Thoothar at this temple. As per the stone scripts here he is referred as Thootha Hari.
Though this temple is older than 2000 years, this was renovated by Kulonthunga Chola I. This temple is 49th among the 108 Divya Desams. Boothath Azhwar, Peyazhwar, Thirumazhisai Azhwar and Thiru mangai Azhwar were the sages who sung about this temple. This temple is auspicious for people who were born in Rohini star. Rohini Devi worshipped at this temple and married the god of Moon (Chandran). Chandran first married Rohini ( who is representation of knowledge) and then Karthigai (representation of fire) out of the 27 stars that he married. Mythological belief is Rohini is coming every day to worship the Sri Krishna here who has showed her the knowledge and Vishwaroopa Dharshan. Devotees who were born on Rohini star should visit this temple at Wednesdays and Saturdays.
Temple History : Mahabharata is a Indian purana happens between two sets of cousin brothers that is Pandavas and Gauravas. Darman who is the eldest brother of Pandavas god defeated in the game of gambling. As a result he lost all their wealth, kingdom and other belongings to Gauravas. Sri Krishna went as a negotiator to Gauravas and ask them to give at least one house to Pandavas to live. Dhuryodhan who is the eldest of Gauravas refused to listen to Sri Krishna and also he wanted to kill Sri Krishna. So he dug a big pit and covered with a chair. He asked Sri Krishna to sit on the chair. When he sat he fell inside the pit where Dhuryodhan kept his men to kill Krishna. However Sri Krishna fought with Dhuryodhan's men and killed them. He also showed his Vishwaroopa Dharshan to them. As he went as negotiator he is called as Pandava Thoothar.
After the Mahabharata war was over, a king named Janamejayar heard the stories of Mahabharata from a Rishi called Vaisambayanar. After hearing all the Leela's of Krishna he wanted to see Sri Krishna's Vishwaroopa Dharshan. The King asked the Rishi, How he can see the Vishwaroopa Dharshan and what are the methods to achieve his wish. The Rishi advised him to go to Kanchipuram and perform penance towards Sri Krishna. The King also arrived to Kanchi and performed a severe penance. Sri Krishna appeared in front of the king in the form of Pandava Thoothar.

Also as per another mythological story Sri Krishna awarded a vision for a blind king Thirutharastran and showed him, his Vishwaroopa Dharshan at this place. As Sri Krishna placed his foot very strongly to show his Vishwaroopa Dharshan this place is considered to be very holy.
Poets who sang its praise : Boothath Azhwar, Peyazhwar, Thirumazhisai Azhwar, Thiru mangai Azhwar.
Temple Timings : Morning 7:00 A.M. – 11:00 Noon. Evening 4:00 P.M. to 7:30 P.M.
Temple Festivals : Krishna Jayanthi, Diwali and Egadesi.
Address : Sri Pandava Thoothar Perumal Temple, Thirupadagam, Kanchipuram - 631 502.
Hotels Near Pandava Thoothar Perumal Temple, Kanchipuram :
1. GRT Regency,
487, Gandhi Road,
Kanchipuram - 631 502, India,
Ph:+(91)-44-27225250, +(91)-9940184251.
2. MM Hotels
No. 65 - 66, Nellukara Street,
Kanchipuram - 631 502, India
Ph:+(91)-44-27227250, +(91)-8098827250.
3. Hotel Baboo Soorya,
No 85, East Raja Street, Kanchipuram Ho,
Near Kamakshi Amman Temple
Kanchipuram - 631 501, India
Ph:+(91)-44-27222556, +(91)-9597121214.
Restaurants Near Pandava Thoothar Perumal Temple, Kanchipuram :
1. Saravanaa Bhavan,
66, Annai Indhira Gandhi Street,
Kanchipuram - 631 502, India,
PH:4427226877.
2. Hotel Saravana Bhavan,
504, Gandhi Road | Near Indian Overseas Bank,
Kanchipuram - 523 230,
PH:044 27222505.
3. Haritam,
NH-45 Thenpakkam Village,
Kanchipuram - 603 301, India,
PH:44 27522337.
1 1 1 1 1 1 1 1 1 1 Rating 3.38 (238 Votes)
Driving Direction & Temple Location