Brahma Sira Kandeeswarar Temple
Thirukkandiyur, Thanjavur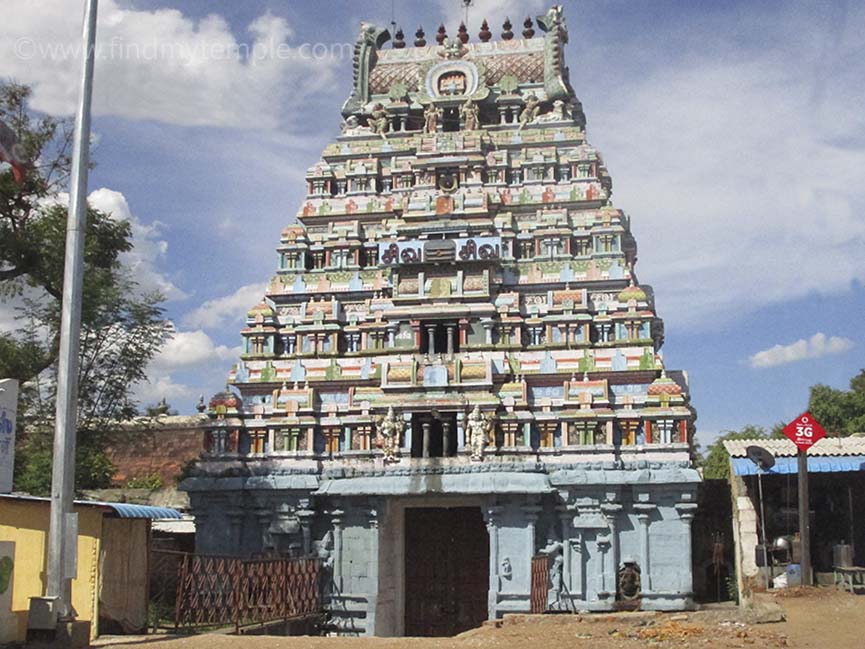 Main Deity : Brahma Sira Kandeeswarar, Veerataneswarar.
Ambal : Mangalambikai.
Other Deities : Mahalakshmi, Subramaniar, Brahma, Lingodhbavar, Dakshinamaurthi, and Bhikshaadanar.
Theertham : Nandi Theertham, Kudamurutti, Daksa Theertham, Brahma Theertham.
Temple Tree : Vilvam (Bael Tree).
Prominence of the shrine : This is the 12th sacred place in the southern banks of Kaveri, consecrated by Thevaram. The Rajagopuram with five stages stands majestically. Armoured Flag-post, Nandi, altar and Lord Vinayakar are seen in the Flag-post. The sanctum of Dandapaani is a separate temple with a mandapam. In the 'saptha-sthaana' festival, the Lord takes a procession.
Ambal stands south facing. Within are the sanctum of Vinayagar, Subrahmanya with Valli-Deivanai, Mahalakshmi, Nataraja, Vishnu- Durgai, Bhairavar, many kinds of Vinayagar and Ardhanaareeswarar in the sitting posture. Chandeswarar is in separate temple. Brahman, Lingodhbavar, Dakshinamaurthi, and Bhikshaadanar appear as koshta murthis.
Near the door-guards (dwaarapaalar), are the image of Sage Saathaathaapar, and the sanctum of Kaalathinaathar, who revealed Himself to Sage Saathaathaapar, Sapthasthaana Lingams and Panchabhuta Lingams. In the Navagraha's sanctum the Sungod is seen with his two spouses. The Prime Deity a Swayambu murthi, is on a slightly high pedestal. On both sides of the sanctum, Lord Muruga is present. The statues of Brahman and Saraswathi are near the sanctum of the Lord. Both the statues look so appealing.
The statue of seated Brahman looks lovely appearing with folded hands in prayer holding Lotus flower and rosary. After plucking his head, Brahman prayed to the Lord to restore his beauty. The Lord blessed him to get back the beauty of his five faces in his four countenances and Brahman gladly received this benediction. The Lord Shiva who took the Vaduga form to chip off the head of Brahma is located in the opposite left of the main deity shrine.
Every year in the Tamil month of Masi (Feb) on 13th, 14th, 15th in the evening between 5:45pm to 6:15pm, sun rays will fall on the Lord. This temple is 5th in the Sabdha Sthana Sthalas. In this temple, Lord Muruga appears with Rosary in right hand and power of Vajra in left hand. Hence he was called as Gnana Sakthidhar. He was also called as Gnana Kandar.
Temple History : Once Brahma had a lust with the girl whom he created. She appealed to Ambigai to safeguard her from Brahma, Ambigai inturn appealed to Lord Shiva who was annoyed by the act of Bhahma, took Bhairavar form and cut off one of his heads. To confess his fault, Brahma meditated and prayed to Lord Shiva. On his request, Shiva appeared before him and gave forgiveness.
Since one head, out of the five heads of Brahman was plucked this Lord was called as "Brahma Sira Kandeeswarar". Sage Saathaathaapar used to go to Kaalahasti on the 'pradosham' day to have darshan of the Lord. Once when he came to Kandiyur, he could not go to Kalahasti in time. The legend is that the Lord graced him with the Kalahasti darshan at Kandiyur itself. This sacred site is also the place to placate the Brahmahathi curse.
People who worshipped here : Brahma and Saathaathaapar.
Poets who sang its praise : Tirunavukkarasar, TirugynanaSambandar.
Temple Timings : Morning 06:00 am to 1:00 pm, Evening 04:00 pm to 08:00 pm.
Pooja Details :
4 Times a day,
Morning: 9.00 A.M. – 9.30 AM.
Noon : 11.30 A.M. – 12.00 A.M.
Evening: 6.00 P.M – 6.30 P.M.
Night: 8.00 P.M. – 8.30 P.M.
Nearest Town : Tanjore.
Temple Address : Brahma Sira Kandeeswarar Temple,
Thirukkandiyur(po), Thiruvaiyar(via), Thanjavur District - 613 202.
Hotels Near Brahma Sira Kandeeswarar Temple, Thirukkandiyur :
1. Sangam Hotel, Thanjavur
Trichy Road, Thanjavur – 613007

Tel : 91-4362-239451

Fax: 91-4362-236695

2. Hotel Parisutham

55 G.A. Canal Road, Thanjavur 613 001, India

Tel : 04362 231 801

3. Hotel Gnanam

Anna Salai ( Market Road)

Thanjavur 613 0001
Phone : 04362- 278501-507
Fax : 04362 235536

4. Hotel Balaji Inn
Baskara puram,

New Bus Stand,

Thanjavur-613005

Phone Number : 04362-226949/227949
5. Star Residency

Hotel Temple Tower) 20/1 A S.M Road,

Next to Ramanathan hospital Bus Stop,

Tanjore - 613 007.

Tel : +91 - 4362- 276333 / 34 / 37

Fax: +91 - 4362-276336
Restaurant Near Brahma Sira Kandeeswarar Temple, Thirukkandiyur :
1. Hotel Ramnath,
No 1335, Thanjavur Ho, Thanjavur -
613001, South Rampart Old Bus Stand
Ph: +(91)-4362-272567, +(91)-9362610901.
2. Sri Lakshmi Narayana Bhavan,
No 133, Big Street, Thanjavur HO,
Thanjavur - 613001, Pattukottai,
Ph : +(91)-4362-252358.
3. Karthik Restaurant
No 1334, Thanjavur HO, Thanjavur - 613001, South Rampart Inside Karthick Hotel
Ph:+(91)-4362-278662, 278663, 278322.

4. Hotel Coffee Palace AC
No 1465, Tanjore, Thanjavur - 613001, South Rampart
Ph: +(91)-4362-231358.
1 1 1 1 1 1 1 1 1 1 Rating 3.37 (235 Votes)

Driving Direction & Temple Location