Bhoovaraga Swamy Temple
SriMushnam, Cuddalore District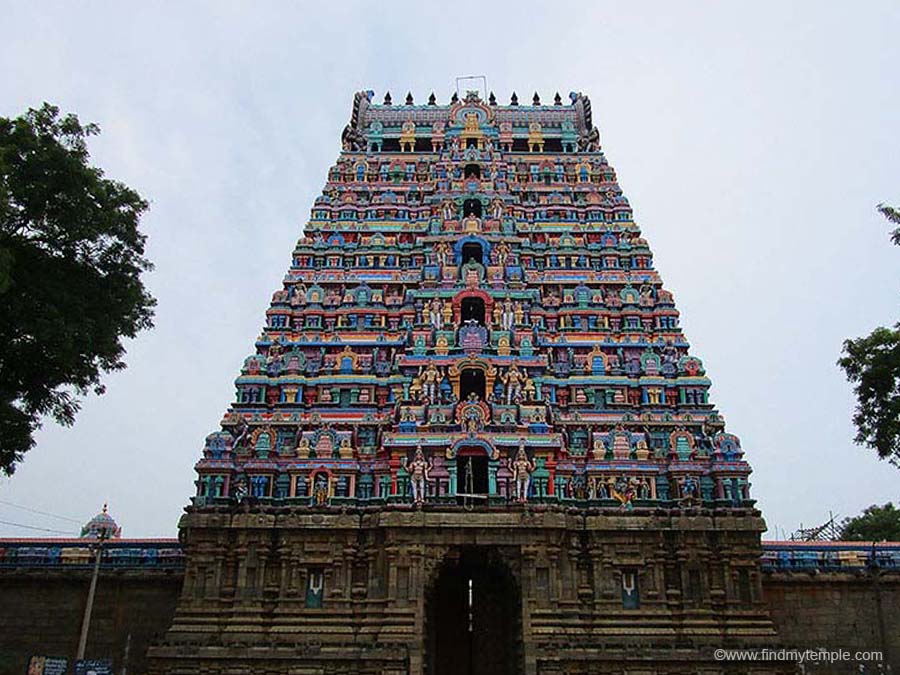 Main Deity : Bhoovaraga Swamy (self-formed Moorthy).

Ambal : Ambujavalli Thayar

Holy Water : Nithya Pushkarani

Temple Tree : Arasa Maram (banyan tree)

Prominence of the Shrine : The main Deity (Moolavar) is offered Thirumanjanam every day morning. Those praying for the wealth of children go round banyan tree, bear Santhanakrishnan on their lap and reap the benefit. Lighting the ghee lamp in this temple brings prosperity. The family will also flourish. Prospects of marriage brighten for women. There are only four self-formed Moorthys among the Vaishna Shrines ( 1. Srirangam, 2. Sri Mushnam, 3. Thiruppathi, 4. Vaanamamalai) and this is one of them. The Vimanam in this temple is in the form of Bhavana Vimanam. There is a hall called 'purusasuhara mandapam' in the center of the temple. It is in the form chariot shape, with horses are pulling from the front and the elephant statues are behind the chariot. This beautiful hall was constructed during 17th century.
Temple History : Narayanan (Lord Vishnu) assumed the holiest incarnation of 'Varaha Avatar' and quelled 'Hiranyakhan', a demon, brother of Hiranyakashipu, who made away with the earth. Narayanan held the Earth by his gigantic incisors and restored it in its position on top of 'Adhisheshan'(the snake god where Lord Vishnu takes rest). He created from his eyes 'Achvatha Virusham' and 'Thulasi' and made 'Nithya Pushkarani' a holy water with the sweat gushing out of Him. He held Sri Mushnam as his residence and appeared as Sri Bhoovaragan to grace the devotees amidst the worshipping of Brahma and the others. Mythological belief of the temple is all the holy waters are meeting here, all the devas and all the sages are living here. Hence if you worship in this temple , it will help you to attain the 'moksha' (paradise).
Temple Timings : 6.00 am to 12 noon - 4.00 pm to 8.30 pm

Nearest Town : Viruddhachalam, Chidambaram

Address : Sri Bhoovaraga Swamy Temple,
Sri Mushnam (Po),
Cuddalore (Dt), PIN – 608 703.


Hotels Near Bhoovaraga Swamy Temple, SriMushnam :
1.Anandha lodge ,
(near bus stand)
Virudhachalam.
2.shanmuga lodge ,
(near bus stand)
Virudhachalam.
3.Vasantha lodge,
kadai veethi,
virudhachalam
Restaurants Near Bhoovaraga Swamy Temple, SriMushnam :
1.Hotel Archana

Bus Stand ,

Virudhachalam.
2.Kirshna Bhavan,
kadai veethi, virudhachalam.
1 1 1 1 1 1 1 1 1 1 Rating 3.38 (238 Votes)
Driving Direction & Temple Location