Aadhi Jagannatha Perumal Temple
Thiruppullani, Ramanathapuram District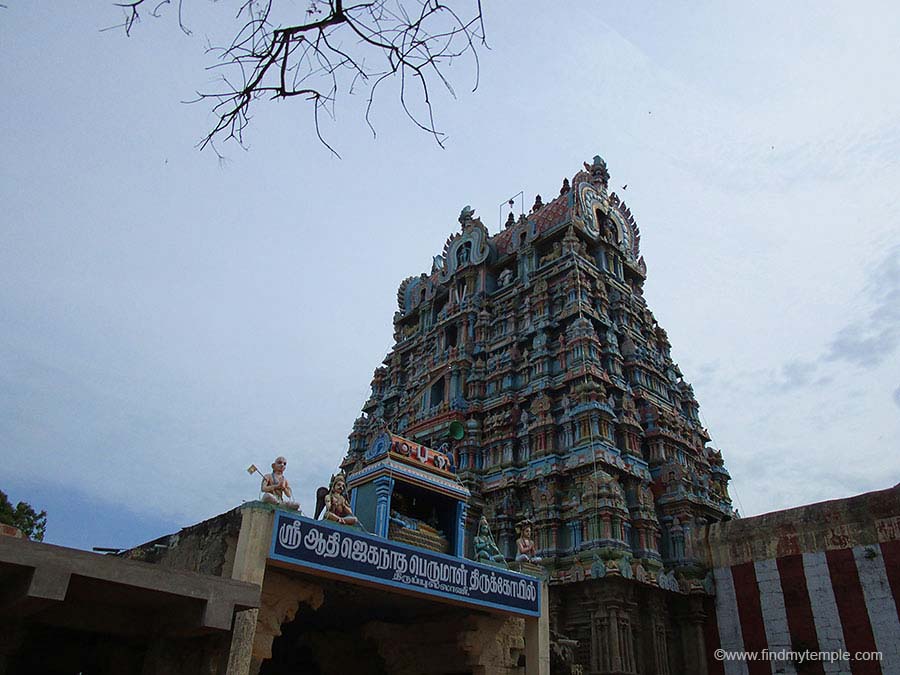 Swamy : Sri Jagannatha Perumal.

Ambal : Sri Kalyanavalli.

Theertham : Hema Chakra, Rathnagara Theertham.

Temple Tree : Arasa Maram.

Special Feature : Thirupullani is 44th among the 108 Dhivya Desams. Among the Azhwars, Thirumangai Azhwar performed Mangalasasanam of this shrine in twenty psalms. This shrine is also celebrated as Pullaranyam and Dharbasayanam.

Temple History : In the Grudha Yuga, Pullar, Kavalar and Kanvar were troubled greatly by demons as the three maharishis were performing penance for the welfare of the globe. Acceding to the request of the rishis, Maha Vishnu saved them in the form of Sacred fig tree (Arasa Maram) and then appeared in his very form of being armed with the conch, the wheel and the symbol granting asylum. Even today He is offering the devotees his eternal grace. King Dhasaratha while going around the world praying for offspring, offered prayers to this Perumal with the regret that he did not have any children though he had 60,000 spouses. Aadhi Jagannatha Perumal gave him a Mantra and Dharasaradha performed Naga Pradhishtai in this shrine and also performed 'Puthrakamoshti Yagna' according to the temple history. (Today Santhana Krishnan can be worshipped near Dharba Sayana Ramar Sannidhi). In the Ramayana, as Lord Rama was going in search of Sita reached this shrine and finding ocean everywhere at Sedhukkarai, began to wonder whether he should cross the ocean or seek help and stood worried over the absence of any information from Hanuman who had gone southward in search of Sita. A sad Rama lay down with his head on the lap of Lakshmana spreading a bed of 'Dharbai' (a type of grass) and fasted for three days. It was then Vibheeshana who had been driven out of Lanka surrendered to Rama.
Temple Timings : 6.00 am to 12.15 am - 4.00 pm to 8.30 pm

Festivals : Brahmotsavam – Panguni,
Ramar Jayanthi – Chithirai,
apart from these Vaikunda Ekadasi, Krishna Jayanthi, Pongal, Deepavali and Saturdays and Sundays when the temple is thronged by huge crowds.

Nearest Town : Thiruppullani.

Address : Sri Aadhi Jagannatha Perumal Temple,
Thiruppullani (Po.),
Ramanathapuram (Dt). PIN – 623 532..

Telephone No : 814816701 swamynathan(EO)
Hotel Near Aadhi Jagannatha Perumal Temple, Thiruppullani :
1.Hotel Queen Palace,
N.H. Road, Near Bus Stand,
Rameswaram-623526, ph:04573 221 013
2.Hotel Vinayaga,
#5, Railway Feeder Road,Rameswaram,
Tamil Nadu 623526.ph:04573 222 361
3.Daiwik Hotels Rameswaram,
NH- 49, Madurai Rameswaram Highway,
Near Rameswaram Bus Stand,
Rameswaram-623526,ph:04573 223 222
4.Hotel Garish Park,
3, Madurai-Rameshwaram Road,Bharathi Nagar,
Ramanathapuram-623503.ph:094423 22030
Resturant Near Aadhi Jagannatha Perumal Temple, Thiruppullani :
1.Hotel Aiswarya Lakshmi,
Ground Floor, NH 45, Madurai-
Rameshwaram Road,Chalai Bazar
1 1 1 1 1 1 1 1 1 1 Rating 3.38 (238 Votes)
Driving Direction & Temple Location