Kaisina Vendhan Temple
Thirupuliyangudi, Thoothukudi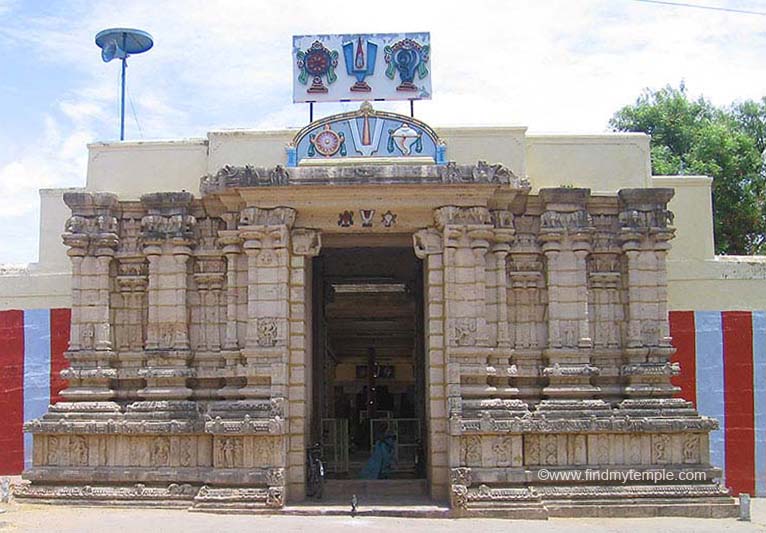 Main Deity : Kaisina vendhan , Bhujanga Sayanam, Kizhaku Paartha Thirumuga Mandal.

Ambal : Malarmagal, Thirumagal.

Holy Water : Varuna neeruthi Theertham

Vimanam : Vadhasaara Vimanam

Prominence of the Shrine : Once Vishnu spent the time with Lakshmi on the bank of river, Bhoomadevi became angry as she felt that the Lord disregarded her after his arrival to the earth. So she left the earth and went down to the underworld. As Bhoomadevi went to the Underworld, the earth became dark and dry. The devas went to Vishnu and prayed for restoration of light and life on the earth. Lord Vishnu accompanied by Lakshmi went to the underworld and pacified Bhoomadevi and appeared to everyone with both of the consorts. As the Lord saved the earth(Bhoomi)pacifying Bhoomadevi, He was called Bhoomi balagar.

Temple History : Once at the Himalayas, a Rishi and his consort were playing in the guise of deer. Indra (deva chieftain), who came there killed the male deer with his Vajrayudha without knowing that the deer are actually a Sage and his wife. As he killed the Rishi he got into 'Brahmahaththi Dosha' . As per the advice of Jupiter (one of the navagrahas), Indira came here and prayed to Bhoomibalan and bathed in the Holy water here.He was relieved of the Brahmahaththi dosha. The elated Indira performed a big Pooja. Vishnu appeared and relieved the curse of Yagnasharma who was cursed to become a demon because he had not only failed to respect Vashishtar and his daughter but also used harsh words against them. Here Vishnu lies to twelve feet Aadhiseshan (Aadhiseshan – King of serpents where Lord Vishnu sits). The holy feet of Vishnu can be seen through a window while circumambulating the Moolasthanam. From the navel of Vishnu the lotus vine reaches the lotus on the wall Where Brahma is seated. For anointing Vishnu with oil , 250 liters of oil is used everyday. Lakshmi and Bhoomadevi sit at the feet in their bigger posture. Prayers made here for getting children donot prove ineffective. who offered worship here.

Temple Timings : 9 A.M To 6 P.M

Nearest Town : Tirunelveli.

Address : Sri Kaisinavendan temple, Thirupuliyangudi, thoothukudi District.
Hotel Near Kaisina Vendhan Temple, Thirupuliyangudi :
1.Sakunthala International, (29.4km from Temple)
Trivandrum Road | Vannarpettai,
Tirunelveli 627003, India
2.Hotel Aryaas Ressidence(32km from Temple)
Bypass Junction | Vannarapetai,
Tirunelveli 627001, India
3.Hotel Aryaas (31km from Temple)
67, Madurai Road | Tirunelveli Junction,
Tirunelveli 627001, India
4.Sri Bharani Hotel (31km from Temple)
29-A, Madurai Road, Tirunelveli Junction |
Tamilnadu, Tirunelveli 627001, India
5.Sri Janakiram Hotels (31km from Temple)
30,Madurai Road,
Tirunelveli 627001, India
1 1 1 1 1 1 1 1 1 1 Rating 3.37 (235 Votes)
Driving Direction & Temple Location