Marudanda Nadeswarar Temple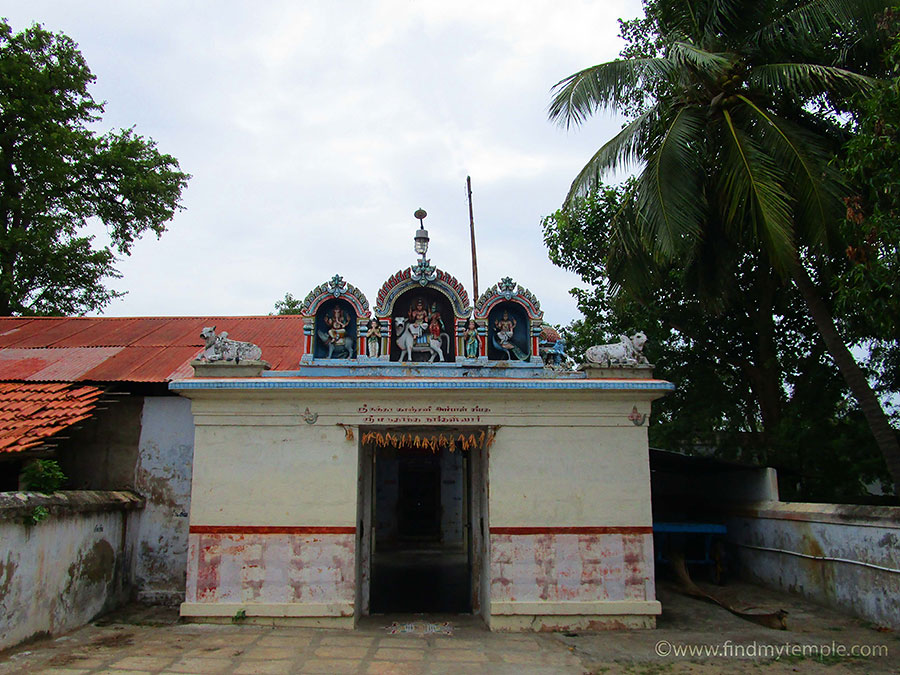 Main Deity : Marudanda Nadeswarar.
Ambal : Sundara Kanchani.
Prominence of the Shrine : Though the temple faces east direction, the entrance facing south is only used. ambal shrine faces south while swami shrine faces east and both are accommodated in one mandapam. One can circumambulate ambal and swamy in the same trip. It is something unique.
Temple History : 'Marudandan' was the son of the sage 'Suholar'. The sage drove away his consort (mother of Marudandan) on charges of adultery, and thereafter she led an immoral life. .As Marudandan grew, he became a friend of the prince of the country. The prince was a lustful and salacious youth. Marudandan too got influenced by him and became lustful.
Once, womanising, both of them went to an elderly woman and made merry together. Then she realised that the adult who accompanied the prince was her son. Knowing this, Marudandan, began to lament loudly at the sin he had had committed (by having sex with his mother).
Pricked by this ill feeling, he discarded the material life and went to the forest and began to meditate. Pleased by his sincere and strong penance, Lord Shiva appeared before him. He pardoned the sin, as it was done unknowingly. However, Lord Shiva said. "Any man should see a women as a mother only. To make the world realize this I enacted this horrible drama. In the 'Kali Yuga' many such incidents may happen. The guilty should realise the sin and repent. Still, being wreck with this conscience thrashing him, Marudandan asked, for atonement. Lord Shiva asked him to construct a temple and pray towards him every day will give him a peace at mind. Marudandan built a temple out of his own resources after this and worshipped every day. ambal pacified him. She is called Sundara kanchani here.
Temple Timings : 6.00 am to 11.00 am and 4.00 pm to 8.00 pm.
Temple Festivals : Special poojas are performed on the following days:
Tami l new year,
Vaigasi Visakam,
Aadi krithigai,
Vinayaga chathurthi,
Navarathri,
Kanda Shashti,
Thirukkarthigai,
Panguni Uthiram.
Nearest Town : Trichy.
Address : Sri Marudanda Nadeswarar temple, Aangarai, Lalgudi, Trichy Dt.
Hotels Near Marudanda Nadeswarar Temple, Aangarai :
1. Mathura Hotel, (21 km from Temple)
No 1, Rockins Road, Tiruchirappalli Townhall,
Trichy - 620002, Opposite Central Bus Stand Contonment
Tel : +(91)-431-2414737, +(91)-9894558654.
2. Mayavaram Lodge, (19.5 km from Temple)
No 87, Vanapattarai Street, Tiruchirappalli Townhall,
Trichy - 620002, Teppakulam Post,
Tel : +(91)-431-2711400, 2704089
3. Femina Hotel, (25 km from Temple)
109, Williams Road, Tiruchirappalli 620001,
Hotel Area: Trichy Central Bus Stand / Railway Junction Area,
Tel : 0431 - 2414501.
4. Hotel Rockfort View, (16 km from Temple)
05, Odathurai Road | Chinthamani, Tiruchirappalli 620 002.
Mobile: +91 740 2713466.
Tel : +91 431-2713466.
5. Grand Gardenia, (23.8 km from Temple)
22-25 Mannarpuram Junction,Trichy-620020,
Mobile : +91 95856 44000.
Tel : +91 431 4045000.
Restaurants Near Marudanda Nadeswarar Temple, Aangarai :
1. Ragunath Restaurant, (19 km from Temple)
College Road, Tiruchirappalli.
2. Parthasarathy vilas, (14 km from Temple)
Vegetarian / Vegan Restaurant

Kondayam Pettai Agraharam, Thiruvanaikoil, Trichy 620005.
1 1 1 1 1 1 1 1 1 1 Rating 3.37 (235 Votes)

Driving Direction & Temple Location