Natarajar Temple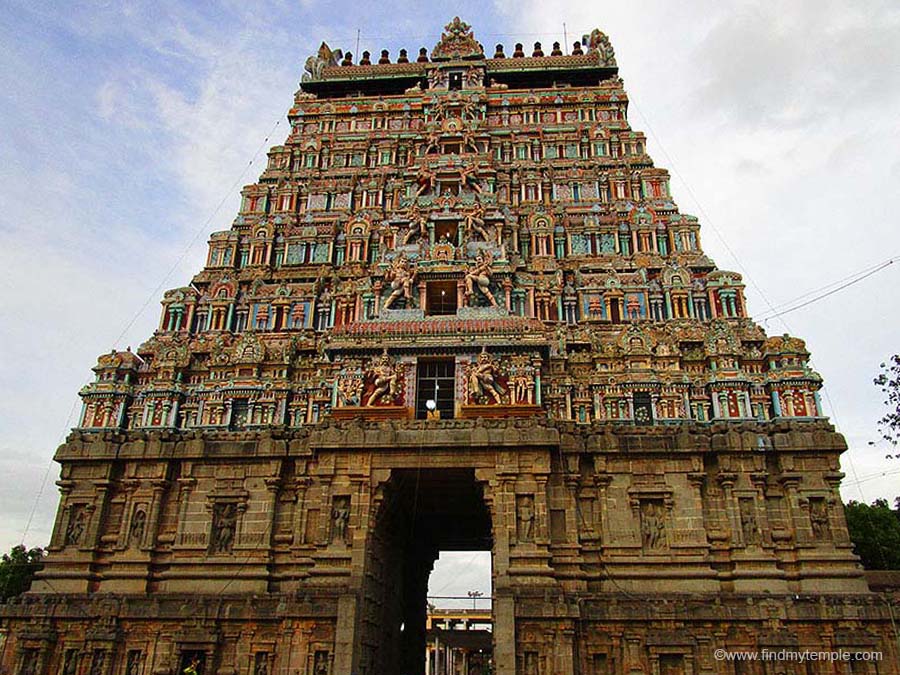 Main Deity : Natarajar;Aadhimoolanadhar.

Ambal : Shivagamasundari , Umaya Parvathi.
Holy Water : Shivaganga Theertham and 6 Theertham.

Temple Tree : Thillaivanam Aal.

Prominence of the Shrine : Among the Panchaboothas (five super powers)this temple represents the sky. The philosophy is that the Shiva mingled with the sky cannot be seen. This is called 'Chimdambara secret'. The Shiva here danced with Kali who quelled Tharagan. On the north of Chidambaram there is temple for Kali which is called as Thillai kaliamman Temple. There are four Raja Gopurams (Big Towers) in this temple. Here We find the temple tower of main deity is gold plated. The temple complex occupies around 40 acres of land. The Arthajama Pooja is special at this temple. Worshipping at Chidambaram brings 'Mukthi'(eternity).

Temple History : The Lord here graces as Nataraja Who is in a dancing form, and as the sky which has no form and as the "Spadiga Linga" Which is both form as Well as Formless. At sitha sabha, to the right of Sabanayagar there is a small doorway. Here a screen is removed and 'Harathi' is shown. Inside there is no figure. A vilvam(type of leaf) garland made of gold is hung there. There is no moorthy. The secret is that the Lord here is in the form of sky. The sky has no limits. One can only feel him. Sitha+Ambaram – Chidambaram. 'sith' means 'knowledge'. 'Ambaram' means 'open space'. 'Feeling nothingness' is the meaning of spiritual secret. Chidambaram represents the sky among the Pancha boothas.
This temple is originally constructed by Chola kings. Later this is beautified by Pallava King Koperunchingan II. South side Gopuram (tower) was constructed by Chokkacheyan aka Koperunchingan I. Manavir Koothan Kalingarayan had built the 100 pillar hall in the temple.
Pandiyas had a practice of conducting the crowning ceremony in front of Chokalinga swamy & Meenakshi Amman at Madurai. So one of the Pandiya kings 'Sadaiyavarman Veerapandian' constructed a Sannidhi for Meenakshi Sundareswarar next to the 100 pillar hall at Chidambaram temple. In front of that god he also took oath and crowned himself at AD 1267. Please note that 13th century is the beginning of destruction of Great Chola dynasty and one century later Pandya Dynasty also uprooted totally. This is the period entire Tamil Nadu witnessed a complete political shift and for next 500 years it was ruled by non-Tamil kings until the arrival of British.
1000 pillar hall is also there at Chidambaram which was constructed by Kulonthunga Chola III as per the researcher Sadhashiva Pandarathar. At this 1000 pillar hall, one of the famous Shiva's Purana "Thiruthondar Puranam" was written and launched by Chekkizhar.
Chidambaram temple's sanctum sanctorum was covered by Gold plated roof. This is called as Ponnambalam (Pon represents Gold in Tamil) or Chitrambalam. This Gold roof has been constructed using 21600 gold plates. This is a symbolic representation of human beings will breath 21600 times every day. 72000 nails have been used to tie these gold plates which represent the 72000 pulses ('Naadi') which helps the humans to live. The golden plates are held with the help of 64 beams which represents the 64 arts of Indian Sutras.

Ponnambalam is located on the left hand side which represents our hearts located on the left side of the human body. To reach Ponnambalam devotees need to cross 5 steps. These steps are called "Panchatchara Padi". In tamil language "Shivaya Nama" can be written in 5 letters (சி,வா,ய,ந,ம) so everybody has to cross 5 steps. Kanagasabai is located on the side of the main entrance to the sanctum sanctorum. Kanagasabai is standing with the support of 4 pillars which represents the 4 Vedas of Hinduism.
Chitrambalam is called as "Chirsabai" and the opposite hall is called as "Kanagasabai". Hall that is in the south of temple flag hoist is called as "Nirutha Sabai" and the Sannidhi where the god Somaskandar is located is called as "Perambalam" or "Deva Sabai". 1000 pillar hall is called as Raja Sabai. All these five halls or Sabai's were constructed by Chola kings.

Perumal Sannidhi was constructed by Nandi Varma Pallava during AD 726 o AD 775. This Sannidhi is called as Thiruchithira Koodam. This was worshipped and sung by Thiru mangai Azhwar and Kulasekara Azhwar.
Who worshiped here : Lord Murugan, Arjunan, Thirumoola Nayanar, Thiru Ghana Sampanthar, Thirunavukarasar, Manivasagar, Kadavarkon Nayanar, Seraman Perumal Nayanar, , Nakkera Deva Nayanar, Parana Deva Nayanar, Thiruvenkattadigal, Nambiyandar Nambigal, Sekizhar, thiruneelakanda Nayanar, Thillai vazhnthanar, Thiru nalai povar Nayanar, Kootruva Nayanar, Kochengat Chola Nayanar, Vara Guna Pandian and Umapathi Shiva Achariyar.
Poets who sand in praise : Arunagiri nathar, Irattai pulavargal, Guru Ghana Sampanthar, Kankatti Marai Ghana Sampanthar, Padikkasu Thambiran, Siddhar Shivaprakasar, Agora Shivachariyar, Thayumanavar, Marimuthu pulavar, muththu Thandavar, Ghana prakasar, Gopala Krishna Bharathiyar, Meenakshi Sundaram Pillai, Arumuga Navalar, Chidambara Ramalinga Vallalar, Pamban Kumara Guru Swamigal.
Temple Timings : 6.00 am to 12.00 noon. 4.30 pm to 9.30 pm.

Nearest Town : Chidambaram.

Address : Sri Thillai Natrajar Temple, Chidambaram 608 001, Cuddalore Dt.
Telephone Number : 04144 – 22717/230251.
Hotels Near Natarajar Temple, Chidambaram :

1.Hotel Akshaya,

17,18 East Car Street | Chidambaram,

Chidambaram 608001.

2.The Grand Park,

#59, East Car Street | Near Natarajar Temple,

Chidambaram 608001.

3.Grand Palace Stay,

12 Railway Feeder Road,

Chidambaram 608001.

4.R K Residency Hotel,

30 VGP Street,

Chidambaram 608001.

Restaurants Near Natarajar Temple, Chidambaram :

1.Anupallavi Multicuisine Restaurant,

VGP Street, 19, Chidambaram,

Tel : (04144) 221336.
1 1 1 1 1 1 1 1 1 1 Rating 3.38 (238 Votes)

Driving Direction & Temple Location