Agneeswarar Temple
Thirukattupalli, Thanjavur District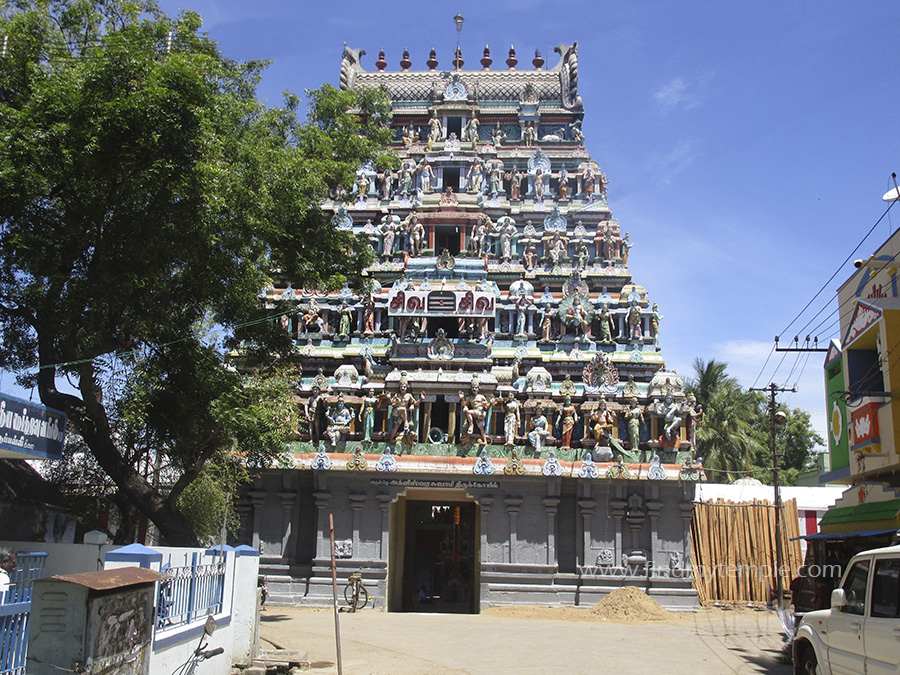 Main Deity : Agneeswarar, Theeyadiappar.
Ambal : Soundaryanayaki, Azhagammai.
Other Deities : Kasi Viswanathar , Visalakshi, Gajalakshmi, Durga angd Dhakshanamurthy.
Theertham : Surya theertham, Kudamurutti river, Agnitheertham is in the form of a well.
Temple Tree : Vanni, Vilwa.
Prominence of the shrine : The main tower (Rajagopuram) is of a five tier model. This temple was constructed by Chola I. In the Navagraha shrine (9 Planets) against the general traditions, all the planets are facing Sun planet. Since Agni Bagavan worshipped this God, this place was called as Agniswaram. Agni Theertham which was made by Agni Bagavan to worship Shiva is present here in the form of well. Lord Agneeswara is a swayambu Linga (formed of its own). Shiva Linga's size is very small. Five Cobras are seen on the head of Linga.
Sri Yoga Dakshinamurthy graces in the Prakara around the presiding deity. Lord Vinayaka graces from the right side. Inside the temple on the right is the Goddess-Mother's shrine facing south. She graces in a standing form with Dwarapalakas at the entrance of the shrine. There is also a Vinayaka within the shrine. Lord Arthanareeswara is with Lingodhbava. Next is the shrine of Lord Muruga with His consorts Valli and Deivanai. Then follows the shrines of Kasi Viswanatha with Mother Visalakshi, Gajalakshmi, Durga. Goddess Soundaravalli has separate shrine in this temple. Brahma has separate shrine in the left side of the main deity. Brahma's curse was solved in this place. Brahma prayed that he should be recognized as one of the Trinity. The inscription says that the Lord Shiva allowed him to stay alone.
In this temple, Vishnu appears in separate shrine as Shrinivasa Perumal. There are two Dhakshamurthys in the second corridor. We can see the 2nd Dhakshamurthy through the hole present in the basement of the Guru Dhakshamurthy. Yoga Dhakshamurthy is very popular in this temple. He sits on the seat which is his in the form of monkey,with his two hands and Maharakanti Rudhraksham on his neck and Sun and Moon on his braid. He appears in the form of Yoga Murthy. In this temple there are inscriptions of the period of Sundara Pandian and Konerinmai Kondan. In both the inscriptions, the goddess name has been indicated as Alagamarmangai. Four term pooja is conducted in this temple.
The consecration of the temple (Kumbabishekam) was performed in the year 1983. As the word Palli is attributed to Jains, it is believed that Jains would have stayed here. Also a statue of 24th Theerthangara is taken from this temple. Acharyas are called Theerthangaras. The Temple was also renovated by Aditya Chola I. This temple is located in Thirukattupalli in Thanjavur district. In mythological period, this place was called as Mela Thirukattupalli.
Temple History : In the mythological period, all the Gods with their head Indra came to this temple and worshipped the Lord. Angi Bagavan appealed to God that all that he touches are charred and wanted to get rid of the blame. Lord Shiva appeared before him and asked him to make a pond in this temple and anoint him with the water from the temple to get relieved from the curse. The devotees bathe on Sundays in the month of Karthikai (November-December) in Agni theertha and on Masi Magam (February-March), Panguni Uthiram (March-April) and Vaikasi Visakam (May-June) and attain blessings. The story goes that a servant of King of Urayur brought some Sevvandhi flowers meant for Shiva Puja and gave it to the King. The King in turn gave them to his two wives. The elder wife offered it to Lord Shiva while the other wore it on her head. While Tirukattupalli where the first wife lived grew into fame, Urayur where the second wife lived met with destruction.
People who worshipped here : Thirumal, Brahma, Sun, Baheerathan and Urayur Queen.
Poets who sang its praise : Thiruganasamandar and Thirunavukkarasar.
Temple Timings : Morning 06:00 am to 11:00 am, Evening 04:00 pm to 08:30 pm.
Temple Festivals :
Masi Magam in February-March,
Panguni Uthram in March-April,
Shivarathri in February-March,
Aipasi Annabishekam in October-November and Margazhi Tiruvadhirai are the festivals celebrated in the temple.
Nearest Town : Thanjavur.
Temple Address : Agneeswarar Temple,
Thirukattupalli - 613 104, Thanjavur District.
Hotels Near Agneeswarar Temple, Tirukattupalli :
1. Sangam Hotel, Thanjavur
Trichy Road, Thanjavur – 613007

Tel : 91-4362-239451

Fax: 91-4362-236695
2. Hotel Parisutham
55 G.A. Canal Road, Thanjavur 613 001, India
Tel : 04362 231 801.
3. Hotel Gnanam
Anna Salai ( Market Road)
Thanjavur 613 001.
Phone : 04362- 278501-507.
Fax : 04362 235536.
4. Hotel Balaji Inn
Baskara puram,

New Bus Stand,

Thanjavur-613 005.

Phone Number : 04362-226949/227949.
5. Star Residency
Hotel Temple Tower) 20/1 A S.M Road,
Next to Ramanathan hospital Bus Stop,
Tanjore - 613 007.

Tel : +91 - 4362- 276333 / 34 / 37.

Fax: +91 - 4362-276336.
Restaurant Near Agneeswarar Temple, Tirukattupalli :
1. Hotel Ramnath,
No 1335, Thanjavur Ho, Thanjavur -
613 001, South Rampart Old Bus Stand
Ph: +(91)-4362-272567, +(91)-9362610901.
2. Sri Lakshmi Narayana Bhavan,
No 133, Big Street, Thanjavur HO,
Thanjavur - 613 001, Pattukottai
Ph : +(91)-4362-252358.
3. Karthik Restaurant
No 1334, Thanjavur HO, Thanjavur - 613 001, South Rampart Inside Karthick Hotel
Ph:+(91)-4362-278662, 278663, 278322.
4. Hotel Coffee Palace AC
No 1465, Tanjore, Thanjavur - 613 001,
South Rampart,
Ph: +(91)-4362-231358.
1 1 1 1 1 1 1 1 1 1 Rating 3.37 (235 Votes)

Driving Direction & Temple Location