Thanu Malayan Temple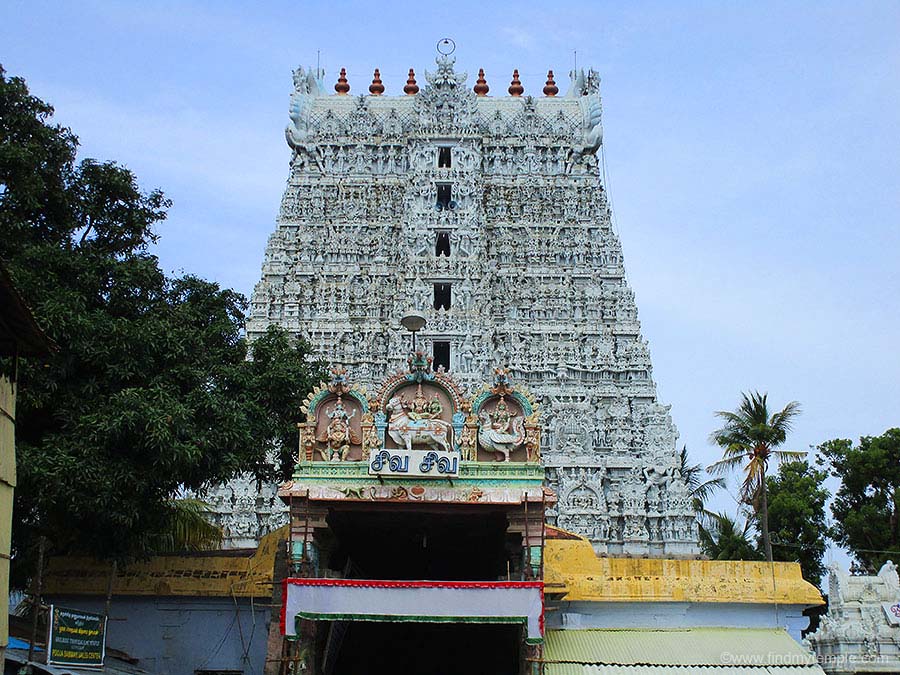 Main Deity : Thanu Malayan
Holy Water : Prabanja Theertham
Temple Tree : Kondrai
Prominence of the Shrine : The Temple is 1300 years old. The first Sannidhi is that of Dakshinamoorthy. Just before coming out we can have a Dharshan of Indira Vinayagar in front of Nandi. Dhathathri Temple- Here the god is in Dhathathri form (Lord Vishnu, Brahma and Shiva are together in one form). Navagrahas are located at the inner roof of Vasantha Mandapam. The Nandi here is White and it is 32 feet in height. It is made of crushed conch. Sri Neelakanda Vinayagar appears with Parvathi Devi. The Pillars at the Pragara mandapam have Pavai Vilakku beneath them. There are 517 pillars. Kulasekara Azhwar mandapam has pillars with musical notes. At the center is a lamp which has been glowing for 18 years. It is an eternal lamp.(Burning always). The Nanchil Dwarabalagar is made of a single stone. The Anjenaya here is majestic standing 18 feet tall. To offer prayer to Anjenaya, a garland of betel, leaves, butter and rose water are offered to the tail above Anjenaya. Parvathi Devi appears in the form of Vinayagar and is called Vigneswari. This shrine is very ancient and is historically significant.
Temple History : As per puranas, The Three main gods of Hindu religion (Vishnu, Brahma and Shiva) appeared together in a Linga form to Sage "Aththiri" and his wife "Anusaya". The top portion of the linga is Vishnu and the middle is Shiva and the bottom is Brahma. As Indra worshipped here and got cured from his curse this place become Suchindram. It is a general believe that Lord Indra is performing mid night pooja to Thanumalayan. If someone is performing pooja at the evening, they are not allowed to do pooja next day due to customs practiced here.
Temple Timings : 6.00 am to 12 noon, 4.00 pm to 8.00 pm.
Pooja Details : 4.00 am-The doors open, 4.30 am-Abhishekam, 5.30 am-Thiruppali ezhuchi, 6.15 am-usha kaala pooja, 9.30 am-Mirushtantha pooja, 10.30 am-uchi kala Abhishegam, 11.00 am-uchi kala pooja, 11.30 am-closing Time, 5.00 pm-The Doors open, 6.30 pm-sayaratchai Deeparadhanai, 8.15 pm –closing time. (NOTE)- It is believed that Devendran himself performs the Arthajama Pooja at this temple.
Temple Festivals : Chithrai-Theppam Festival –Flag hosting on Bharani star-10 days. Ninth day car festival( Ther Thiruvizha)-10 th day-Theppam. Aavani-Mahavishnu Moola Thiruvizha-10 days Urchavam-Ninth day-car festival. Margazhi-Thiruvadhirai Thiruvizha.Flag hoisting on Sadhaya star-5 th day Garuda Dharisanam.Ninth day car festival of fours cars.(vinayagar, Shivan,parvathi Amman and Devendran). Masi- Thirukkalyanam.
Nearest Town : Kanniyakumari.
Address : Thanumalayan Temple, Suseendram- 629 704, Kanniya kumara Dt.
Hotels Near Thanu Malayan Temple, Suchindram :

1.The Gopinivas Grand™

Near Seashore, Kanyakumari,

Tamilnadu, India. Pincode : 629702

Voice : +91(0) 4652 24 61 61 / 24 62 62

2.Hotel Maadhini
East Car Street,

Kanyakumari 629702.

3.Hotel Singaar International

5/22 Main Road,

Kanyakumari 629702.

4.Tri Sea Hotel (P) Ltd

Near Seashore, Kovalam Road | Tamilnadu, Kanyakumari 629702, India

Restaurants Near Thanu Malayan Temple, Suchindram :

1.The Ocean Restaurant - The Seashore Hotel

East Car Street, Kanyakumari, India

ph : 9994121088

2.Auroma Restaurant

6/112 B, Beach Road, Near Sunset point | Sparsa Resort,

Kanyakumari,
Tel : +91 04652 - 247041 / 42 / 43
1 1 1 1 1 1 1 1 1 1 Rating 3.37 (235 Votes)
Driving Direction & Temple Location