Seshapureeswarar Temple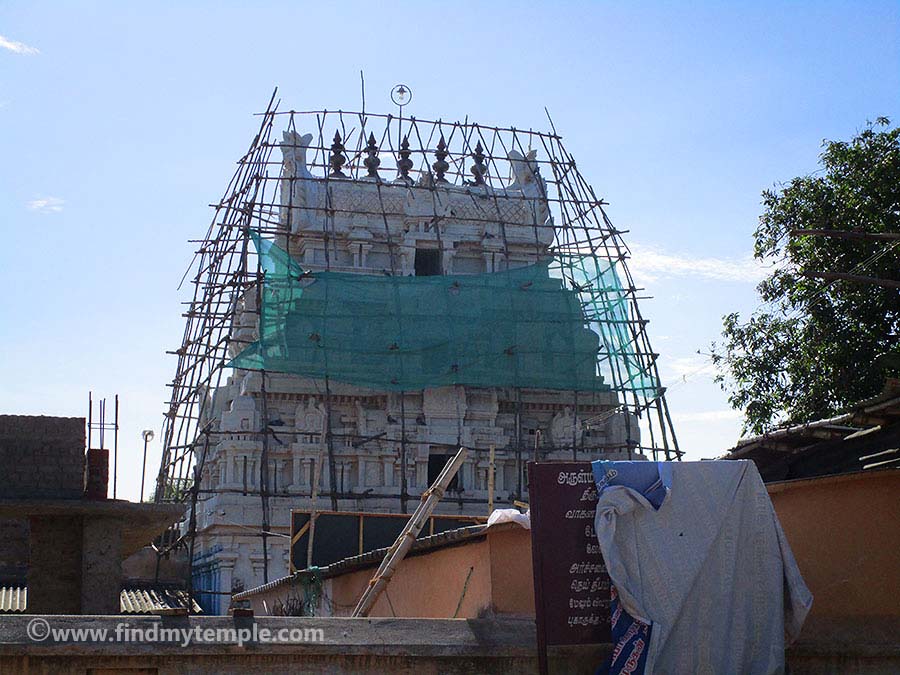 Main Deity : Seshapureeswarar, Pampureshwarar, Pampeesar, Pampura Nathar.
Ambal : Prabarambigai, Vandar Kuzhali.
Holy Water : Aadhisesha Theertham.
Temple Tree : Vanni Tree.
Prominence of the Shrine : Thirupampuram is a temple where all kinds of Naga (Snake) Doshas are cured. This temple cures all Doshas are created by Raghu & Kedhu. Naga King Aadhiseshan worshipped at this temple so this place is called as Thirupampuram. Thirunageswaram, Kalahasthi and "Keezha perumpallam" are the other three main Naga Dosha Parihara temples. Devotees worshipping at Thirupampuram will get a benefit of worshipping the above mentioned three Naga temples. At this temple Raghu & Kedhu were appearing in a single body. All the three important Shaivite sages Appar, Sampanthar, Sundarar sung about this temple. Mythological belief is, God is living in the form of snakes. Snakes used to visit this temple regularly and they don't byte the devotees here. Devotees have witnessed many times the snakes visit the temples and removed their skins as a garland to Shiva and Parvathi. If the devotees have Kala Sarpa Dosha or if they are in 18 years of Raghu or in 7 years of Kedhu they should visit this temple. If they have some other Doshas like "Kalathira Dosha", or obstacles in marriage or obstacles in having child or repeatedly they see snakes in their dreams they should visit this temple and perform pariharas as per pujari suggest here will help the devotees.
Aadhiseshan to worship the lord Shiva created a tank along with the help of Chitramala Ganesha which is called as Chitrambala Theertham. There are 15 stone scripts that are talking about this temple tank alone. Those are from the periods of Raja Raja Chola, Rajendra Chola. Thiribhuvana Veera Devan, Kulonthunga Chola III, Sundara Pandian and Saraboji Kings.
As per the stone scripts the Lord here is called as Pampuram Udayar, Ganesha is called as Raja Raja Pillayar, and Devi is called as Mamalayatti. During the King Raja Raja Chola's period 2nd Prahara of the temple has been constructed and lands have been provided to maintain this temple. Vasantha Hall was constructed during the Saraboji Kings of Tanjore.
Temple History : As per purana stories once Ganesha was worshipping the Lord Vishnu at Kailash. The snake which was in Shiva's neck thought that he is also supreme and that is why Ganesha is worshipping the snake along with Lord Shiva. When Shiva understood the thoughts of snake he cursed that all the Naga's in the world including Aadhiseshan, Raghu and Kedhu will lose their powers. Hence the Aadhiseshan and the two main snake gods Raghu and Kedhu lost their important and they suffered. To get cured from Shiva's curse they prayed to him. Shiva accepted their request and asked them to worship him at Thirupampuram. He said they should worship him on Shiva Rathri day.
As per Shiva's order all the main Naga Kings worshipped first at "Kumbakonam Nageswarar", "Thirunageswaram Naganathar", "Thirupampuram Pampura Nathar" and then "Nagore Naga Nathar" on Shiva Rathri day and got rid of their curses.
who worshipped here : Anandhan, Vasuki, Datchan, Karkodagan, Sanga balan, Kuligan, padman, Maha padman are the main eight Naga's and the Naga King Aadhiseshan.
Poets who sang its praise : Thirugnana Sampanthar, Appar, Sundarar.
Temple Timings : Morning 7:30 A.M. to 12:30 Noon. Evening 4:00 P.M. to 9:00 P.M.
Special timings on following days:
Sundays & Tuesdays – evening 2.45 P.M. to night 8:00 PM.
Wednesday – Raghu Kedhu pooja – Morning 6:30 A.M. to 1:30 PM.
Thursday – Raghu Kedhu pooja – Noon 1.30 P.M. to evening 3:00 PM.
Pooja Details : Poojas are performed four times a day.
Morning: 9:00 A.M.
Noon : 12.15 P.M.
Evening : 5.15 P.M.
Night : 8:00 P.M.
Temple Festivals :
1) Masi Magam – Theertha Vari,
2) Raghu Kedhu peyarchi,
3) Maha Shiva Rathri – 4 poojas at night.
Address : Sri Pampureswarar Temple,
Thirupampuram, Suraikayur Post - 612 203, Kudavasal Taluk, Thiruvarur Dt.
Telephone No : 0435-2469555.
Hotels Near Seshapureeswarar Temple, Thirupampuram :
1. Hotel Selvies,
(P) LTD,2, Kattukara Street Santhamangalam,
Madapuram,Thiruvarur-610002,
Tel:04366 222 082.
2. Arun Hotel,
Santhamangalam,
KTR Nagar,Thiruvarur,
Tamil Nadu - 610 002.
3. Hotel Kauveri,
Santhamangalam, KTR Nagar,Thiruvarur,
Tamil Nadu - 610 004.
4. Hotel MMA,
3/364A,Dr. kalaingar nagar, Mannarkudi Road,
T.Nagar,Vilamal,Thiruvarur-610001,
ph:04366 220 219.
1 1 1 1 1 1 1 1 1 1 Rating 3.34 (174 Votes)
Driving Direction & Temple Location