Brahmapureeswarar Temple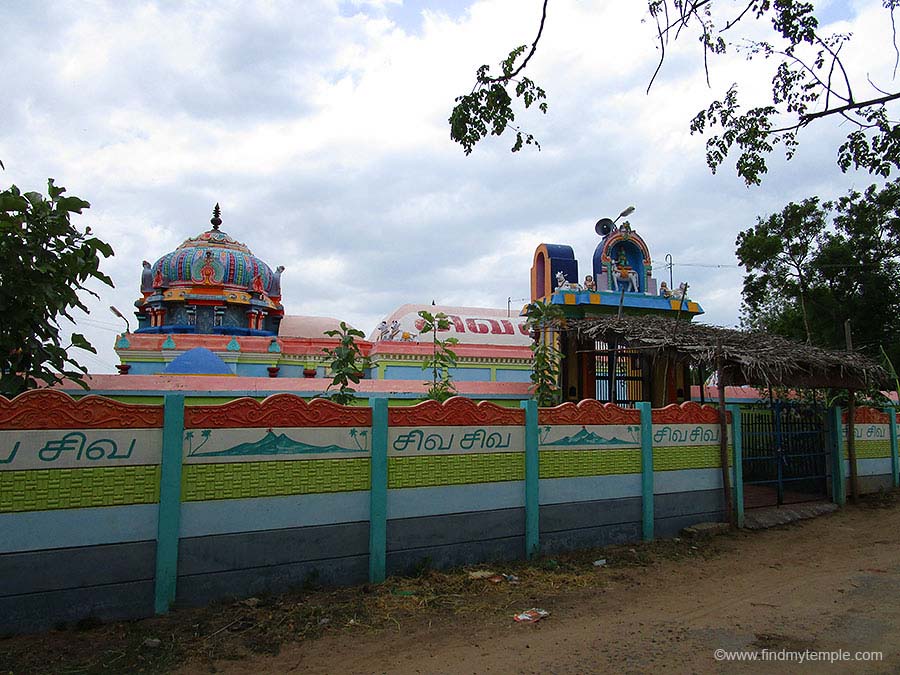 Main Deity : Shri Brahmapureeswarar.
Ambal : Karpagambal.
Theertham : Ganga Theertham.
Prominence of the shrine : Renovation of this temple was held on 12/04/2012. In this temple Brahmapureeswarar reform and appear as Karpakambal. Eainanur is now called as Eananallur.
Temple History : Enatinatha Nayanar was giving sword training to Royals. (His period was between 660 AD – 840 after Appar) . Enathi Nayanar thus added to the fame and glory. Adhisuran was also giving sword training. His conceit developed evil thoughts. Because of this Adhisuran's value dropped. So he considered Enati Nayanar as his enemy and challenged him. Both agreed for the fight outside but many people died from both the sides. Adhisuran was defeated in the fight. Though Adhisuran realized that Enati Nayanar was superior to him in sword fight, his evil thoughts made him to plan for killing Enati Nayanar. Enati Nayanar worshipped Lord Shiva and his devotees. Knowing that Enati Nayanar would not harm the devotees who used sacred ash (Thiruneeru) in their forehead, he called Enati Nayanar to battle with him alone. When Nayanar found sacred ash on Adhisuran's forehead he felt happy and stood still without fighting, Adhisuran used this chance and attacked Nayanar with his sword. Nayanar was defeated by Adhisuran. So Lord Shiva appeared before him and gave him salvation.Hence this place is also called as 'Enatinatha Nayanar temple'.
People who worshipped here : Enatinatha Nayanar.
Temple Timings : Morning 6:00 am to noon 12:00 pm, Evening 4:00 pm to 8:00 pm.
Nearest Town : Kumbakonam.
Address : Brahmapureeswarar Temple,
Yenanallur, Kumbakonam
Hotel Near Brahmapureeswarar Temple, Kumbakonam :
1.Sivamurugan Hotels
60 Feet Main Road, | Near New Bus Stand,
Kumbakonam 612 001, India
Ph: 096000 00384
2.Sara Regency
45/1 Chennai Road, Kumbakonam 612002, India
Ph:082200 05555
3.Quality Inn VIHA
New Railway Road, Kumbakonam,
Tanjore, Tamil Nadu 612001
Trichy Road, Namakkal
Ph:0435 255 5555
4.Hotel Green Park
No. 10, Lakshmi Vilas Street,
Kumbakonam, South India - 612001.
Ph :(0435) - 2402853 / 2403914
5.Hotel Vinayaga - Kumbakonam
132C, Kamaraj Road,
Kumbakonam- 612 001
Tamilnadu, India
Tele : +91 435 240 03 56
Telefax : +91 435 240 03 57
Mobile: +91 822 001 9 122
Reservation No: +91 4296 272 110
Restaurant Near Brahmapureeswarar Temple, Kumbakonam :
1.Venkatramanaa Hotel
No 40, TSR Big Street, Kumbakonam HO,
Kumbakonam - 612001, Near Gandhi Park
Ph : +(91)-9442130736
2.Sri Balaji Bhavan
1, Sasthra College Road,
Kumbakonam HO, KUMBAKONAM - 612001
Ph : +(91)-435-2424578
3.Hotel Shanmuga Bhavan
16, Kumbeswarar South Street,
Kumbakonam HO, KUMBAKONAM - 612001
Ph:+(91)-435-2433962
4.Gowri Shankar Hotel
No 47, John Selvaraj Nagar,
Kumbakonam HO, Kumbakonam - 612001
Ph : +(91)-9443131276 ,+(91)-435-2431177
tel : (91)-435-2430736
5.Rayas Garden Restaurant
No 18 Rayas Hotel, Head Post Office Road,
Kumbakonam HO, Kumbakonam - 612001
Ph :+(91)-435-2423170, 2423171, 2423172, 2423173"
1 1 1 1 1 1 1 1 1 1 Rating 3.36 (233 Votes)
Driving Direction & Temple Location