Koodal Azhagar Temple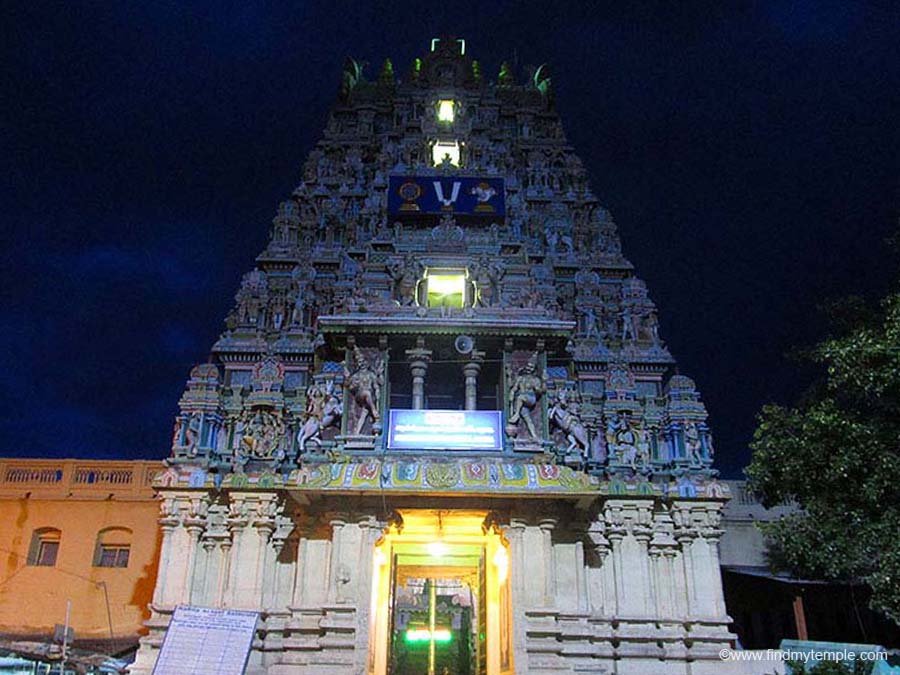 Main Deity : Koodal Azhagar

Ambal : Mathuravalli, Marakathavalli
Holy Water : Hemapushkarani
Temple Tree : Kadhali
Prominence of the Shrine : This place is believed to have importance in all the 4 Yougas (Krutha, Threta, Dwapara and Kali yugas).The Lord Vishnu blesses the devotees in his sitting posture in the first sanctum sanctorum, in Standing posture in the second, and in the lying posture in the third one. It is the belief that one fulfils his / her desires by circumambulating the Lord in these unique three postures, for one 'mandalam' (48 days). He is believed to receive the devotees saying 'Welcome' and provide 'Asylum' and Blessing; thus He is also known as 'Abhaya Thirukkarathan' to the devotees.
Temple history : This temple hails from the earliest Age of Sangam period. There are references of this temple in Paripadal and Silappadikaram(two important old tamil literatures). The presiding deity was praised and worshipped by the Sangam tamil Poets as the president and guardian deity of the Sangam and called him by the name "Thuvarikoman" (the King who ruled over from Dwaraka) and Koodal Alagar. Koodal refers to the assembly of Poets and scholars.
Temple Timings : 5.30 am to 12.30 noon (and up to 1:00 pm on Saturdays) ; 4:00 pm to 9.00 pm.
Pooja Details : Six times pooja
Temple Festivals :
Chithirai month: 10 days festival with procession On the Thiruvathira day (the holy day of Lord Shiva).
On the 7th day, the procession is in the lying posture
On the Tiruvathira day in Avani month, festival only
In the month of Thai – (exchange of garlands between the God and Goddess)
In the month of Mashi – Temple Tank festival –for 12 days.
Nearest Town : Madurai
Address : Sri Koodal Azhagar Thirukovil, Madurai - 625 001.
Telephone Number : 0452 – 2338542.
Hotels Near Koodal Azhagar Temple, Madurai :

1.Fortune Pandiyan Hotel

Race Course, Madurai-625 002,
Tel : 91-452-4356789

Fax : 91-452-2533424

2.THE SPK HOTEL

Luxury Hotel

Address: Lake View Road, Managiri, KK Nagar,
Madurai, Tamil Nadu 625020

Phone:0452 255 5777.

3.Heritage Madurai,

11, Melakkal Main Road,

Kochadai, Madurai 625 016, India.

Tel : + (91) 452 2385455 ,+(91) 452 3244185

Fax : + (91) 452 2383001

4.sangam Hotel, Madurai

Alagarkoil Road, Madurai – 625002

Tel : 91-452-4244555 / 2537531

Fax: 91-452-2537530"

5.Star Residency

No 43 & 44, Collector Office Road,

Near Anna Bus Stand,

Near Aravind Eye Hospital,

Madurai - 625020.
Tel : +91 - 452-4343999,+91 - 452-4343970
Restaurant Near Koodal Azhagar Temple, Madurai :
1.Hotel Supreme
No. 110, West Perumal Maistry Street,
Madurai, Tamil Nadu 625001
Ph: 0452 234 3151
2.Surya Roof Top Veg. Restaurant
110, West Perumal Maistry Street
Madurai - 625001
Phone No :- +91 452 2343151 (3 lines), 3012222
Fax No :- +91 452 2342637
3.Adyar Anandha Bhavan
285, Kamarajar Road, Mahal Area,
Madurai Main, Madurai,Tamil Nadu 625009
Ph : 044 2345 3045
4.Sree Mohan Bhojanalay
No 33, Dhanappa Mudali Street, Madurai Ho,
Madurai - 625001, Opposite To Hotel
Ph : + (91)-9943323221, 9442751870
Tel : +(91)-452-2346093
1 1 1 1 1 1 1 1 1 1 Rating 3.38 (238 Votes)
Driving Direction & Temple Location