Sundrambigai Sametha Kachabeshvarar Temple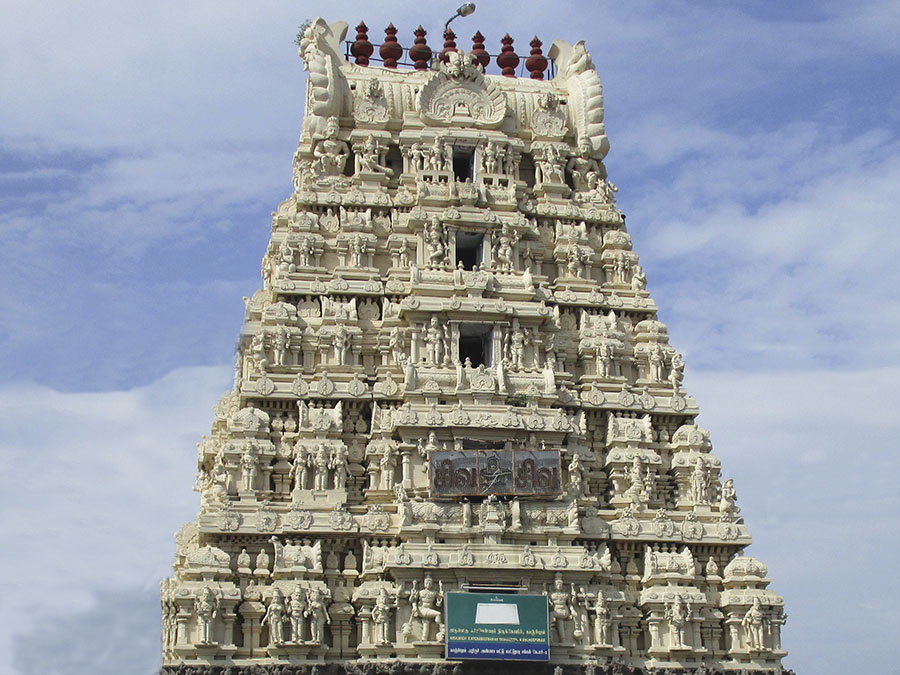 Main Deity: Sri Kachabeswarar

Ambal : Sri Sundarambigai

Other Deities : In this temple, the following Deities grace us from their individual shrines.
1. Vishnu Durgai Shrine
2. Pancha Sandhi Vinayaga Perumal Shrine.
3. Bairavar Shrine.
4. Sooriyan Shrine.
5. Saraswathi Devi Shrine.
6. Aadhikesava Perumal Shrine.
7. Valli Deivayanai Samedha Arumuga Perumal Shrine.
Temple History : This temple is pretty old. The period is prior to 1600 years. "Thandiyalangaram", a 7th century book on grammar talks about this temple.Sri Kanchabesar – The Reason Behind the Name. In the course of 'Dhasavadharam', Thirumal (Mahavishnu) assumed the figure of a tortoise and worshipped the Lord Shiva here. 'Kachabam' means 'Tortoise'. 'Kachabeswarar' means 'the Easwara who graced a tortoise'.
The Greatness Of Kachabesar :
Those who reach this shrine to worship Kachabesa, those who think of going to this shrine, and those who have a darshan of Kachabesar are relieved of their sorrows and sufferings and they attain eternal salvation.
The Temple Tank :
Itta Chitha Theertham – Speciality. The tank here is called Itta Chitha Theertham. One who has taken a dip here is blessed by Lord Shiva. Those who have a glance at it, and those who dip and have a bath here or sprinkle its holy waters around themselves are blessed with benevolence, wealth, bliss and salvation according to Sivagnana Munivar.
A dip in this holy tank on Sunday brings child to the childless and wife to those longing for wife. It cures the sick making them strong to live long. It grants knowledge and awards wealth to the poor. The unemployed are offered employment as per the words of Madhava Sivagnana Munivar on the tank.
Other Specialities :
Other shrines in the temple:
1. Sri Kachapeswarar Peruman Sannidhi.
2. Itta Siddheesa Peruman Sannidhi.
3. Yoga Siddheesa Peruman Sannidhi.
4. Dharma Siddheesa Peruman Sannidhi.
5. Gnana Siddheesa Peruman Sannidhi.
6. Chathur Mukeswara Peruman Sannidhi.
7. Yuga Siddheesa Peruman Sannidhi.
8. Badhala Easwara Peruman Sannidhi.
9. Singabesar Peruman Sannidhi.
10. Kulakkarai Peruman Sannidhi.
To the north of Moolavar (main deity) around the corridor nine Lingas (108,1008 Lingas) can be worshipped for glory.
Who worshipped here :
Thirumal, Saraswathi, Vinayagar, Sooriyan, Bairavar, Sathanar.
Temple Timings : 7.30 am to 11.30 noon - 5.00 pm to 8.00 pm.
Nearest Town : Kanchipuram.

Address : Sundrambigai Sametha Kachabeshvarar Temple, Kanchipuram, Kanchipuram District.
Telephone Number : 044-2746 4325
Hotel Near Sundrambigai Sametha Kachabeshvarar Temple, Kanchipuram :
1. GRT Regency-Kanchipuram,
487, Gandhi Road, Kanchipuram 631502, India
Ph: +(91)-44-27225250, +(91)-9940184251
2. MM Hotels,
No. 65 - 66, Nellukara Street, Kanchipuram 631502, India
Ph: +(91)-44-27227250, +(91)-8098827250
3. Hotel Baboo Soorya,
No 85, East Raja Street, Kanchipuram Ho,
Near Kamakshi Amman Temple,
Kanchipuram - 631501, India
Ph: +(91)-44-27222556, +(91)-9597121214
Restaurant Near Sundrambigai Sametha Kachabeshvarar Temple, Kanchipuram :
1.Saravanaa Bhavan,
66, Annai Indhira Gandhi Street,
Kanchipuram 631502,India
Ph: 4427226877
2.Hotel Saravana Bhavan,
504, Gandhi Road | Near Indian Overseas Bank
Kanchipuram 523230
Ph: 044 27222505
3.Haritam,
NH-45 Thenpakkam Village,
Kanchipuram 603301, India
Ph:44 27522336
1 1 1 1 1 1 1 1 1 1 Rating 3.36 (233 Votes)
Driving Direction & Temple Location