Mandhiragiri Velayudha Swamy Temple
ThenCheri Malai, Coimbatore District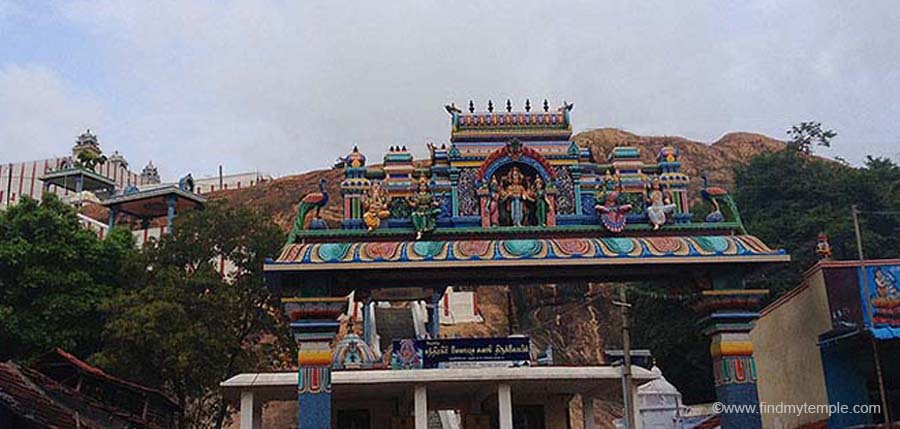 Main Deity : Mandhiragiri Velayudha Swamy Temple.

Holy Water : Ghana Theertham

Temple Tree : Kadambu Tree (Neolamarckia cadamba)

Prominence of the Shrine : This temple is located in a small hillock. If the devotees circumambulate 12 times the temple tree and light a lamp in the main Sannidhi they will get relived from any disturbances in their business, marriage problems and from any kind of evil forces.

Temple History : In general at Tamil Nadu wherever there is small hillock or mountain those places will have a temple for Lord Murugan. This temple is also in a hillock and here Lord Shiva advised his son Murugan before he quelled the Asura 'Sura padman'. This is one of the very ancient temples and recently renovated.
Devas went to Lord Shiva when they couldn't tolerate the Asura Sur padman. To help out Devas Lord Shiva created Murugan out of his their eye from his forehead. Time to quell the Asura was nearing. As Asuras are good in different types of magic and tantric, Goddess Parvathi wanted her son to learn the "Sathru Samhara Mantra". She requested lord Shiva to teach him the matra. So Lord Shiva called his son and told that this Matra cann't be given without any effort and he needs to do a severe penance to get this. He also told wherever you see with Kadampam tree, Dharppai grass and origin of the river Ganges that is the best place to perform the penance. Lord Murugan with his father's blessings came down to earth and searched for such a sacred place. He found out 'Thencheri malai' (sencheri malai) had Kadampam tree, Dharppai grass and the temple tank equivalent of river Ganges. He did a severe penance towards his father from this place and learned the required Mantras to quell the asura.
Temple Timing : Morning 6.00 am to Evening 8.00 pm.
Nearest Town : Coimbatore
Address : Sri Mandhiragiri Velayudha Swamy Temple, ThenCheri Malai, Soolur TK, Coimbatore District.
Hotel Near Mandhiragiri Velayudha Swamy Temple, ThenCheri Malai :
1.Coco Lagoon by Great Mount Resort,
Vazhaikombu nagoor
Meenkarai Road, Pollachi 642103,
Ph : +91-4259-297058, 8344200200, 8344300300
2.Sakthi River Resorts India Pvt Ltd
Subbe Gounden Pudur Pirivu
Pollachi To Trichur Highway, Pollachi
3.Tiger Hills Resort,
No 1 Top Slip Main Road
Sethumadai, Pollachi, India
4.Cotsvilla Topslip,Minor padi,
Near forest checkpost
Sethumadai (TOPSLIP ), Pollachi 642133,
5.Western Ghats Villas,
30, Top Slip Road,
Sethumadi, Pollachi 6
Resturant Near Mandhiragiri Velayudha Swamy Temple, ThenCheri Malai :
1.The Slaves Resturants,
12, Artin Enclave, Kamaraj Road, Mahalingapuram,
near Mahalingapuram Arch, Pollachi, Tamil Nadu 642002
Ph: 094882 54204
2.Sakthi Hotel,
144, Coimbatore Main Road,
Pollachi 642 002, India
3.Muthuram Cafe And Hotel,
Angalakuruchi | pollachi to Aliyar/valparai NH,
Pollachi 642007, India
1 1 1 1 1 1 1 1 1 1 Rating 3.36 (233 Votes)

Driving Direction & Temple Location