Mangalanthar Temple
Utharakosa mangai, Ramanathapuram district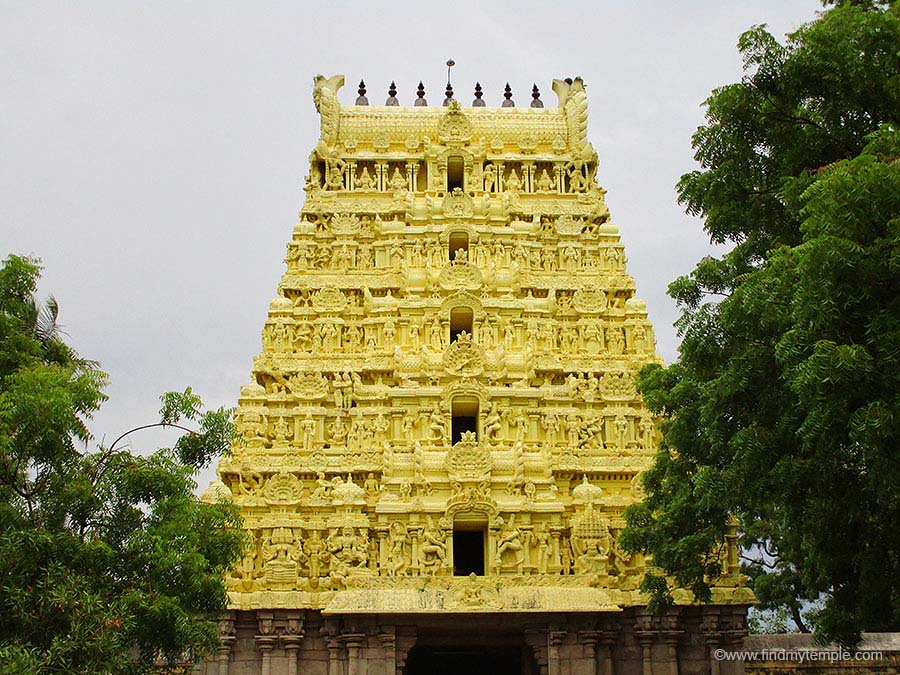 Main Deity : Mangalanathar (Shiva)
Ambal : Mangaleswari
Temple Tree : Elantha tree (Ziziphus jujube or Indian date)
Prominence of the Shrine : The Shiva idol here is made of Emerald (Maragatham) and the idol would have a cover of sandal paste throughout the year. Aarudra Darsan takes place once a year (On Thiruvadhirai day) when thousands of devotees throng this temple to witness the sandal cover is seen deformed. This temple is there even before Chidambaram Natarajar Temple. So this is also called as Aadhi Chidambaram.
Temple History : Long ago "Mandothari" (Wife of Asura King Ravana) decided to marry man who is a great Shiva devotee. She did a severe penance for Lord Shiva. Shiva told the rishis that he is pleased with Mandothari' s penance and he is going to earth to appear for her. He told them to keep the Vedas safely until he returns back from the earth. Lord Shiva appeared in a baby form to Mandothari. Ravana understood the child is Lord Shiva himself and touched that baby. At that time, Shiva turned as a fire as he wants to test Ravana. As Shiva turned as a fire everything under the universe got into fire. The rishis don't know how to save the Vedas they got frightened. They were afraid to answer Lord Shiva so they decided to kill themselves at the Theertham. That Theertham become "Agni Theertham". Sage Manikkavasagar was courage enough who didn't die and saved the Vedas. Later Shiva advised Ravana and Mandothari to marry each other. As Manikkavasagar saved the Vedas Lord Shiva gave him the pride of being in the temple in the form of Linga. We can see a Manikkavasagar as a Linga at this temple.
Poets who sang its praise : Manikkavasagar
Temple Timings : 5:30 am to 12:45 pm; 3:30 pm to 8:30 pm
Nearest Town : Ramanathapuram
Address : Sri Mangala nathar Thirukovil, Utharakosa mangai 623 533, Ramanathapuram district.
Telephone No : 04567 221 213
Hotel Near Mangalanthar Temple, Utharakosa mangai :
1.Hotel Queen Palace,
N.H. Road, Near Bus Stand,
Rameswaram-623526, ph:04573 221 013
2.Hotel Vinayaga,
#5, Railway Feeder Road,Rameswaram,
Tamil Nadu 623526.ph:04573 222 361
3.Daiwik Hotels Rameswaram,
NH- 49, Madurai Rameswaram Highway,
Near Rameswaram Bus Stand,
Rameswaram-623526,ph:04573 223 222
4.Hotel Garish Park,
3, Madurai-Rameshwaram Road,Bharathi Nagar,
Ramanathapuram-623503.ph:094423 22030
Resturant Near Mangalanthar Temple, Utharakosa mangai :
1.Hotel Aiswarya Lakshmi,
Ground Floor, NH 45, Madurai-
Rameshwaram Road,Chalai Bazar
1 1 1 1 1 1 1 1 1 1 Rating 3.38 (238 Votes)
Driving Direction & Temple Location