Brihadiswara Temple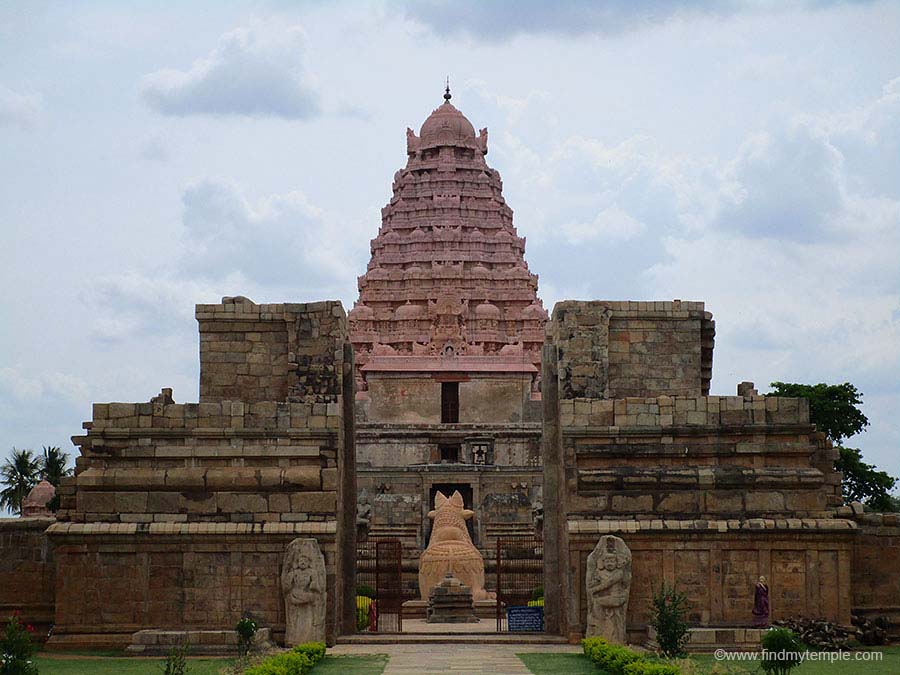 Main Deity : Brihadeeswarar (Lord Shiva)

Ambal : Periya Nayagi
Holy Water : Simma kinaru
Temple Tree : Pinnai, vanni.
Prominence of the Shrine : This Temple boasts of possessing the biggest lingam in Tamil Nadu. True to the name, Periyanayagi Amman stands magnificently at 9.5 feet in height spreading her grace. The base of the vimanam is square while the top of it is circular with the part just above the base octagonal in shape resembling a Shiva lingam. On the northern and the southern side are two small temples which are called Northern kailayam and southern kailayam. At the back of Northern kailayam, a stone statue of Amman is placed making it an Amman temple. Southern kailayam is in a dilapidated state without any stone statue. The Nandi here is made of calcium stones and is sitting on the floor. It is located at 200 meters from the main idol. That the rays of the sun falling on this Nandi get reflected on the lingam is something special. This can be watched splendidly when all the lights inside the sanctum sanctorum are switched off. The shadow of the "Kalasam" (Holy pot that is kept on top of the temple towers) does not fall on earth. There is a stone called "Chandra Kantha Kal" is kept under the Lingam. The special feature of it is that during summer it reduces the heat giving a cool atmosphere and during winter it controls the cool temperature making the atmosphere warm.
Temple History : This temple was built to Commemorate the victory of Rajendra chola over Ganga. In 1022 Rajendra chola triumphed over the east coast of India and also Ganga(The River Ganges) . He Was named 'Gangaikonda Cholan' a title in honor of his victory. Moreover he built a Shiva temple 'Gangaikonda Choleswaram' and he shifted Chola capital from Tanjore to Gangaikonda Cholapuram. The Chola kings following him ruled with this town as their capital. The Gangaikonda Chola Perari(lake) was created in memory of the victory extending upto Ganga on defeating Ganga, Rajendra chola brought the ganga water and poured into 'ponneri' otherwise called Chola Gangai ponneri. This was also called as "Chola Gangam".
Temple Timings : 6.00 am to 12 noon, 4.00 pm to 8.00 pm.
Temple Festivals : Masi-Shivarathri ; Aippasi-pournami, panguni Thiruvizha , Margazhi-Thiruvadhirai.

Nearest Town : Jayankondam.

Address : Sri Brihadeeswarar Temple, Gangaikonda Cholapuram-621 901. Ariyalur Dt.
Hotels Near Brihadiswara Temple, Gangai Konda Cholapuram :

1.Sri ram lodge,
bus standroad,jayakondam.
ph.04331250521

2.Subha lodge A/c,
27,bus stand jayakondam.

3.Kumaran Lodge,
Chidambaram Road, Jayankondam.

Ph: 250218

4.PVR Lodge

Kadaiveethi, Jayankondam.

Ph: 250950

5.Murukan Lodge

Chidambaram Road, Jayankondam.

Ph: 250401

Resturants Near Brihadiswara Temple, Gangai Konda Cholapuram :

1.Hotel Sundaram,
64/127-A, Trichy Road, Jayankondam- 621802 Near TNEB Office.

ph: (04331) 253516

2.Kamatchi Restaurant,
3, Eswari Complex, Otha Street,
Jayankondam- 621802 Near Jayankondam Main Bus Stand,
ph:(04331) 250800.
1 1 1 1 1 1 1 1 1 1 Rating 3.38 (238 Votes)

Driving Direction & Temple Location