Ayyanar Temple
Kurinchigramam, Kumbakonam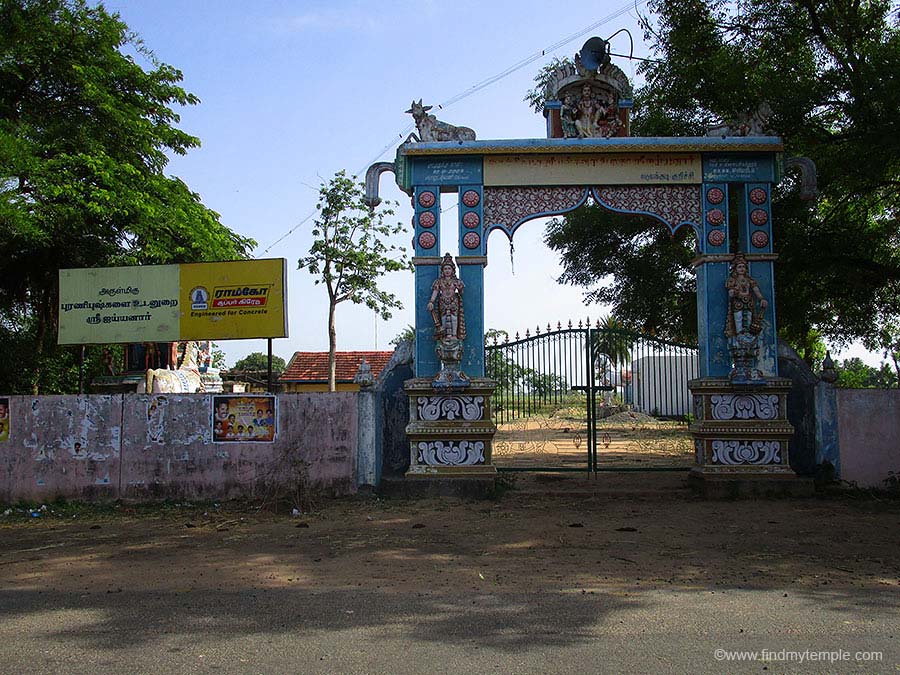 Main Deity : Ayyanar.
Ambal : Pooranadevi, Pushkaladevi.
Prominence of the shrine : To destroy the ego of Maharishi's lived in Tharukavanam, Shiva took the form of Pitchadanar and Vishnu as Mohini. Lord Shiva went to Maharishi's place and asked for alm from their wives. Looking at Lord Shiva in the form of Pitchadanar, Maharishi's wives mind got glitched. In the same way, Mohini went to Maharishi's place where yagna was performed and glitched them. So the yagna was disrupted. At that time, Lord Shiva fell in love with Mohini and so Ayyanar was born by the side of river bed. He is also called as Sasta.
Ayyanar was born in the Tamil month of "Masi", one day before Ammavasa (New Moon) on Shivarathiri. Ayyanar has two wives, Pooranadevi and Pushkaladevi, Ayyanar was originated from heaven but was born on earth. So Pushkaladevi who was from heaven and Pooranadevi who was from earth were his wives.
Temple Timings : Morning 08:00 am to 12:00 pm, Evening 04:00 pm to 08:00 pm.
Nearest Town : Kumbakonam.
Address : Ayyanar Temple,
Kurinchigramam, Kumbakonam, Thanjavur District.
Hotel Near Ayyanar Temple, Kurinchigramam :
1. Sivamurugan Hotels(7.8km from Temple)
60 Feet Main Road, | Near New Bus Stand,
Kumbakonam 612 001, India
Ph: 096000 00384.
2. Sara Regency (9.2km from Temple)
45/1 Chennai Road, Kumbakonam 612002, India
Ph:082200 05555
3. Quality Inn VIHA (8.8km from Temple)
New Railway Road, Kumbakonam,
Tanjore, Tamil Nadu 612001
Trichy Road, Namakkal
Ph:0435 255 5555.
4. Hotel Green Park (8.1km from Temple)
No. 10, Lakshmi Vilas Street,
Kumbakonam, South India - 612001.
Ph :(0435) - 2402853 / 2403914.
5. Hotel Vinayaga - Kumbakonam(8.3km from Temple)
132C, Kamaraj Road,
Kumbakonam- 612 001
Tamilnadu, India
Tele : +91 435 240 03 56
Telefax : +91 435 240 03 57
Mobile: +91 822 001 9 122
Reservation No: +91 4296 272 110.
Restaurant Near Ayyanar Temple, Kurinchigramam :
1. Venkatramanaa Hotel
No 40, TSR Big Street, Kumbakonam HO,
Kumbakonam - 612001, Near Gandhi Park
Ph : +(91)-9442130736
2. Sri Balaji Bhavan
1, Sasthra College Road,
Kumbakonam HO, KUMBAKONAM - 612001
Ph : +(91)-435-2424578
3. Hotel Shanmuga Bhavan
16, Kumbeswarar South Street,
Kumbakonam HO, KUMBAKONAM - 612001
Ph:+(91)-435-2433962
4. Gowri Shankar Hotel
No 47, John Selvaraj Nagar,
Kumbakonam HO, Kumbakonam - 612001
Ph : +(91)-9443131276 ,+(91)-435-2431177
tel : (91)-435-2430736
5. Rayas Garden Restaurant
No 18 Rayas Hotel, Head Post Office Road,
Kumbakonam HO, Kumbakonam - 612001
Ph :+(91)-435-2423170, 2423171, 2423172, 2423173
1 1 1 1 1 1 1 1 1 1 Rating 3.36 (233 Votes)
Driving Direction & Temple Location