Andal Nachiar Temple

Sri Villiputhur, Viruthunagar District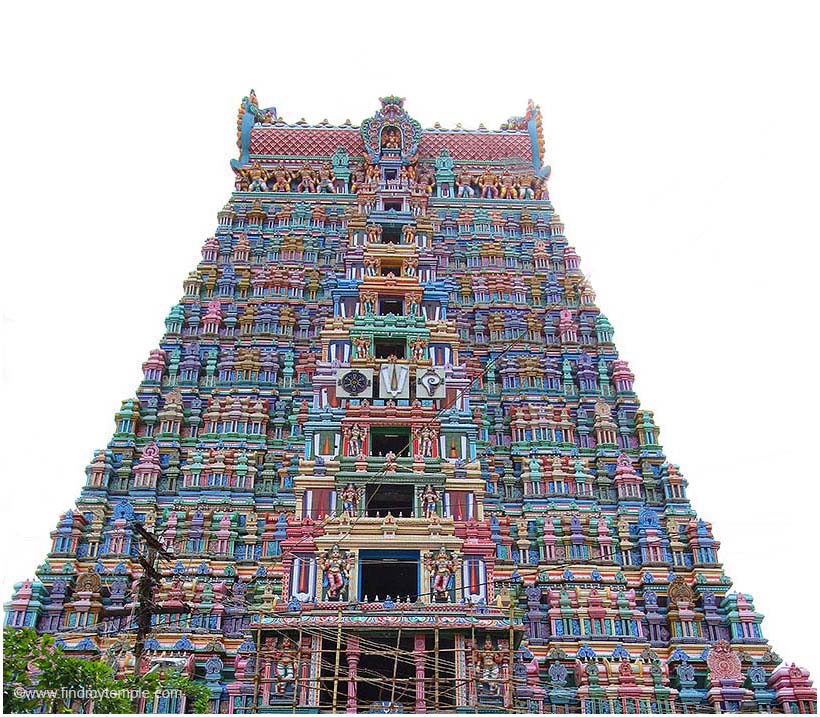 Main Deity : Vadabatrasai; Rengamannar
Ambal : Andal Nachiar
Holy Water : Thirumukkulam, Kannadi Theertham
Prominence of the Shrine : The Temple tower is very famous as this is kept as a State emblem by Tamilnadu State Government. This temple is 90th of 108 Divya Desams. At this temple Vada Pathra Sai (Lord Vishnu) appears in the self-made(suyambu) form. Only at this temple Rangamannar, Aandal and Garuda Azhwar are located in a same level.
Every year during Tamil month of purattasi 3rd Saturdays, Garland for Tirupathi Perumal (Lord Vishnu) will be taken from Srivilliputhur Aandal Temple after the garland was first worn to her. For Aandal's holy marriage (thirukalyanam) the silk saree will come from Tirupathi Vishnu temple. During the Madurai Chithirai festival Kallazhagar (another form of Vishnu) wears the gardland from Aandal temple.
Periyazhwar one among the 12 azhwars was born in this town. He is assumed as avatar of "Garudan". When he got her daughter (Aandal) married to Lord Vishnu he stood next to the god, so only at this temple Garudan will be in the same level as Vishnu. On the temple walls all the 108 Divya Desams were painted beautifully.
From this temple Aandal worshipped Lord Vishnu and wrote 30 songs in Thiruppavai and 143 songs in Nachiar Thirumozhi. As Garudan, Vishnu and Aandal all the three gods are in one temple this place is also called as "Muppuri Uttiya Thalam".
As, the Andal sung the poems of "Thiruppavai" along with that she wore the flowers first and the she offered to Lord Srinivas Perumal , she came to be known as 'Choodi kodutha Nachiar'. The place is also famed as the birth place of 'Periyazhvar', and Nachiar. The place is also believed to where Periyazhvar have sung the fames of Perumal(Vishnu) for ages. The main temple tower (Rajagopuram) was constructed by Periyazhvar. As Andal married to Lord Vishnu, Lord become a son-in-law of Periyazhvar. He participated in the debates of Vallaba Pandian's kingdom and won several prizes. He used that prize money to construct the temple tower. The 'Rajagopuram' is 196 feet high and it represents the accounting system of 1 Rs =196 Paisa on those days. For some reason the temple tower do not have any specific Other Deities and it only displays the tamil architecture. Due to this reason Tamil Nadu government chose this temple figure as it is state emblem.
Temple History : Long time ago the area near to Villiputur was ruled by a king called 'Rani Malli'. He had two sons Villi and Kandan. Once they went for hunting in the nearby forest and Kandan was killed by a tiger in the forest. Villi wasn't aware of this and searching for his brother for a long time. He got very tired and he took a snap in the jungle under a tree. The lord came in his dreams and explained what happened to Kandan. Based on the orders of the lord he then constructed a beautiful town in that region by demolishing the forest. As it was created by Villi, the town is called as Villiputur. As two important Azhvars (Periyazhvar and Nachiar) of 12 Azhvars were lived in this town, it become Sri Villiputhur.
At Srivilliputhur town Aandal Nachiyar was born as a daughter of Periyazhwar. Every day she used to the wear the flowers first and then gives it to her father. Periazhwar did not know this, he used to carry the same flower and wear it to Lord Vishnu. Once he noticed there is a hair in the flower garland so he didn't use it for the god and wear the fresh flowers. Suddenly Periyazhwar heard a voice from Lord that he is interested wearing the flower which Aandal wore first. So even today the garland that was wore for Vishnu, is wore for Aandal one day earlier.
who worshipped here : Periyazhvar, Andal Nachiar.
Poets who sang its praise : Periyazhvar, Andal Nachiar.
Temple Timings : 6.30 am to 12.30 pm & 4:00 pm to 8:30 pm,
In the month of Markazhi the temple opens at 04:30 am.
Pooja Details : Aarukala poojai (Six times a day - worship)
Temple Festivals : Aadi – Aadi-pooram (Holy Car festival),
Markazhi – Neeraatu Utsavam (Holy bath for the god),

Pankuni – Thirukalyanam (Holy wedding) .

Nearest Town : Srivilliputhur.
Address : Arulmika Andal Nachiar Thirukovil, Sreevilliputhur -626 125, Viruthunagar District.
phone no : 04563-260254.
Hotels Near Andal Nachiar Temple, Sri Villiputhur :

1.Hotel Kathiravan,
NH208,Mangapuram,
Srivilliputhur-626125.
2.Hotel Boarding & Lodging,
NH208,Mangapuram,
Srivilliputhur-626125.
3.Hotel kurnichi,
Kollam Thirumangalam road,T S V Nagar,
Srivilliputhur-626125.

Resturants Near Andal Nachiar Temple, Sri Villiputhur :

1.Kurinchi Restaurant,
State Highway 208, Kollam-Tirumangalam Road,
Vannniyam Pattti, NH208,
Srivilliputhur-626125,
ph:099949 99511.
1 1 1 1 1 1 1 1 1 1 Rating 3.37 (235 Votes)
Driving Direction & Temple Location